Letters
33+ Letter Writing Templates – Free Sample, Example Format Download
If you love writing a lot of letters to your loved ones or friends then grant writing template is right for you. You can also see writing paper templates to have a better idea of what to write in a letter. You can have the template in Microsoft word, excel and PDF file where it can readily offer you a wide selection of formats and guides on how you can make sample letters be formal in its layout and in the show each thought of yours clearly.
Simple Gift Letter Template
Christmas Border Letter Template
Community Service Letter Template
Invitation Letter for Visa Template
Eviction Letter Template
Formal Letter Format Template
Simple Recommendation Letter Template
Sample Appeal Letter Template
Gift Letter Template
Proposal Letter Example Template
Leave Letter Sample Template
Appraisal Letter Sample Template
Offer Letter Sample Template
Claim Letter Sample Template
Sample Fundraising Letter Template
Sample Exit Letter Template
Sample Proposal Letter Template
Sample Resignation Letter Template
Letter Of Warning Template
Letter of Suspension Template
Simple Application Letter Template
Free Informal Letter Sample Template
Do you wish to catch up with a friend? Looking for a way to avoid the hassle of starting from scratch or you just don't how to start? Then you are in the right place. With the help of this simple template that is mentioned above, all you would have to do is download the template and make it your own by adding the details needed. Try it out now!
Free Sample Greeting Letter
In search of a greeting letter that you can use to make the perfect letter layout as a token of appreciation and gratitude? Then worry no more as we have just the thing for you. This above-mentioned template is one that can be of great help to you in making the letter you need. Save a lot of time and effort as you do not have to make a letter all the way, right from scratch. Add your details and you are good to go. Try it out now!
Free Sample Experience Letter
Short Letter of Reference Template
Demotion Letter Template
Job Invitation Letter Template
5 Steps to Write a Letter
Ever wondered how to write the perfect letter? Well, you are in the right place. Follow these steps on how to write the perfect kind of a letter to anybody you want to write:
Step 1: The Heading
The heading of your letter should mainly contain your address(i.e. from address) and the date you're writing the letter on. This will avoid confusion, as your reader will understand when did you write the letter properly. There are many letter templates available online for you to see the perfect way to write any letter.
Step 2: Salutation or Greetings
This part of the letter is where you greet your reader with a basic "hello". It is situated just after the heading and should be placed on the left side of the page. The name of the person you are writing to should be in the title case (the first letter capitalized) and should be followed by a comma.
Step 3: The Body
An important part of your letter. It should contain and convey all the details, ideas and thought you have. So, it is rather important for you to organize your thought before you start writing the letter. It should contain the basic reasons as to why you are writing the letter. A congratulations letter is written while congratulating someone for something they might have achieved through their hard work.
Step 4: The Conclusion
This is the part where you end the letter with "yours sincerely/lovingly", depending on whom you are writing the letter to. This is the goodbye part of your letter. Make your closing proper as they make the reader understand that you care or that you really have written what you mean. You can also divide it into an introduction- where you give the reasons of why you are writing the letter, the body- where you write and mention all the details and finally the conclusion- where you request for action on the particular topic from the reader.
Step 5: Signature
This is the end part of your letter, where you sign off and write your name or signature in your own handwriting. It is rather important to have this part in the letter as it shows the reader that it is you who has written it and that you have taken the time to do so equally, requesting them to take the time to read it as well.
Post Interview Thank You Letter Writing Example
There are may letter writing templates available online for you to see which one will suit you the best for the letter you are writing. The above template is a thank you letter to the company that you have just had an interview with. It is always good to thank the company as they have actually taken the time out from their busy schedules to have an interview for you, so being grateful to them will add up a lot for the chances of you getting the job.
Sample Letter Writing Frame Template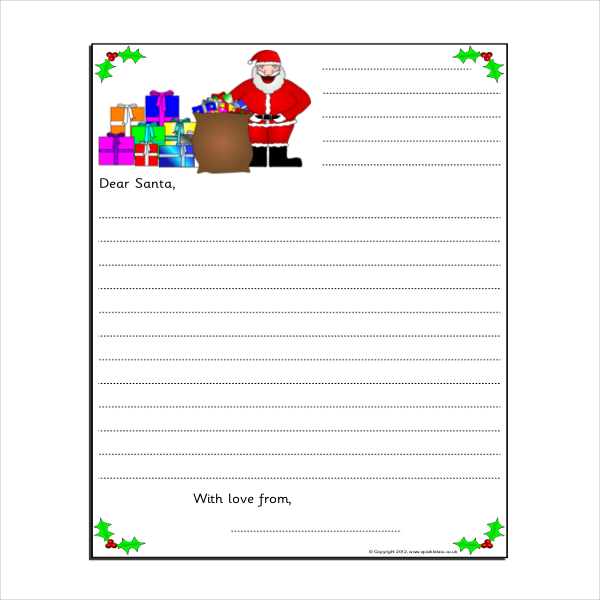 The above template is a simple letter writing frame template. This template helps your kids especially, to write a letter to Santa during Christmas as they do believe he comes to give them presents. You can encourage them to write him a letter as this will help them understand how should they write a basic letter o someone they love.
Accountant Letter Writing Template Sample
Any kind of letter outline can be made with the writing template where each of their formats can be set up using the functions presented in each page sample. It has features like font effects, spacing modification, etc that can be helpful in making assorted letters.
Sample Health Service Letter Writing Template
Types of Templates
Letter writing has its own significance. There was a time when letters were written on the page. But in recent times, with the inception of the computers, internet, and the web, writing letters format had taken a whole new dimension. To make it more interesting, attractive letter writing templates are used.
The different types of templates that are available are listed as follows:-
Business letter templates
Personal letter templates
Cover letter templates
CV templates
Benefits of Using the Templates
There are available different types of templates and each type serves a definite purpose. For instance, the business letter or cover letter templates are useful for individuals owning businesses. The personal letter templates are useful if users are interested in sending a personal letter to their friends or colleagues.
Promotion letter templates might be of great help in case you want to promote any of your employees. The CV templates are useful for those individuals who are looking for a placement with a good organization.
Create the Templates
Authoring any type of letter writing template requires an understanding of the format of the template on the part of the designers. Based on such understanding, the designers can design the template structure and upload the same on the web. In this context, it is relevant to say that for business or cover letter templates the template formatting is very different.
The format includes spaces for adding the company name, addresses, phone number, and email id. While the personal letter templates are plain, they have a more simple structure. Check out employee recommendation letter templates for more. The CV template structure is however totally different from the other three types of template types.
Student Letter Writing Template Example Format
Letter Writing:
There are different writing formats that are available and each one of them has its own unique style. There are primarily two types of letter writing formats available and they are the personal letters, formal letters. Copy-writing is yet another style of writing that is used to promote an entity which can be a person, a brand, a business, a product. In the context of creating templates associated with employment, there is CV writing, cover letter writing templates.
Writing a Resignation Letter Template Example
Business Letter Writing Template Example
Avail Letter Writing Templates
Different letter writing templates are available online. Authors can choose the template of their choice from the web. By doing so, it is convenient to write letters of different formats, personal or formal letters. Check out our website for more business letter templates for various business templates to help you write your business letter.
While writing letters it is important that the author sticks to proper writing conventions. This includes the use of correct English, correct grammar, and spelling. There are FAQs pertaining to the letter writing, available online that individuals can refer in times of need. You can see announcement letter templates for ideas on how to write a letter when you have an announcement to make.