A compensation plan template is used as an agreement between two parties which state what one would get in return for the services it provides to the other. The most common is between an employee and a company. This includes salaries, bonuses, and perks like medical aid, health insurance, etc. A compensation plan helps you develop a contract that states all details of the compensation the employee should expect for his/her work and services.
Compensation Plan Template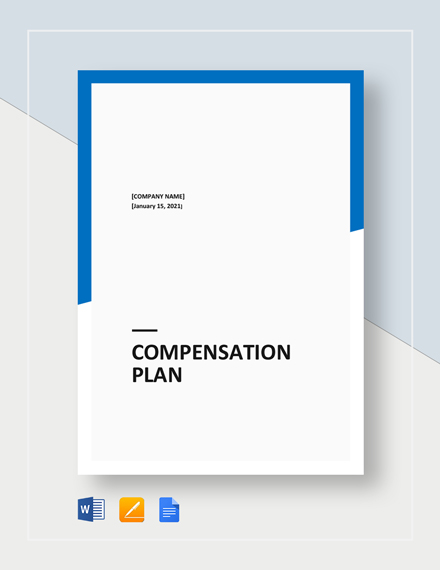 Compensation plans help you keep in check whether or not all the employees are being paid equally for the work they do, without partiality. It will help you create a business document that will detail your employee's salary, benefits, and terms of payment. Because the employees' salary is important, you have to be organized when you record and document it. This plan sample template is completely editable and can be customized easily. Check it out now!
Sales Compensation Plan Example
It is always better to divide your compensation plan according to the departments you have in your organization. The above template is a compensation plan for the sales department. You can also check sales compensation plan templates for more details on how to create the right sales compensation plan for your employees who work in the sales department. This will help inspire and motivate your sales team on the basis of giving out good incentives and bonuses for the team.
Employee Compensation Plan Template
An employee compensation plan outlines the salaries and benefits that an employee receives and the manner in which they are given. Prepare your compensation plans quickly with the help of the above template. It is a fully editable and customizable document, which you can change according to your liking and needs of your organization. This template allows you to be organized and professional in presenting compensation plans to your employees.
Simple Incentive Compensation Plan
The above plan template in Google docs is a incentive compaensation plan. It is specifaically designed to entice and retain key employees and align their interests with that if the organization/company. A key employee receives a type of compensation based on the performance of an individual and this plan details on performance measurements, eligibility, plan period, etc. Check it out now!
Sample Sales Compensation Plan Template
Sales Compensation Plan Template
The compensation plan template given above is basically used to draw an agreement between a business entitiy and its sales representative. It includes salary, duration, bonuses, perks, terms of termination, etc. This way, all the expenses and the incomes of the company are taken note of and it makes it easier for the extra costs to cut down easily.
> What are the Benefits of a Compensation Plan?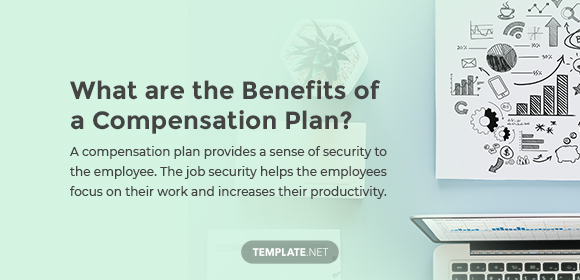 A compensation plan provides a sense of security to the employee. The job security helps the employees focus on their work and increases their productivity. Added perks give employees a feeling of job satisfaction, which not only improves their work but also helps in leading a happy life.
Additional perks help in recruiting highly qualified people. It is highly useful in retaining key and highly qualified employees. Some benefits like health insurance are tax deductible and thus help the company financially. Conditions relating to termination of employment are also legally binding in cases of dispute.
> Who Can Use these Compensation Plan Templates?
These plans can also be used for SMO (small to medium organizations), as well as startups to large scale businesses. Plan templates in word can be used by any company, institute or entity to create the right plans for their growth. Any place hiring people on different levels can use the templates depending on the profile the employee will have.
Incentive Compensation Plan Template
The incentive compensation plan template like the one above is basically used to offer incentives to crucial and essential employees for their exceptional performance in the organization. This is majorly a factor for motivating the employees to improve their work and exceed their targets. It includes incentives corresponding to the percentage by which their targets have exceeded and the duration of their work. Try the template out now!
Professional Compensation Plan Template
Steps to Create a Compensation Plan:
Step 1: Develop a Plan
The first thing you need to do while making a compensation plan is to know who your employees are. Make a list of all the employee positions that are available in your company and explain their job descriptions. Research the market properly, so you know how much you can pay for that position. Consider whether or not to give incentives and benefits. Mention your expected compensation and see if it matches your budget.
Step 2: Draft the Compensation Plan
The next step would be to outline the first draft of your compensation plan. List all the job descriptions. Set employees hours for work. Describe their benefits and also, mention when they would get their appraisals, by what percent, etc. Review your plan on a regular basis, so that you can make changes wherever necessary and whenever you need to. This way, you can stay updated with the market as well.
Step 3: Add New Jobs
In case you add new jobs in your organization, then do not forget to mention that in the compensation plan as the new employees for those positions need to be paid too. But before that, you need to make sure that whether or not you can afford to hire a new employee as that is a whole lot of responsibilities and costs for your company. Write the entire job description for the new position and mention the estimated compensation for it too.
Step 4: Pay Raises
Once you know the base level of compensation you need to give to your employees of each level, you should start budgeting for pay raises to reward your best performers. When creating a budget, make sure that you mention all job descriptions and salary ranges for each job post without fail. Make sure that all your employees are being compensated equally for the work they are doing.
Step 5: Review
The last and the final step would be for you to review your plan time and again, Keep updating it whenever you can, so that you can keep up with the shift in the market anytime. Make changes in favor of your company and employees, so that they do not leave due to reasons concerned to pay. Simple plan templates will help you create the right plan for your company
Employee Compensation Plan Template
This is a basic compensation plan template in PDF applicable for employees at all levels but is mostly used for unskilled ones. This plan includes basic salary and overtime payments. It can also include any perks if applicable.
Executive Compensation Plan Template
These compensation plan sample templates are provided to employees hired at senior management levels. Compensations are based on not only on the performance of the employees but also of those under them and are not only monetary but also in form of stocks.
Corporate Compensation Plan Template
Life Abundance Compensation Plan Template
Loan Originator Compensation Plan Template
How are Compensation Plan Templates Used?
A compensation plan contract is a binding contract that is used when hiring employees. These are the terms a person agrees to as what he or she will receive in return for their services to a particular organization. The template is selected based on the qualification of the person and the post the person will be hired for.
The templates are to be filled as per the compensation the organization is willing to provide along with the required details of the organization and the employee and thus will result in a binding agreement. Agreement samples will be of great help to you if you need to create an agreement.
What Factors to Consider for the Right Compensation Plan?
The below-mentioned points should be kept in mind when choosing the right compensation plan template for your use:
1. The scale at which the company is working. This is necessary to decide which benefits will not financially hamper the company's progress.
2. The post at which the employee is being hired. Providing costly benefits to low-level employees may not be beneficial for the company.
3. Even with an improved work ethic and productivity, the net profit provided by the employee may not be enough to sustain for the company.
4. Existing competition in the market. In cases where the business is new, higher compensation plans must be considered for recruitment in order to attract new employees away from the existing competition.
The free plan templates mentioned are very useful in achieving the business plan of the organization by creating a healthy relationship with their employees. These templates can be used for a variety of organizations and are sure to result in a profitable workforce.