In market terms, a sales report shows the whole detail of all the number of sales made, called customers and the revenue achieved in specified time. The financial report template is the guide you can have that is available in example format to write down the whole sheet of the report regarding the sales done and the target income achieved. All the financial credits, complaints, orders and payments done by a sales person with their clients can be incorporated in the sample report template; there will be no lapses or errors with this guide so you can do your business as usual and your promotion will wait for you after all of your hard work.
Annual Sales Report Template
Monthly Sales Management Report Template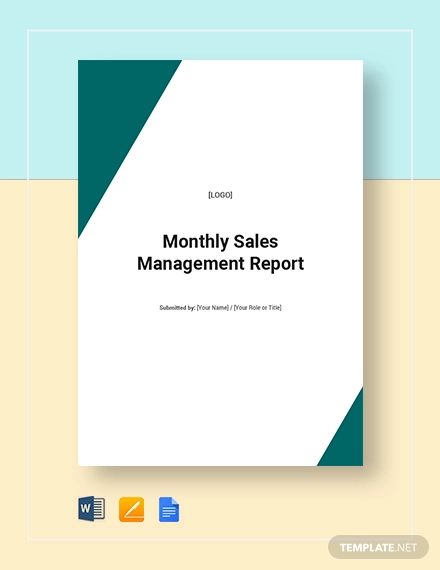 Free Sales Report Template
Free Annual Sales Expense Report Template
Sample Monthly Sales Report Template
businessballs.com Create a comprehensive sales report template to represent number pf total sales for the month along with giving a plan and presumed forecast of the nest month or quarter sales with this sample monthly sales report. This sales report template is available in PDF format and can be customized easily with your own text and figures.
Free Weekly Sales Report Template
veggiecompass.com If you want to create weekly report for the sales carries out for your business products then this the template you need to download. This free weekly sales report template help you list detailed information of products sold along with date, cost and more. It is available in customizable PDF format that you can download instantly.
Sales Activity Report Template Example
msca.org Represent the complete sales activity of the business to your superiors with this comprehensive and detailed sales activity report template that includes everything from the start to end of sales process like biding details, number of sales, information of individual sale and more. This report can help understand the progress or decline in sales clearly.
Sales Call Report Template Free Download
freeformsonline.com
Free Annual Sales Report Sample
nestle.com
Sample Bar Sales Report Template
unclefed.com
Business Sales Report Example Download
silvon.com
Free Customer Sales Report Template
editeur.org
National Dairy Products Sales Report Template
ams.usda.gov
> What is the Purpose of Sales Report Template?
The various sales report templates have been designed with the purpose to enable salespersons, sale head or sales managers to create comprehensive reports of what sale have been carried out for the month, week or on daily basis. These reports are used to list all the sold items along with pricing, bidding information if applicable and all. A business owner or sales head might want a sales manager or salesperson respectively to offer a complete report for what sale have been accomplished in order to track employee efforts, performance as well as business sales improvement. And these templates offer an easy and effective way to represent all that have been achieves in an organized manner.
> What is the Target Audience of Sales Report Template?
The target audience of sales report templates include various sales persons, sales managers, sales heads and similar who are directly related to offering sales reports to their superiors. Almost all types of industries come under the target audience of these templates. Ranging from manufacturers, wholesalers, traders, retailers and more all these can utilize sales report templates to have a thorough idea of what sales have been achieved for business. A salesperson has to prepare daily, weekly and monthly sales report to report his performance and number of sales completed also sales manager are asked by the business owners or their superiors for sales reports of all the salespersons under their team. Then these templates play major role in creating complete and comprehensive reports at the easiest.
> What are the Advantaged of Sales Report Templates?
Below are some of the major advantage offered by sales report templates. These templates make sale report creation quite easier as with these you need not to work hard in creating formats from scratch. Everything has been done so you just need to customize the figures with your personalized data. Sales report templates help business owners understand the total revenue earned along with total sales made for a particular period easily. With this template the performance of each sales employee can be analyzed clearly. Report can clearly represent whether a sales person have achieved the sales target or not. Or whether a sales manager have justified sales results for his/her team or not. If you have any DMCA issues on this post, please contact us!