Legal Templates
9+ Legal Resume Templates
Whether you are about to become a lawyer or are already a lawyer or a professional in the legal industry, having a resume ready at hand is a must. If you aren't going to start your own firm in the legal industry, resumes will help you land a good job. Resumes are an apt summary of your caliber and should be carefully drafted. So browse through these amazing legal resume templates to get an idea of what is prevalent in the market right now.
Table of Content
5 Steps to Write a Legal Resume
Step 1: Achievements are a Top Priority
You are hired because of what you have achieved in the legal industry rather than merely your degree. Your achievements should be highlighted right at the start. They may be from college times or from your workplace. An employer getting impressed with your achievements means the job deal is almost sealed. People want achievers rather than just mindless followers.
Step 2: Roles and Responsibilities are Important
Apart from achievements, another area which can help you land a job is your work experience. Be sure to mention what different types of roles and responsibilities you have handled in the legal industry. You may not have achieved significant much but may have accumulated valuable experience in performing numerous and diverse duties. Even such candidates are hired as their diverse experience in law and legal area counts as an achievement.
Step 3: Professional Font and Color Should Be Used
A legal resume is a professional document and should have a standard, readable, and professional font. Black color for text is preferable but you may use other dark colors like brown, navy blue, etc. too. Try to use these colors only for headings or drawing partitions. Keep the main information in black.
Step 4: Community Service and Extra-Curricular Activities Need a Mention
Who says professionals in the legal industry are a serious bunch? It is a very good practice to mention your extra-curricular activities, hobbies, and community service experiences in your resume. It shows your protean personality and increases your chances of impressing the reader. People prefer employees who have a well-rounded personality as it brings novelty and liveliness at the workplace.
Step 5: Text Alignment and Tables
Many legal resumes may have good achievements and work experiences but they lack in presentation. Information is arranged haphazardly and the text alignment is skewered which instantly creates a bad impression about the person. If alignment is becoming an issue, you may use tables to present your information. But tables take too much space so try to avoid them and focus on improving alignment of text.
9+ Legal Resume Templates
1. General Legal Counsel Resume Template
A professional yet appealing legal resume sample template will surely put you in a separate league from the others. Editable in MS Word and Pages, this is a two page, portrait orientation resume which has provision for including your photograph. The circular frame for your photo is something different from the regular passport sized square photos.
2. Legal Resume Template for Criminal Lawyer
Being in the legal profession should not kill your creativity. This law curriculum vitae template features a perfect combination of green and grey portions over white background. This is enhanced by the use of graphics to explain the level of skills the candidate has. The template is fully customizable and is available for free.
3. Formal Legal Resume Template
law.ubalt.edu
One of the most common, formal, and industry accepted lawyer resume templates as these ones, shift the focus of the employer on your experience rather than the aesthetic appeal of the resume. Most of them start with the education section and then enumerate the legal experience. You get eight sample resumes in this bundle.
4. Refined Legal Resume Template
law.marquette.edu
With this legal resume guide you have nine legal resume templates to choose from. These freely available PDF lawyer resume templates are accepted by the Marquette University Law School. Most of them are single page templates and do not use horizontal lines to mark the separation of two sections. All of them follow a standard practice of mentioning educational qualifications ahead of professional and legal experience.
5. Modern Legal Resume Template
abalcc.org
In this free PDF guide to draft a modern resume you get a slightly stylized resume. The two page sample resume, provided at the end of the document, has headings in maroon and brown colors. Lighter shades of brown have been used for text and more importance has been given to professional experience over education section.
6. Model Legal Resume Template
beyondlaw.com.au
It is quite useful to refer to this template while drafting your resume from scratch. This legal curriculum vitae template includes detailed tips to draft every section properly. You can download this PDF format document for free. Apart from standard font in this resume, the main features of this template are its sheer simplicity and no use of graphics and artistic elements.
7. Standard Legal Resume Template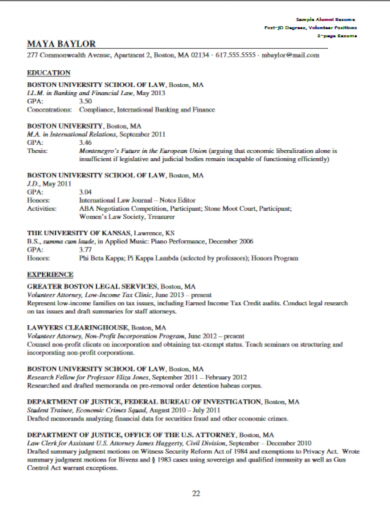 bu.edu
This handbook is one of the most authentic sources for legal curriculum vitae template. 10 sample resumes in this free handbook, help you model your own resume. These resume formats focus more on professional experience and prioritize it over other sections. There is also a list of action verbs provided to include in your resume.
8. Conventional Legal Resume Template
law.tamu.edu
If you are new to drafting a resume, then this guide is for you. The document provides step by step guidance for drafting the perfect resume. Four sample resume formats are provided to give you an idea on how you can align text in various sections. Action verbs are categorized as per their fields which will help enhance your resume.
9. Editable Legal Resume Template
law.uga.edu
Downloading this MS Word file will give you a lawyer CV sample resume which is ready to be edited. You can simply change the information in this DOCX file in MS Word software and prepare your resume instantly. It already has all the relevant sections. You can easily remove or add any section of your choice.
10. Sample Legal Resume Template
mslaw.edu
Two law CV templates in this DOCX file provide two unique perspectives while drafting your resume. One focuses on chronological order of events while the other focuses on the functional aspect i.e. it gives importance to your work done, functions, roles and responsibilities, etc. and highlights it ahead of other areas. Useful tips to better your resume are also provided for free in this document.
More in Legal Templates