Business
15+ Legal Form Templates
Writing a legal form or document can be difficult if you are not a lawyer. For simple forms, you don't always need to engage an attorney. All you need to know is to use the legal language in the right way and understanding the law, regulations, statutes, provisions, etc, governing the matter underhand. To make it even simpler, there are several templates and examples available to help you in drafting a legal form.
Table of Content
5 Steps to Write a Legal Form
Step 1: To Understand the Subject Matter
It is important to ascertain and understand the subject for which you wish to create the legal form. There are several types of legal forms, some of which can only be drafted by an attorney due to their complexity. There are some forms which you can create though like a letter of demand, letter of intent, consent forms, affidavits, etc.
Step 2: Have an Understanding of the Law
The type of legal form you are going to draft is governed by some law or statute. It is important to have an understanding of the concerned law to include every relevant clause and avoid any mishap in the future because of any loopholes. To facilitate you there are several examples available which you can refer to.
Step 3: Take Care of the Understandability
The legal form you draft must be easy to understand. It must be clear, precise and simple. Here, it is important that you analyze your audience. Their level of understanding is important because if they are not comfortable filling it, e.g. it is complex, it will be of no use. Write it in a simple language rather than using legal terms. Language needs to be impressive but not difficult.
Step 4: Body of the Form
For different type of forms, the body of form differs according to it. Still, there are certain points which need to be present in every form. They are details of the organization and the user of the form, the subject matter explained in the form, related terms and conditions, etc. If there are any terms used in a form which requires explanation, describe them separately.
Step 5: Terms and Conditions
These legal forms are used for various purpose but most importantly to facilitate both the parties involved. The party who is filling the form must be aware of the regulations binding on him, the terms and conditions which will be required to be fulfilled, etc. A section describing such terms and conditions must be included in every form.
15+ Legal Form Templates
Here are some ready-made templates and examples for every type of legal form you wish to draft.
1. Legal Subscription Form/Power Of Attorney
The legal agreement template can be useful for drafting a legal subscription form and power of attorney for your business. Its suggestive contents and headings will help you save time and effort. It is a fully editable template in all file formats. It is a print-ready template which you can download instantly.
2. Basic Legal Consent Form Template
mmu.ac.uk
In case you are conducting a study on a bunch of people, it is important to obtain their consent that they understand the terms and conditions, have no doubts regarding the study of legal contract template and are willing to participate. To obtain such consent, you can use this template. Read it thoroughly and make the adjustments as per your requirement.
3. Standard Legal Form Template
authorservices.wiley.com
This legal letter template is useful for drafting a standard release form. It is a form for using the intellectual rights of a party, to take their consent for use of their work. In a business, we may need to use the patents, copyrights or trademarks registered in another person's name. This template is useful no matter in which country you wish to use it. The applicable law and jurisdiction list is also given in the agreement form.
4. Legal Consent Form Template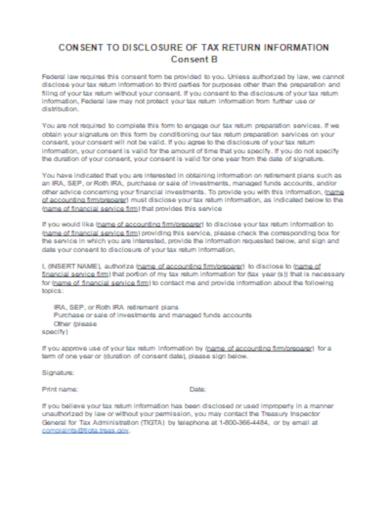 aicpa.org
This is a consent form template for providing financial information to third parties. If you are an accounting firm, which also provides the tax return preparing services to clients, you need to obtain the consent of your clients for passing on the information to third parties for tax return preparation. This is important so in case of any misuse of the information, you will not be held liable.
5. Sample Legal Form Template
drexel.edu
If you are an educational institution, conducting a study on human research, this sample legal agreement template will help you to draft a consent form for the participants. It is important to obtain the consent as in case of human research study, the participants may feel uncomfortable when the work actually starts. So make sure that clause for withdrawal of the consent is clearly mentioned.
6. Basic Legal Form Template
transceleratebiopharmainc.com
This is a sample legal confidentiality agreement template for acquiring consent of the participants in the study/ research. It includes the declaration of person obtaining consent, the signature of a witness (as required in some cases) and a declaration of the participant's legal representative. You can edit as per your research requirements.
7. Simple Legal Consent Template
edctp.org
This is a simple agreement form template for letter of intent. Some organizations host training programs for individuals in order for them to receive funding for their research which they can conduct at the host organization. This template will help the individuals to draft a letter of intent for getting into the training program.
8. Modern Legal Form Template
ec.europa.eu
For funding of grant for a program, this printable agreement form template will be useful to file an application for the same. Firstly, it is important to know that all the conditions required to be fulfilled are met. You can use this template to create your own application form. This is detailed and very well written.
9. Simple Legal Form Format
daman.nic.in
If you want to make any amendment or alteration in your partnership deed, this legal template can be used. It is a general partnership deed and you can add any clause specific for your business. You do not need to engage any legal representative for such small issues if you can simply use this format and make amendments/ alteration by yourself.
10. Minimal Basic Legal Consent Form
research.ncsu.edu
This is another consent order form which stands out from the others because of the question-answer format of this form which makes it easy to understand. The uncommon terms are explained in the beginning which is good. You can see this format to create a consent form for your research/ program.
11. Reusable Professional Legal Form Template
smallbusiness.wa.gov.au
It is quite normal in business that some debtors or business partners do not make the payment even after the due date. To remind them that the payment is outstanding, you can send them the letter of demand, asking for the dues. This is an editable legal notice template which will help you to save time and make a professional looking letter.
12. Editable Legal Form Template
legalservicescouncil.org.au
It is important for the clients/ potential clients to know that what work you will do for them and how much will it cost them. It is required so that there is no confusion in the future regarding payments. If you wish to disclose such costs, you can use this editable form for such purpose. It is simple and print-ready and can be used after making necessary adjustments.
13. Legal Form Template Example
ukas.com
In case you have an accreditation from government institution and you want to transfer it to a new legal entity, you can use this template. It is important to state the reason of transfer and full legal title of the entity, which will be benefited. This is an editable legal agreements format which you can use after making the required changes and keeping in mind the policy of the accreditation institute.
14. Free Legal Form Template
hbs.edu
While entering into a legal form contract, if you want to keep your information confidential, you need to sign a non-disclosure agreement with the other party. It is to be signed before entering into the contract. This editable template can be used to draft such non-disclosure agreement to keep you deal confidential.
15. Printable Legal Form Template
ble.mn.gov
This contract template can be used to file an affidavit in support of an applicant for admission to the Bar. The person who has to file the affidavit can use this template to create one. It is simple and editable. Though this one is made for a specific purpose, you can make the changes and use it for filing affidavit for other purposes as well.
16. Basic Legal Consent Form Example
uthsc.edu
This basic contract template is for the humanitarian use device for children. You cannot use it directly by making changes in it but you can have an idea about how you can create a legal template if you are providing any similar service to patients. When it comes to health of a person, it is important that they understand each and every aspect so there is signature included in the footer of every page to ensure no page or point is left out from reading.
More in Business