Legal Templates
12+ Legal Templates in Word | Google Docs | Google Sheets | Number | XLS | Pages | PDF
Any form of business or a legal transaction would require a legal agreement to be created between the two parties. Such a document should have the terms and conditions written in it along with the details of the payment involved. The product or service which is acting as the basis of the transaction should also be described in this document.
Table of Content
6 Steps to Create a Private Agreement in MS Word
Step 1: Write the Basic Details
In the first step, write down the basic details of the agreement like when it starts and when it ends. In this section, only mention the details of the two parties engaging. Suppose it is a lease agreement, then, in that case, you need to write down the name and contact details of the lessor and lessee.
Step 2: Recitals
Next, write down the recitals. This provides a basic outline of the entire agreement. If we take the previous example, then the recitals section would include the information that this is a lease agreement between so and so [mention the full name of the two parties and also write down what is being leased.
Step 3: Description
After the recital section, we should describe the product, service or real estate that is forming the basis of this agreement. Say, for example, you are leasing your house. In that case, you have to mention both the location as well as the dimensions of your property as accurately as possible. If this is a different type of property with a property manager involved, his details need to be provided as well.
Step 4: Terms and Conditions
After fully describing the property or service involved in the agreement, we need to write down the terms and conditions of the agreement. If it is a property that you are leasing out then, in that case, this is should contain the details related to the stipulations that he needs to follow to be allowed to use the property and that he should return the property after the term is over in its original condition. The payment details can be included as a subsection in this.
Step 5: Miscellaneous
In this section, the miscellaneous obligations need to be listed out. For example, there might be an instance when the tenant is not able to pay the installment of a certain month. What is to happen then? What is the extra sum that he will have to pay when? How much time will he be given to pay the overdue amount?
Step 6: Statement Signatures
Finally, there should be a statement mentioning that both parties by signing this document agree to the terms and conditions that have been stated above and promise to abide by them. After that, leave spaces for both the parties to put their names and signatures along with the date of signing.
12+ Legal Templates in Word
1. Legal Agreement Template
Legal agreements are filled with technicalities and are better left to the professionals. If you have no prior experience in creating such documents, consider downloading this legal template in MS Word. It is primarily directed at parties where one is offering book-keeping services to the other. However, you can make changes to it to fit your requirements, whatever they might be.
2. Legal Consulting Invoice Template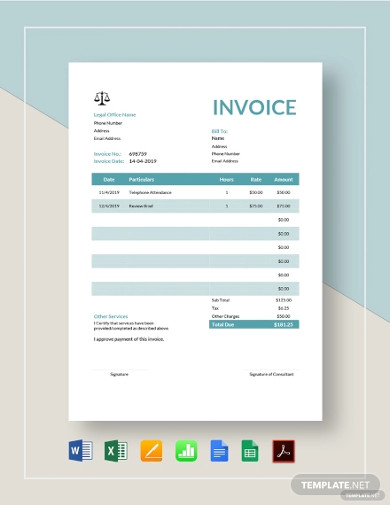 If you were thinking of creating a legal consulting invoice, we can help you save some time and effort. All you have to do is download this high-quality invoice template. Open it and edit in the software of your choice. The instructions for doing the same have been provided with the template. If you need some variation, you can choose from the multiple other templates on our site.
3. Legal Services Invoice Template
A professional-looking invoice creates a good impression in front of clients, so make sure yours look great too. It might be so that you lack designing skills. That is totally alright. You just need to be good at the service that you are providing. We can take care of the rest. Download this legal template in Pages and enter the necessary details. That is all you need to do to get a professional-looking invoice.
4. Legal Strategic Plan Template
If you are thinking of opening a legal firm you should take a look at this legal strategic plan that has been created by our team of professionals. Your nature of the business also seems to be the type that demands a number of technical documents. You would be pleased to know that we have quite a large collection of legal templates that you can start using right now. All you have to do is download them.
5. Legal Confidentiality Agreement Template
If you are in the type of business that requires frequent use of legal confidentiality agreements, then you should consider downloading this legal confidentiality agreement. There might be several more legal forms that you will be needing in the future. We have templates for most of them. That is why we suggest that you bookmark our site as well for future reference. You can also check them out now if you have the time.
6. Legal Statement Template
If this is the first time you are creating a legal statement, then it is highly advisable that you use a template like the one here as a reference. It will not only help you to keep your document error-free but would also save you a lot of time that you would otherwise have had to spend on research. There are many legal letters available on our site that you can go through if you can spare some time.
7. Legal Memo Template
If you have a client to whom you would like to explain certain laws that are particularly applicable to his case then you need to send him a legal memo like the one here. If you want your legal memos to look professional, then you might want to check out this sample we have created. We have a number of such templates on our site that are totally worth your time. So do check them out.
8. Legal Binding Contract Template
If you are looking for the services of a certain company, something that you need at your disposal is a legal binding contract that mentions all the details related to the parties, the terms and conditions, payment, etc. Creating legal contracts can be a difficult task, though not so much when you have a template like the one provided here. So download this now and make the most of it.
9. Free Legal Rebuttal Letter
If you are looking for legal cover letters that can help you to write one in relation to a legal rebuttal that you have to present, you should download this sample immediately. You can also edit them however you like for they are 100% editable. If you believe that you would like to use similar templates in the future, you should probably bookmark our site. There is a huge collection there waiting for you to explore.
10. Free Legal Notice Template
If you are looking for legal notice templates to make your job easier, then we have good news for you. We are hosting one of the largest collections of templates available on the internet. If you want to skip searching and start creating a notice immediately, you should give this template a try. It is totally editable and you can make any change that you want. So download it now to get started.
11. Final Notice Before Legal Action Template
Even after sending multiple notices, if the accused failed to turn up, then it is probably time to send a final notice before taking legal action. If you are busy with other pressing matters and can hardly find some time to create this document, then allow us to help. We have created this template keeping in mind the situation that we just discussed. So download it now and fill in the correct details.
12. Sample Legal Advice Statement
If you need some help in preparing a statement of legal advice then check out this sample. It might be so that you have never had to create one before. There are many more such templates on our site that can help you with the legal matters that you might be encountering on a regular basis. If that is indeed the case we suggest that you bookmark our site, so that you can access it later when you require it again.
13. Legal Letter Template
Legal letters need to follow a certain format that is a bit different from the formal letters that we usually come across. If you need to create one urgently, you should take help from our templates. There are quite a number of them and all of them are of great quality. We have already handpicked one for you and would appreciate it if you downloaded it and used it.
More in Legal Templates