Legal Templates
15+ Legal Statement Templates
A legal statement is a document stating the fact of your case before the court. It may be an affidavit, a victim statement, a brief of your case, etc. It requires a lot of care and a professional tone so the reader reads it till the last and it impacts him. Here are some ways to help you with your statement writing whether you are a legal professional or an individual.
Table of Content
5 Steps to Write a Legal Statement
Step 1: Only Facts, No Makeup
It is very important. State the original facts only and state them very clearly. There is no point in writing something that did not even actually happened. The manner in which you are writing matters a lot. Keep in mind the result you want your statement to generate. It helps a lot.
Step 2: Purpose of the Statement
You should better understand the purpose for which you are writing the legal statement. Are you defending your victim client? Are you suing the other party for violation of rules? It is important so that you know what results you want your statement to generate. It will also help you to organize the points in your letter.
Step 3: General Info In a Legal Statement
There is some general info which is common in every statement. There is date of the statement, the parties in the statement to clarify who did what. It is important to clarify the parties to avoid any confusion and make it easy for the judge to understand. In case of an affidavit, there is the information of the only person who is swearing and the person, department or court he is swearing before.
Step 4: Body of the Statement
This part is the most important and needs to be written very carefully. The paragraphs should be small and numbered. Each paragraph should contain a single event. Use little events to build the picture in order to get the judge on your side. Your statement should be able to give a clear picture to the reader of the whole incident.
Step 5: Some General and Important Points
Do not write in an argumentative tone. Write the points in a manner to support your case and not opposing the other party and at the same time proving them wrong. Identify the events which can make your case and describe them carefully. Do not try to draw any conclusions. Simply put the original facts.
15+ Legal Statement Templates
These templates and examples will help you write an effective legal statement.
1. Simple Legal Statement Template
This is a ready-made legal letter template which is designed specifically for legal purposes. Its content is written in a formal and professional tone. You can simply put in your details as per your needs. It is available in all file formats. It is legally acceptable and will be helpful in saving your time and effort.
2. Simple Witness Statement Template
This is a statement template for recording statement of a witness for providing evidence in the court. It has suggestive headings to facilitate you or the witness of your case. It is a simple witness statement template which can help you to write the statement and helps you save time.
3. Basic Sworn Statement Template
This sworn witness statement template will help you write a statement and acknowledge the truthfulness of the event or incident. Not only for the legal purpose, but this statement can be used for the bank applications purpose as well. It is a multipurpose document which you can download instantly.
4. Legal Witness Statement Template
If you are looking for a ready-made witness template, this statement template is all you need. It is a concise and well-written statement. It is available in all file formats. You can download it instantly. It is fully customizable and editable. In order to save your time, download this template and just fill in your details.
5. Legal Sworn Statement Template
This is a simple sworn statement template. This template is written in business fonts to facilitate professionals. It has contents covered that can be important to your legal proceedings. It is editable, customizable and print-ready. Just put in your details and you are ready to go and we can also use copyright notice template.
6. Professional Legal Statement Template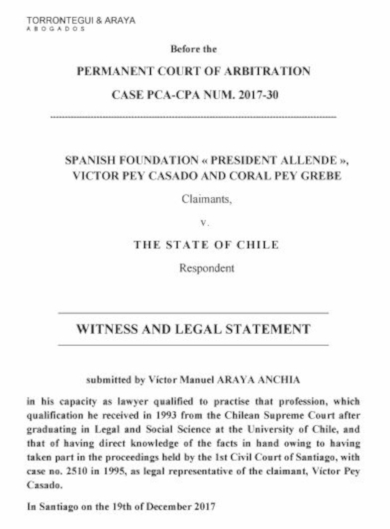 italaw.com
You can refer this example to draft a statement template for your client. The first page contains the details of the court where it is being presented, the parties to the case and most importantly the information of the lawyer, stating his competitiveness to the case. There is chain of related documents and table of contents to make it look organized and professional.
7. Sample Legal Witness Statement Example
legalaid.qld.gov.au
A witness settlement statement example can prove to be very helpful in prosecuting a culprit if it is written with due care. This is sample witness statement. It is short and concise though it is preferable to write statement in a detailed form, stating every event in detail to get judge on your side.
8. Legal Statement Examples
library.bcpharmacists.org
An affidavit needs to be filed for many purposes. This is a bunch of affidavits for three different purposes. You can see the example and draft one for your own need. Do mention the authority to which you are filing this affidavit and the subject matter of filing it. Affidavit is a simple statement which does not require a legal opinion in many cases for example legal bank statement template.
9. Legal Victim Impact Statement Example
law.lclark.edu
When your client is a victim of a severe abuse in the past and still gathering the courage to speak up against the wrongdoing happened, a strong victim impact statement is required to be drafted. These free statement examples are very well written and will help you to write one. It is important here to state every point which strengthens the chance of punishment to culprit.
10. Legal Brief Statement Example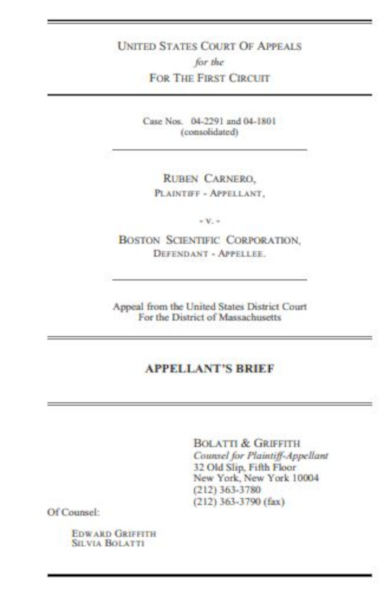 law.du.edu
This is an example of an appellant's brief. You will need it when you are filing an appeal against any previous judgment made by court. In the example, there is table of contents, all the related case laws to support your argument and the relevant statutes and provisions of different laws applicable in order to make your case strong also income statement template is legal template for statement example.
11. Legal Affidavit Statement Template
ble.mn.gov
This is a capability statement template for filing affidavit for helping a law student getting admission into the bar. The conditions are simple that the applicant must not be relative or friend. This is an editable format. You can simply download it, make the required changes and you are ready to go.
12. Legal Statement of Claim Template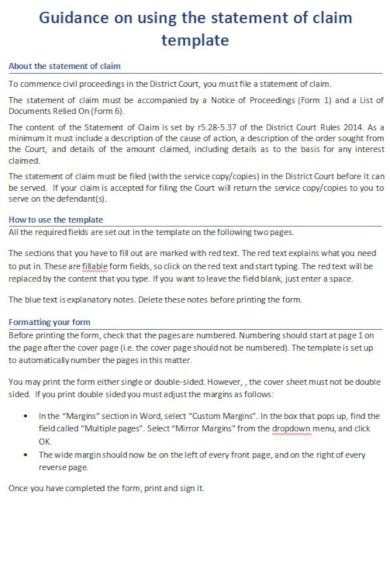 justice.govt.nz
In order to commence a proceeding in the court, a statement of claim is filed accompanied with a list of documents and notice of proceedings. This is a legal memo template for the said purpose. There are instructions given in the template itself as to what should be written where, which is very helpful.
13. Basic Legal Witness Statement Format
maqohsc.sa.gov.au
A witness statement form plays an important role and that's why needed to be drafted carefully. This template is a witness form of an event, incident or accident in a workplace. To facilitate the worker who has witnessed the happening, this template can be used to prove the negligence on the part of supervisor or the concerned person of staff.
14. Basic Legal Statement Layout
oregonlawhelp.org
This is a simple statement template format for filing an affidavit. You can seek help from this example to draft one. Make sure that all the information you put in an affidavit is true. It is a sworn statement and providing wrong information may get you into trouble. Duly sign your affidavit before submission.
15. Standard Legal Statement Template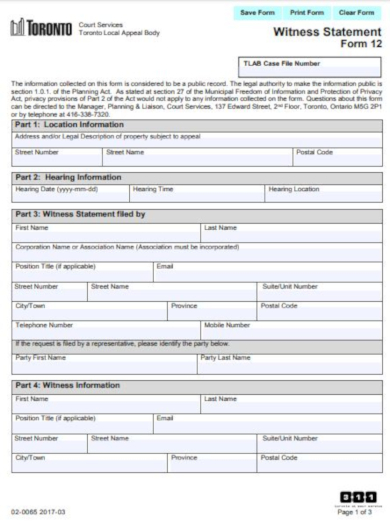 toronto.ca
This is a witness word statement which can be used by the witness himself or his representative to provide evidence in an appeal. The witness must have an interest in the appeal. It is a well-designed format to facilitate witnesses and their representatives. You can refer this format for your use.
16. Editable Legal Statement Format
ro12.dole.gov.ph
This is another example of sworn affidavit. It is an editable format of consent form template. Its suggestive content will help you if you have the similar subject matter. It is a sample of affidavit for your firm that it is not engaged in any business or violates any law and adheres to industry practices.
More in Legal Templates