Legal Templates
10+ Legal Cover Letter Templates
First impression matters a lot. In a job application, the first thing an employer sees is the cover letter. If you are a law student or a law graduate and looking for a job or an internship, you need to write an impressive cover letter. Here are some examples and templates to help you out.
Table of Content
5 Steps to Write a Legal Cover Letter
Step 1: Not More Than One Page
An ideal cover letter should not go beyond one page. You need to limit it in one. You will attach your CV or resume containing all your details. In the cover letter, you need to give an overview of your qualifications, skills, experience, etc. You cover letter should reflect your personality.
Step 2: Write in a Professional Matter
Your cover letter should look professional. The language you use must be simple but impressive. Using difficult words won't help you anyway. Proofread it twice and make sure that there are no spelling mistakes. Do not just repeat what you have written on the resume because there is no point in presenting duplicate information. Remember the reason of writing the cover letter.
Step 3: Why They Should Choose You?
You are not the only applicant, remember that. Out of all the applicants, why should they choose you? Here, it is important to know what skills they are looking for, what experiences the position requires and if you possess them. Describe your skills, qualifications and experience, your commitment to the organization and the reason you wish to be a part of them.
Step 4: Some Basic Points
Do some research and find out the employer info. A direct salutation is preferred to "Dear Sir/Madam". Apart from your contact info, also include the employer's contact information, especially when you are sending the application through mail. Include a polite salutation to end your letter in a professional manner.
Step 5: Know the Organization
A cover letter is meant to sell you but it is not only about you but for the organization as well in which you are applying. You should write in such manner which shows that you are not only interested in position but also in the firm/ company. Show your genuine interest. Do some research about the firm/company.
10+ Legal Cover Letter Templates
1. Simple Legal Cover Letter Templates
law.berkeley.edu
This is a simple legal cover letter. It will help you draft a perfect one for yourself. It is not a template but a guide in the letter format itself. It is completed in a single page. The letter is divided into three paragraphs- opening, heart of the letter and closing paragraph. And it is enough to cover everything.
2. Sample Legal Cover Letter Templates
fasken.com
This is a bunch of legal cover letters sample which you can refer to. These examples will show you the different ways in which you can write your information or in case of using a letterhead, what should it look like. As for the subject line, it is missing in some of the examples. Generally it is written, rest is up to you.
3. Legal Cover Letter Examples
hls.harvard.edu
This is another bunch of cover letter templates to guide you in writing a cover letter for yourself. Whether you are a first-year student or a college graduate, you will find examples here for you. Its suggestive content can be very useful for you. It also shows the different format and alignment acceptable for writing a cover letter.
4. Best Legal Cover Letter Formats
gwlawcareers.org
This is a combination of 4 examples of law student cover letters. In the first year and second year, a student can apply for an internship or as an associate, but a third-year student, who is about to complete his graduation looks for a rather stable position. These examples will help in writing cover letters for all of these.
5. Professional Legal Cover Template
cdn.law.stanford.edu
This is a cover letter example for position of a mid-level attorney for IP litigation. This is another simple cover letter. In the beginning, there is no space for applicant's info but you should add it if you are not using a letterhead. It is important so that if you are selected, you can easily be contacted.
6. Sample Cover Letter for Legal Job Application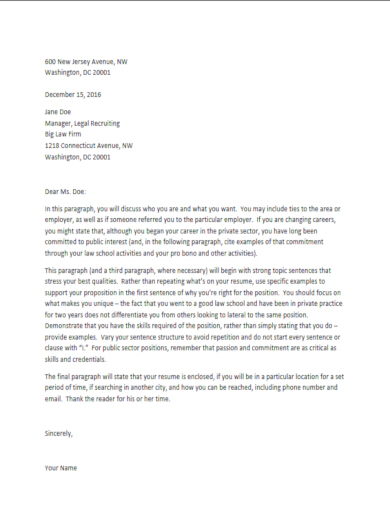 law.georgetown.edu
This is another simple cover letter template example to help you. It is simple and clear. It has instructions written in the paragraph about what you should write in each paragraph. Again there is no subject line in the letter so it is up to you to decide if you want it.
7. Law Student Cover Letter Templates
law.yale.edu
In this example set, you will find different short cover letters for different internship positions. Apart from that, there are examples of resumes as well. So it solves the purpose of writing both cover letter and resume. These cover letters may seem easy to write but they hold the power to decide that you will be selected or not.
8. Basic Legal Cover Letter Template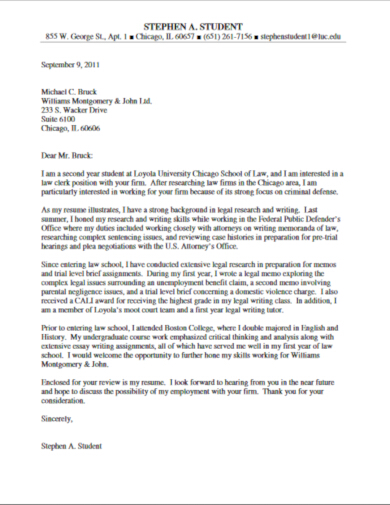 luc.edu
You can see the cover letter outline which will help you a lot while writing an impressive and professional looking cover letter. It will also help you to check that you haven't missed any relevant point. A sample cover letter based on the given instructions is there for your reference.
9. Simple Legal Cover Letter Layout
moritzlaw.osu.edu
The importance of a cover letter is understood when you are asking for a job. This example is a cover letter for judicial clerkship. The position requires professionalism and a certain maturity level. Your cover letter is supposed to reflect your personality through a single page and this word cover letter will help you to do so.
10. Standard Legal Cover Letter Template
vermontlaw.edu
This sample cover letter format is a template as well as a guide to write a good cover letter. Follow the instructions given for each paragraph. For second and third paragraph, keep in mind, the employer employs you on the basis of your skill and partly for your commitment to his organization.
11. Modern Legal Cover Letter Template
dayjob.com
In this example, a slight partition is made for applicant's info and the letter. It makes the cover letter look different from the regular cover letters. Then, the first line of the letter is the source from which you came to know about the position. It is good to disclose who referred you or the source of your knowledge regarding position.