Schedule Templates
7+ Snack Schedule Templates
A snack schedule template enables the planning of healthy snacks for family outings, family gatherings, kinder gardens, primary schools, sports teams, etc. It includes information like the type of snack to be provided, who should provide the snack, for whom, for how many people, when to distribute the snacks Schedule Templates, where to have the snacks, contact details of the snack provider, etc. This eases the entire program, saves time, and prevents last minute hassles.
Team Snack Schedule Template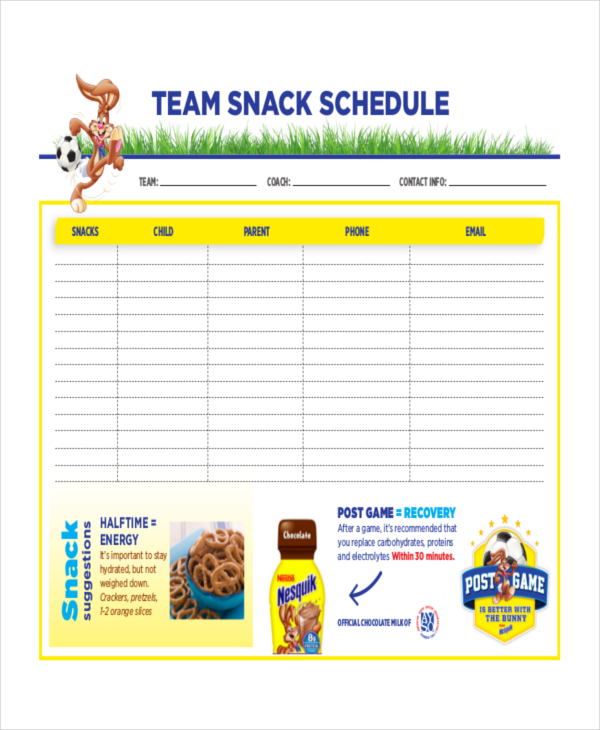 ayso.org
This template is designed for snack provision for a sports team after games and includes info like the name of the team, coach's name, contact info, type of snack, child's name, parent's name, phone number, and email id. You may also see Appointment Schedule Templates.
Soccer Snack Schedule Template
rcssoccerclub.org
This template is used when a parent of a soccer team's member has to bring snacks for the team on the game day. Info included are the game date, child's name, parent's name, contact phone number and email id.
Roster & Game Snack Schedule
drive.google.com
This is used when snacks have to be availed from a commercial provider. It includes info like the manager, coach, team members, their first and last names, age, phone number, email, parents' name, type of snack, concession, etc.
Baseball Snack Schedule Template
tesorobaseball.com
This template is used when snacks have to be obtained from a snack bar by volunteers and distributed among the team. It includes info like date, tournament schedule, snack bar volunteers, and game timing.
Snack Shack Schedule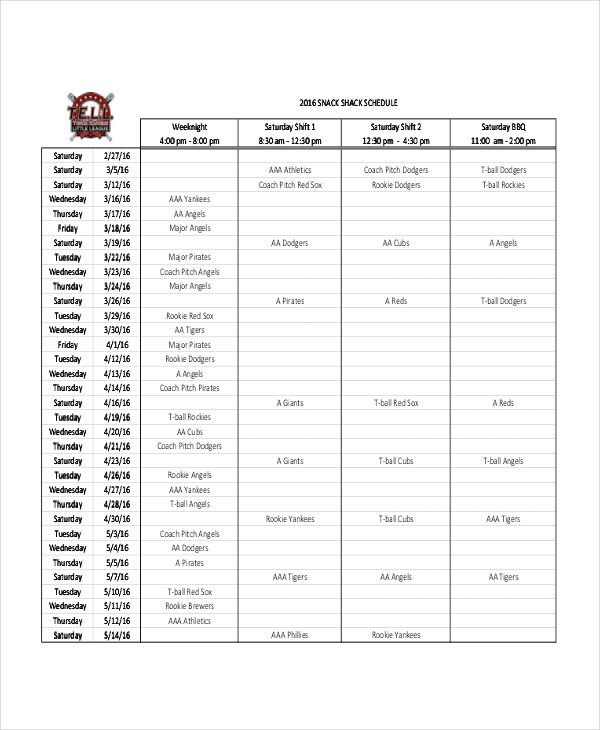 assets.ngin.com
This template is used when it is the responsibility of different teams to take up snack provision for the entire unit. It includes the dates, timings and the teams responsible for providing snacks.
Spyn Snack Schedule
summitparkbible.org
Preschool Snack Schedule
stleonardschool.org
> Why use a Snack Schedule Template?
Youth and children sports have followed the tradition of parents taking up the snack provision session for years. Often parents tend to forget their turn.

A snack tracking schedule is used to coordinate this by delegating the ongoing and future snack provision tasks.

A schedule can be edited by the players or parents with updates like "Carl is bringing doughnuts."

This also ensures that snacks are distributed to the right people at the right timing.
The use of this template can also be extended for tracking other necessities like those extra socks, extra gloves, ponytail holders, etc which you have to carry around during your sports events.
> How to Use a Snack Schedule Template?
Have a discussion with your team's parents on the healthy snacks and drinks that can be distributed to the team.
This will not only ensure that the snacks handed out are healthy, but also will help avoid those snacks to which one or more members are allergic to.
Create a team roster so that parents and children can familiarize themselves with the names of other children and their parents.
Create a snack schedule rotation for your team. This will take care that every child gets nutritious refreshment after every game.
Hand out a copy of the snack schedule template to the parents. Remind parents of the forthcoming game dates.
> What Factors Should go into Scheduling your Team's Snack?
As mentioned earlier, parents should be informed of the healthy snack options like granola bars, grapes, fruit roll-ups, etc.
This will enable them to plan and prepare these well in advance and thus eliminate last minute hassles. It should be ensured that the team members and their parents get a copy of the game schedules including the game timings, the field number and the team name.
In case any parent is unable to provide snacks on their assigned date, they should inform earlier so that snack arrangements can be made by other parents on that particular date.
Healthy snacking after each game is necessary during any sports schedule to keep your team members nourished and energetic. A good snack schedule template should be chosen and a track of the schedule should be handed out to the team members and their parents for a great sports event!