Words fail you when someone close to you leaves. Express yourself through a beautiful array of colours and designs that could melt the heart and let true emotions show. These funeral program brochures templates will help you get through the hard part and help you accept the homecoming of an old tired soul. Let your emotions out and express through some of these bespoke designs to let your heart tell its tale. You can also see Funeral service Brochure Templates.
33+ Funeral Templates in Word, Excel, PSD, Google Docs, InDesign, Apple Pages, Google Sheets, Publisher, Apple Numbers, Illustrator - START DOWNLOADING
Elegant Funeral Obituary Bi-Fold Brochure Template
Elegant Funeral Obituary Tri-Fold Brochure Template
Editable Cremation Funeral Bi-Fold Brochure Template
Editable Cremation Funeral Tri-Fold Brochure Template
Ceremony Cremation Funeral Bi-Fold Brochure Template
Ceremony Cremation Funeral Tri-Fold Brochure Template
Booklet Funeral Obituary Brochure Template
Funeral Tri-fold Brochure Template in PSD
Free Catholic Funeral Bi-fold Brochure Example
Free Funeral Brochure Sample
Free Bi-fold Funeral Brochure
Funeral Program Brochure
The perfect brochure for all moods and seasons with a classic design. Easily editable, available in 8 or more colours, bi-fold of size 8.5×11, 0.25" bleeds, 300dpi and with well-organised layers.
Bi-Fold Funeral Brochure Template
Simple and elegantly crafted design, it's perfect for a memorial with a classy setting. It's editable on Photoshop, layers are well organised and US letter size plus bleeds with 300dpi resolution. You can also see Funeral Card Templates.
Funeral Service Brochure
A brochure conveying a peaceful feeling with a simple blue-white colour palette. It is available for instant download and is in MS Word format. Size is 11×8.5".
Golden Funeral Program Brochure
Designed to look regal with a black and yellow-golden colour palette. It is easily editable, 8.5×11" when folded and 300dpi with 0.125 bleed.
Old Style Funeral Brochure
A vintage, coffee coloured palette which gives the warm feeling of the age-old memories. It contains 2 PSD files, well–organised, 300dpi, US letter size with bleed, print ready.
Mini Square Tri Fold Funeral Brochure
Kid Funeral Brochure Template
Dark Funeral Brochure Template
Blossom Funeral Program Brochure
Trifold Funeral Brochure Template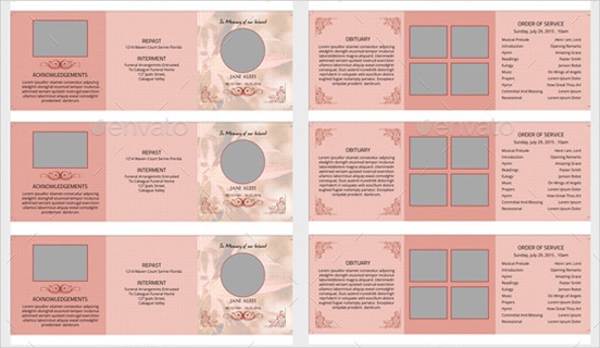 Princess Funeral Brochure Photoshop Template
Celebration of life Funeral Brochure
Vintage Lavender Funeral Brochure
Peace Funeral Program Bifold Borchure Template
Decorative Funeral Program Template
Custom Funeral Memorial Tri Fold Brochure Template
The river of emotions is flowing through you and is fighting to come out. Let it run and say your last good bye. These templates are exactly what you need to make for your loved one stay fixed in your memory. Let these memorial brochures make a difference.