Psd
18+ Event PSD Themes & Templates
PSD Template features allow you to create, edit, sell event's ticket, and manage order for any types of events such as trade shows, Conferences, Wedding, Party and so on. Supported by features like Getting direction on Map, quick Contact form, detailed Ticket Price, Event Schedule, Speakers, Sponsor of these events PSD Templates.
Wedding Event Shop PSD Theme $11

This is a PSD website template for wedding supplies retailers. This is simple and easy to use. This showcases the products available and the products can range from cakes to dresses and accessories etc.
Event Manager PSD Theme $10
Multipurpose Event PSD Template $9

This multipurpose event PSD Template features the option of posting a video on the homepage. It has a a lot of scope for writing about the company, which could be any company or individual organising and managing events.
Model Event Agency PSD Template $11

This template is ideal for a fashion event organizer. It is a full-size PSD template to feature all the activities and events managed by this e Company. There is a image scroller to look at the work done.
Event & Course PSD Template $12
This template is specifically designed for use by Colleges and Universities. It has a fairly fresh look with all the necessary sections built into it. The different courses offered and the option to apply to any of them, seat availability etc. is all nicely incorporated.
This is a workshop event landing page theme for Companies organizing such events. It has a quirky colour combination which looks both professional and perky. It has all the essential elements like time schedule, venue and a day-wise agenda.
Wedding Event Planner PSD Template $11

This is a comprehensive and simple Wedding Planner Template for all those who want to share the joy of their special day with friends and family. This covers all the essential elements from gallery to video down to the minute wedding details.
Simple Event PSD Template $10

This is a very simple event template as the name suggests and with a simple calendar merged with a customizable image, it gives the highlights of the event at the bottom of the page.
Premium One Page Event Manager Theme $8

This is an event manager's dream Theme. It is simple and easy to use. It gives the schedule along with the main highlights of the event along with other essentials.
Fashion Event PSD Template $11

This is a very contemporary Fashion event Template designed for Fashion Event managers and organizers. It is classy yet oozes a lot of style and brilliantly incorporates featured sections like News & Features etc.
This is a colourful template based on PSD and can be used for organizing Conferences, workshops, meetings etc. It summarizes the schedule, agenda etc. of the conference in three sleek boxes and also gives you scope to write a little story about the Event management Company.
Event Tickets Management PSD
One Page Event and Conference Template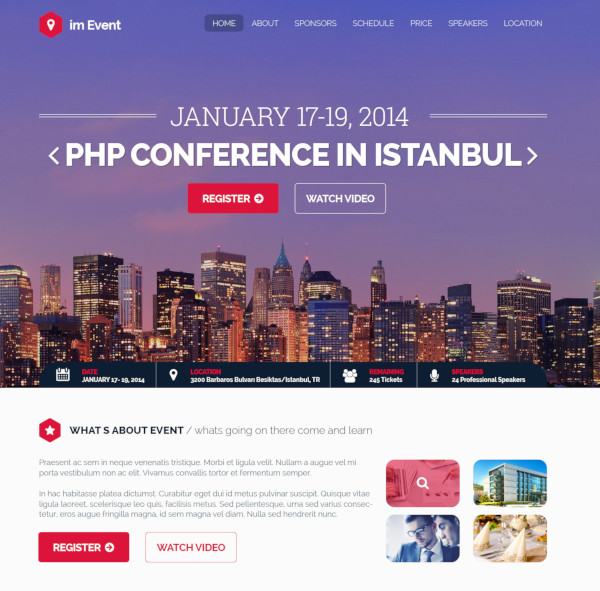 Premium Wedding Planner PSD Template $11
Premium Model Agency Event PSD Template $11
One Page Business Event & Conference Template $9
Wedding Event Cake PSD Template $11
Music & Bands PSD Theme $10
Wedding Event Album PSD Template $11
Creative Event PSD Template $12
The themes also include clear and clean design, event pages, lots of customizable features, blogging options, Google web fonts, cross-browser compatibility. The responsive PSD themes are adaptable to all screen sizes, along with other features like cross-browser compatibility, event calendars, custom page templates, tooltips etc.