Graphic Design
Timeline Ideas
Timelines are awesome infographics that can be homemade, handmade, or digitally created, all to create a visual collage of images, headers, and descriptions depicting a set of chronological steps to achieve a specific thing. They are commonly used by teachers for educational purposes, specifically in the subjects of geology, earth science, history, and business management, to track the progression of the tectonic plates, as well as to keep track of student's project progress and submission in colleges, schools, and universities. 
Download the Free Timeline Ideas Article in PDF

Download
Table of Content
Timeline Ideas and Examples
There are plenty of ways to use a timeline, regardless if you are tracking the history of the rise of the Democratic States of America, the 54th anniversary of a business, the birth of a child, or the civil war between different social classes. It can even track down and detail the trajectory of a revolutionary, including the new systems a tech company is programming. Thus, it is essential to have a basic idea of what type of timeline you will make, as it can dictate your timeline's whole theme, design, and layout.
Project Timeline Ideas and Examples
A project timeline can be used by a tech company or a business to set a trajectory or direction where they want their final output to be. A marketing team could also use the timeline for marketing specific products via sharing the development of said products as an act of transparency. This should include specific dates or years when a particular objective is or should be accomplished.
Construction Timeline Ideas and Examples
Constructing the foundation structures of a house or building takes time to complete, from a three-story building with double glassed windows to a small retirement home in the woods. A construction timeline is a visual graph showing which parts of the building or design will be worked on or finished. This timeline should have specific dates on which part of the building will be performed on or completed and the accompanying descriptions detailing what part is being worked on or finished.
Freelancer Timeline Ideas and Examples
A freelancer timeline is a tool used to help freshly-hired freelancers settle in the company. The HR, the TL, or the manager can create this timeline and include the dates, phases, and descriptions that the new freelancer will go through. This will help ease the onboarding process of the new hire and ensure they have a reference on what their first few days will be like.
Event Timeline ideas and Examples
Events are public and social activities that will require plenty of planning to succeed. Planners and organizers can use an event timeline to illustrate the overall event flow while acting as a tool that reviews the event's current progress. As such, event timelines should include their event details, from their titles, dates, time, and theme, while color-coding their lines and graphics with colors like navy blue, scarlet red, and more.
Wedding Timeline Ideas and Examples
A wedding is a very delicate and important event one can have in life. For a successful marriage, the wedding planner should use a wedding timeline to help structure and keep track of the event flow during the bride and groom's special day. This particular timeline should detail the events leading up to the wedding and can be printed out and kept in a journal or notebook.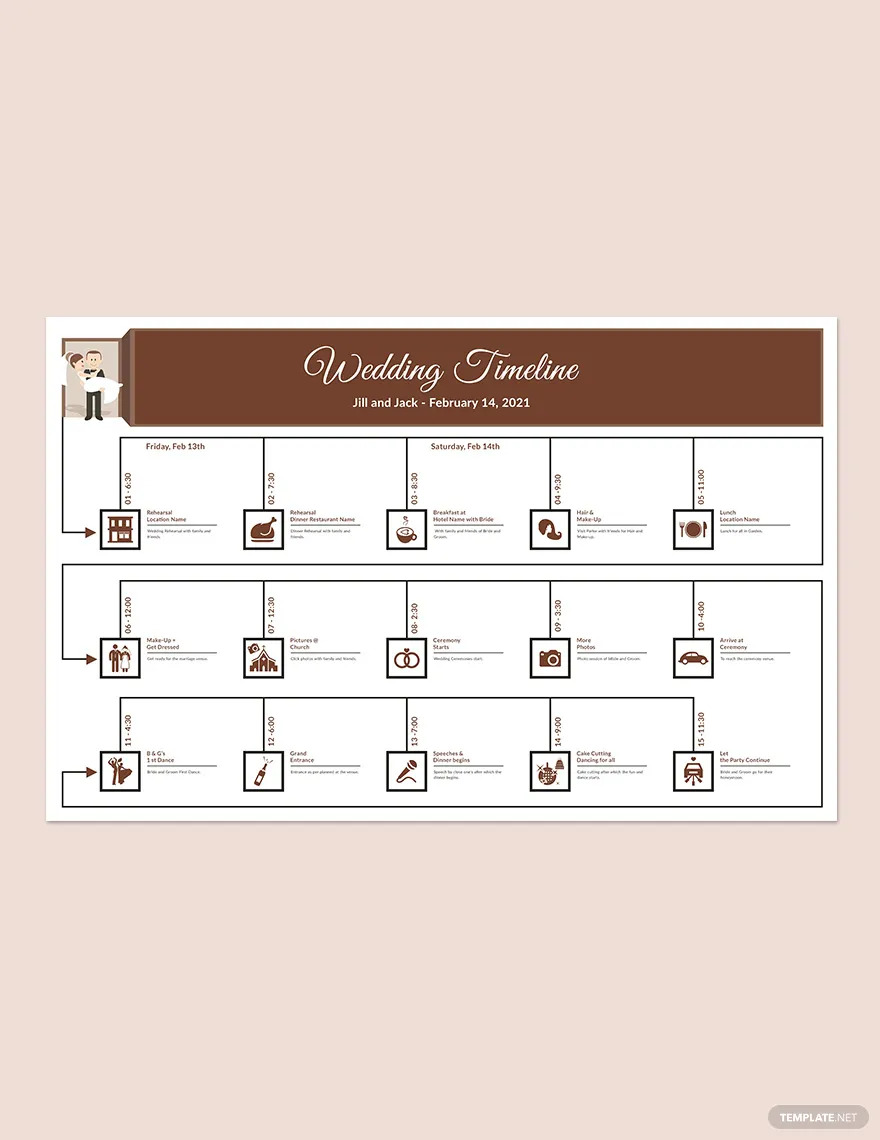 IT and Software Timeline Ideas and Examples
An IT and software timeline is an HR tool or strategy employed by upper management to ensure that their developers have a direction to follow in their effort to develop software for a website or a program. The timeline should include bullet points of actions that need to be accomplished, including specific dates when they should be accomplished. For a professional-looking timeline, feel free to insert your header stating your company's name, logo, and contact details.
University Timeline Ideas and Examples
University students have to go through a lot of projects, assignments, and presentations to get their hard-earned degrees. A student can use a university timeline for their assigned tasks and projects to ensure they get high marks on their grades. While a teacher can use this timeline to help give their students a schedule on what tasks should be accomplished for a specific project or assignment. The university timeline should include all the minutiae of the phases or tasks that the student will achieve.
Business Timeline Ideas and Examples
A business timeline is a marketing tool used to project the direction the business or company is heading visually. The timeline should display the initial state of the industry, the present state of the business, and the estimated position the company will be on a specific date, month, or year. A company manager can include their company's banner, logo, and accompanying descriptions, all of which will be presented and approved by their management.
History Timeline Ideas and Examples
People study their past to prevent the previous mistakes made by their forefathers. A history timeline will help illustrate the chronological pathway of events leading up to a specific culminating event while visually exhibiting their relationship. This should include images and headers detailing the event's title, dates, and time when the event happened.
FAQs
What should a timeline include?
A basic timeline should have brief descriptions, specific dates, periods, and sometimes images, headers, and symbols, of particular activities or events, arranged chronologically.
Is there a timeline template in Google Docs?
Template.net offers a variety of ready-made timeline templates that are compatible and editable in Google Docs format.
How to build an infographic timeline?
An infographic timeline comprises headers, brief (and sometimes funny) descriptions, images and symbols, and various associated dates and times centered around the infographic's subject matter.
How do I create a career path timeline?
A career path timeline should include the title of the career and/or positions one is planning to go through, the accompanying descriptions of the titles, and the estimated dates, months, or years one might achieve that said career.
What is the typical product development timeline?
A typical product development timeline is a detailed graph or table that lists the different phases a product should be in at a specific timeframe.
How do you manage your work timeline?
A work timeline should be updated every time there is a change in schedule or workflow, indicating the most recent tasks, phases, or specific dates the project or work is currently at.
What should your marketing timeline look like?
The marketing timeline should be displayed or presented with the key facts, descriptions, and the overall direction of the company's marketing strategy moving forward.
When should a project timeline be created?
A project timeline should be created after its brainstorming and planning phase.
How to create an event planning timeline?
Gather various data about the event, create an outline based on the wants of the host and the data gathered, then begin piecing together the event timeline with the associated headers, descriptions, and images.
What should be in a project timeline?
A project timeline should have a header, a description/s of the different stages the project will go through, and the specific times and dates the different stages should be accomplished, including various images or symbols about the activity.