Car rental agreement samples help you own a vehicle in a foreign or unknown land. While searching for a format of car rental, make it sure that you are covering insurance claims and third party insurances, car owners should go by an example where they make sure that they are not responsible for any unwholesome use of the car.
You cannot judge the intention of a person, if they are using it for any criminal activity then this clause can act as your safeguard. You can also see the partnership agreement template.
Personal Car Rental Agreement
Download this personal car agreement example that allows you to modify the contents of the agreemnt such as terms and conditions, rental terms, fees , etc that is taking place between a lender and a renter. All information is duly presented in an organised format so it easier for you in saving time and effort.
Vehicle Lease Agreement in Word, Pages for Mac
This template is just perfect for use if you're in need of a vehicle lease agreement template. It has 9 pages that can be modified using your details. It can be operated in file formats namely, MS Word and Pages. Business standard fonts are used in order to ensure that you meet your professional standards. Place your information in the yellow highlighted section and you're good to go!
Parking Lease Agreement Template
You can now lease your property without any worries by downloading this parking lease agreement template. Using this 4-page document, you can avoid possible loopholes and create a comprehensive parking agreement that comes with standard business fonts in A4 and US letter sizes.
Uses of Car Rental Agreement
The primary goal of the Car rental agreement ensures that both parties i.e. the car owner and the one hiring the car agree on the same terms. This helps to avoid inconveniences which may lead to quarrels. The car rental agreement template helps the car owner to save time composing an agreement form and also it can be used by the person renting a car to know all the terms that are found in the car rental agreement document. You can also see blank rental agreement templates.
Simple Rental Agreement Word Template
If you have any rental agreement concerns, then you may download this easy to use rental agreement template. It is a 7-page agreement document that comes with standard business fonts in A4 and US letter sizes. It is easy to edit the highlighted information in the template with the help of your favorite app or program. Booth rental agreement templates can also be of great help so check them out now!
Printable Rental Agreement Format
As the name itself suggests, the above rental agreement format can be printed for use. You can edit the contents of the template wherever it is shown highlighted. It gives detailed information in terms of fee payment, rental terms, terms and conditions and so on. It is a 6-page document and can help you make fast and easy agreements.
Simple Month to Month Rental Agreement in Word
The above shown simple month to month agreement template can be edited using MS Word. It consists of a 10-page document that binds the landlord and the tenant to an agreement. The terms and conditions are given along with their descriptions.
Car Rental Templates PDF
This is a car rental template that is available for download in a pdf format. The template can be easily customized for car owners who wish to rent their cars for a short period of time. You can fill in the blanks in areas such as fee details, travel limitation, registration number and other such rental agreements.
Car Rental Template Word
Here is another template for car owners who wish to rent their cars for a certain period of time. With the help of this template, you can refer to useful information or get a basic idea on the rental agreement details. Either way, its a useful template and can help you frame a decent agreement document.
Car Rental Template PSD/Vector
Are you looking for a rental agreement for which you can easily add your logo and have it ready for use? Then this template can help you with that as it comes with various vector images which are replaceable. Not just that, you can readily print it anytime you want.
Blank Car Rental Agreement Template
Check out this  blank car rental agreement template that can be easily edited and customized to suit your car rental agreemnt requirements. The customer's contact details, the rental period, type of vehicle, invoice details, additional charges and so on can be filled.
Sample Agreement of Rental of Vehicle
The above template shows a sample agreement of a rental of a vehicle. It is in the form of blanks which can be filled up by the concerned person. It covers all basic and essential details of the car rental agreement. The renter's name along with the rental period and rental deposit are all mentioned in detail.
Do and Don'ts of Car Rental Agreement
Ensure that tenants provide the real information about themselves by asking them for their documents like Identity cards.
Don't forget the date of signing the agreement.
Place the account number of where rent is to be paid.
Service address for both the client and the landlord.
Ensure all needed fields of the template are filled and signed, and each of the parties has to have a copy of the agreement.
Sample Car Rental Contract Agreement
Simple Car Rental Agreement Example
Sample Hertz Car Rental Agreement
Sample Car Rental Agreement Template
National Car Rental Agreement
Enterprise Car Rental Agreement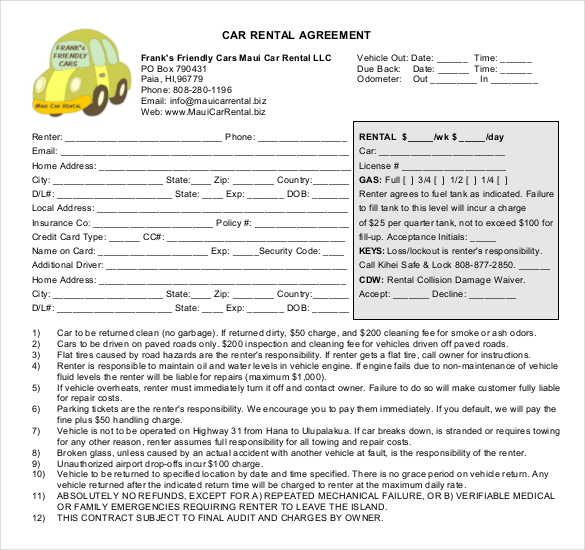 Free Download Avis Car Rental Agreement
One Page Car Rental Agreement