Audit Templates
12+ Process Audit Checklist Templates in Excel | PDF
A process audit checklist helps in examining each process and obedience to the individual specifications and procedures. It helps in maximizing the results of any audit and also assists in staying organized. With proper preparation and with the help of a process audit checklist in PDF, the auditor will be able to perform an in-depth analysis in a minimum amount of time. Such a sample checklist is suitable for an IT company, preventive healthcare, commercial housekeeping, SOP confirmation, pre product, warehouse payroll template, and much more.
Table of Content
10+ Process Audit Checklist Templates in Excel | PDF
1. Layered Process Audit Checklist Template
notasdecalidad.files.wordpress.com
2. Shipping Process Handling Audit Inspection Checklist
primuslabs.com
3. Pre Product Quality Process Audit Checklist
doj.gov.ph
4. SOP Management Process Audit Checklist Template
fami-qs.org
5. Special Healthcare Process Evaluation Audit Checklist
sargentaerospace.com
6. Preventive Audit Process for Fire District Checklist
osc.state.ny
7. Quality Assurance Work Process Audit Checklist
analyticstress.com
8. IT Company Supplier Process Audit Checklist
componentsengineering.com
9. Warehouse Payroll Manufacturing Process Audit Checklist
elsmar.com
10. Product Manufacturing Process Audit Checklist
proqc.com
11. Supplier Business Process Control Audit Checklist
isoconsultantpune.com
Process Audit Confirmation Checklist Template
irp-cdn.multiscreensite.com
Housekeeping Process Audit Checklist Template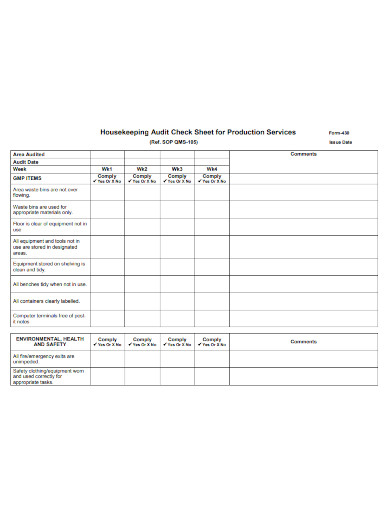 gmpsop.com
How to Make a Manufacturing Process Audit Checklist
Large Organizations that implement an effective process audit system need to be Basically, there are seven types of questions that should be considered for creating a manufacturing process audit strategic checklist. The categories that are discussed below are some of the most common types of questions that are covered in a process audit service checklist. This includes the following:
What Does Process Audit Mean?
A process audit is considered to be a highly focused inspection of the internal system, processes, and organizations. It is more than just product tracing, sampling as well as measurements. The purpose of process audits is to restrict the plan assessment focus to certain specific procedures, specifications, or routines that are used in a designated small business area.
Process Audits vs. System Audits
Most people are familiar with the system audits because this inspection activity attempts to determine conformity or non-conformity with the established standards. This audit can be considered an enterprise-wide audit that may take an entire week to complete in a large facility. It is an audit that focuses on departmental processes that will evaluate the performance of employees and policy compliance with the individual steps and other activities. Process audits, on the other hand, compare past activities against the predetermined standards to reveal inabilities and improvement areas. Process audits, unlike system audits, cannot mark the overall sample plan and performance of an organization's small business pdf.
Importance of a Manufacturing Process Audit Checklist
The main purpose of a manufacturing process audit safety checklist is to lay out a framework of questions to keep an auditor on track while performing their job. There has been some debate on the productiveness of audit checklists analysis, but there are clear profits to using one in an auditing process.
Why do you need a manufacturing process audit checklist? Process audit checklists training is commonly known as some useful tool that keep an auditor on task. You can ensure that every audit is performed in a comprehensive and compatible manner by implementing a checklist in the audit process. Even though it is entirely possible to perform a process audit without the use of any blank checklist, you may find out that by having a task checklist, you will see better results from your audits.
More in Audit Templates