Constructing a new house or remodeling the existing house is a tedious job. It takes series of decision-making steps during the work. So it is advisable to plan your work before starting the actual work. The sequence in which various activities needs to be done should be taken care. Like "when should cement work start, when should water pipes and electricity wires be installed, when should the wood pieces be ordered. When should paint work start, what time payment should be done by the contractors, Should it be all in the beginning or in installments. What if there is any change in order during the work. You can also see Contract templates.
Home Remodeling Contract Template
Basic Remodeling Contract Template
Home Kitchen Remodeling Contract Template
What if the map is failed while taking government permit? When should the construction permit be taken?". Proper planning of things can save lot time and effort. As a contractor, make sure you clear all the terms and conditions to the customer in the starting. There should not be any charges which come during or after the work. The customer should be made aware of every little work detail, the cost of material used and schedule of payment to be done. If payment is in the installments, the exact amount and the exact time should be made clear. You may also see Roofing Contract Template,
Simple Renovation Contract Template
Roofing Contract Word Template
Printable Plumbing Contract Template
Simple Home Improvement Template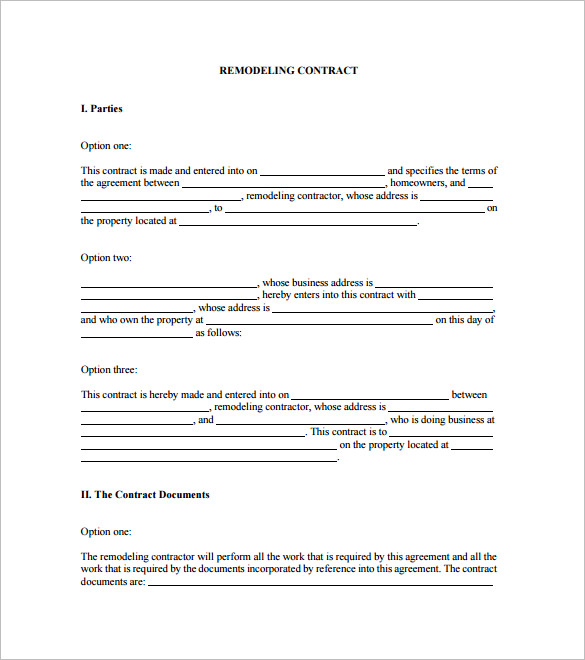 construction-forms.net
Simple home improvement contract contains contractors detail, homeowner details, date of work to be started. It can contain work to be completed in detail, detail of money which needs to be paid. Various payment option can be provided in the templates. It can be down payment at the start and rest of money after completion of work. Or it can be broken into many small installments at various stages of the project.
Payment option can be chosen based on the amount of money and time to complete the project. Generally, it depends upon the scale of work that needs to be done. Templates have terms and conditions stating change orders, insurance details, causality or disaster details and dispute resolution. The owner should agree to these conditions.
Free Download Home Improvement Contract Template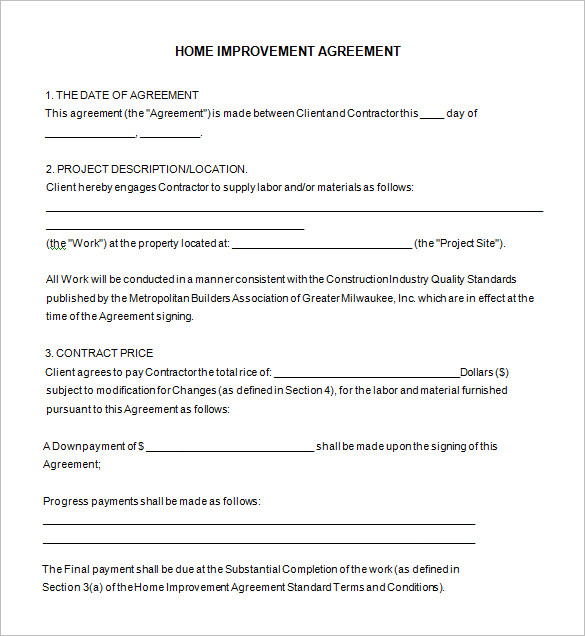 mbaonline.org
Remodeling contract templates generally required when project requirements are on the large scale. These templates contain information to the much larger extent. The scope of project needs to be defined in very details. Contractors might need to obtain building and construction permits from local authorities. Government inspection might also be needed to check if actual construction is as per the authorized by the government.
Templates include various possible payment options. The cost of raw material should be made clear before the project starts. Wages for the labor or subcontractors separately should be mentioned if needed. Template provide various options for payment schedule.
Example Home Improvement Contract Template Download
sauerconstructionlaw.com
A home remodeling contract template serves several benefits to you. It will act as a protector, a guide, and a support through which you can easily get the desired result on time and can avoid any kind of disputes. Moreover, your customer will be happy with you and your work if you do all the things as per the contract. You can download free home remodeling template online easily.
Home Improvement Contract Sample PDF Download
nyshcr.org
Home Repair Contract Template PDF Download
mnbar.org
These templates might be useful in case of house repair or house restoration projects. Templates come with details of the contractor, detail of the buyer, parties involved. General description of work, material and equipment needed , commencement and completion schedule. The contractor should have currently valid license. The contractor should also be able to provide the description of material required and cost of work to be done before signing a project.
Home remodeling is a necessary thing that you must have before starting any construction project, You must attach it with all the necessary documents. There should be all the necessary documents. You can have the print and soft copy as well. Just store it in a safe place so you can get it whenever you need it. This type of Rental Contract Templates helps you in saving time and money ass well. It helps you in doing work systematically with low risk. The written form of the same is what that will protect you in the future.
Different templates have a different level of detail fields provided. The contractor or owner should be able to choose an appropriate template based on the kind of work. Templates also help you to visualize the whole process. We offer various kinds of home remodeling contract templates freely available. All the templates are easy to download and print. These templates are created for general purpose however if you have a specific need feel free to contact us we will be happy to serve you with your customized requirements. If you have any DMCA issues on this post, please contact us!