1430+ Invitation Templates
Beautifully Designed, Easily Editable Templates to Get your Work Done Faster & Smarter.
Make celebrations and events extra special by going the extra mile on your invites using invitation templates from Template.net. We offer a 100% customizable, printable, easily-editable, professionally written and beautifully designed invitation which is of great help in the booming of your business. Download our high-quality and professional invitations that boast of exquisite design and well thought out layouts. Quickly use and edit eye-catching titles and content with your favorite popular software application. With designs that span the front and back, our sample invitations are a sure-fire hit to any guest and will almost certainly produce an automatic attendance to your event. Change out layouts, colors, images, or even replace them to your heart's content. Our templates are available in MS Word, Illustrator, InDesign, Publisher, PSD, And Pages.
How To Make An Invitation?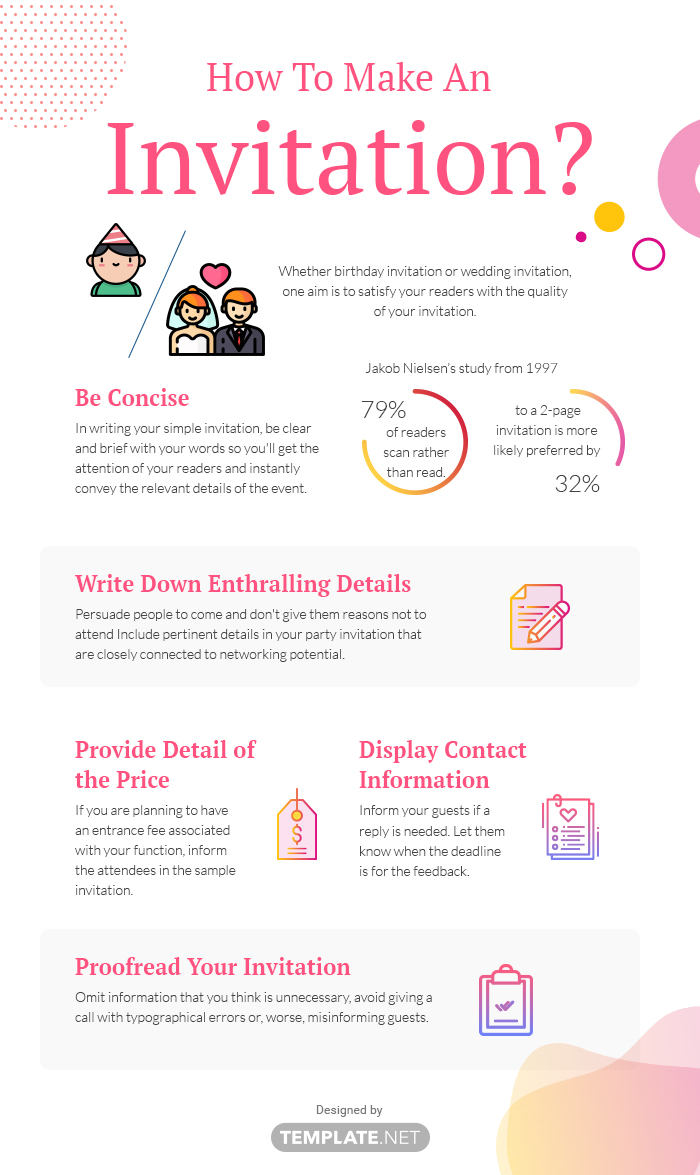 An invitation is a written or verbal request asking someone to go somewhere or to do a specific task. It is formally calling an individual or group of individuals to be present at an event or activity. Thus, invitation cards or letters must be informative enough so readers could comprehend the best way possible. Yes, the potential attendees could inquire and call for clarifications, but there's a significant difference when you present all the information correctly. When it comes to invitation details, include essential information such as the time, location, and how to RSVP. '
Whether birthday invitation or wedding invitation, one aim is to satisfy your readers with the quality of your invitation. Always keep in mind to present comprehensive details. Do not mislead your readers; rather, try to impress them with your product. Below are steps to follow on how to make an invitation.
1. Be Concise
In writing your simple invitation, be clear and brief with your words so you'll get the attention of your readers and instantly convey the relevant details of the event. Include essential information and follow the format of who, what, when, where, and why. Think about an introductory headline that states the event, followed by the highlighting of time, date, and location. Remember to include the logo of your company to reinforce your brand. Jakob Nielsen's study from 1997 shows that 79% of readers scan rather than read. Moreover, according to the survey, 1 to a 2-page invitation is more likely preferred by 32% readers rather than wordy ones.
2. Write Down Enthralling Details
Persuade people to come and don't give them reasons not to attend Include pertinent details in your party invitation that are closely connected to networking potential. It might be a "sneak-peek" at an exciting product, the chance to bring home prizes or to enjoy food. If there is a famous speaker or highlight guest, include a brief blurb. It will entice your guests to come to your event.
3. Provide Detail of the Price
If you are planning to have an entrance fee associated with your function, inform the attendees in the sample invitation. For instance, show the price-per-person or for a table. It is embarrassing for your guests if you'll issue a bill at the door. Thus, it's not good for business if guests think you are treating them as what is essentially a fundraising event.
4. Display Contact Information
Inform your guests if a reply is needed. Let them know when the deadline is for the feedback. Thus, allow people to give their input via phone or email, or, if it's a formal event, provide a self-addressed, stamped response card. Be specific in reminding whether guests may be permitted to bring a friend or family member with them. Moreover, careful in noting what dress code is allowed like business casual or formal. Don't forget to include details so guests will be prepared and do not hang up the phone lines searching for more information.
5. Proofread Your Invitation
Double-check your event invitation to ensure that everything is correct. Omit information that you think is unnecessary, avoid giving a call with typographical errors or, worse, misinforming guests. Thus, estimate enough time to have your invitations written, styled, printed, addressed, and mailed. Your guests should receive their letters at least two weeks before the event. Forgetting things at the last minute may result in poor attendance.
General FAQs
What is the Difference between the Invitation Card and Invitation Letter?

An invitation is a written request to the invitees for being present in a particular event. Both cards and letters serve the same purpose except for one difference in their approach. Cards are informal and are best for social events, whereas letters are used for inviting people on formal occasions.

What are the Different Types of Invitation Cards?

Flat Invitation- It contains a quick view of all your event details.
Seal Fold-up Invitation- It requires no envelope and follows postcard structures.
Pocket Invitation- These cards contain an elegant and attractive outline with essential details.
Folded invitation- Choose this card style if you have to communicate an extensive message.

What are the Components of an Invitation Card?

Event name
Invitee's name
Hostname
A humble and polite request
Date and time
The venue or full address
Contact details like email id or phone number for any query, reply, and communication
The event theme, if any
Attire instruction like casual, formal, or others.

What is a Closed Invitation?

Closed invitation cards provide access to limited crowed with a unique authentification code. Every individual has to go through a custom panel for evaluation, and these cards are valid only for once. Guests can enter the event venue, scanning this such cards on the machines for entry.

What is an Open Invitation?

You can forward an open invitation to anyone you want without providing any unique access like a closed invitation. Such events are open to all age group guests and multiple entries. Do not use these cards if you are providing any reward or benefits to avoid any unpleasant situation caused by numerous evaluations of guests.

Read More