Project Templates
13+ Project Documentation Templates
The purpose of project documentation is to communicate the scope and goal of a project to stakeholders and reviewers. The documentation needs to be done carefully so that the idea cascaded to the clients is clear. A project documentation / document template provides a basic format for producing this information. You can find samples for car sales, earthquake alarm projects, interior design, computer science, civil construction, tourist guides, bus tracking, chatbots, website animations, technical engineering, and more. The formats are held to reduce the risks associated with creating a new format, as they are mostly designed by experts. The project documentation template available with us comes in several layouts and file formats, like Excel, PDF, and Word. You can also see Construction Project Budget Templates.
Whether you're working on a hotel construction management system, banking system, hospital management system, crime file management system, or customer relationship management system, It is easier to focus more on project documentation by using a template than trying to format a new one. Project Documentation is used to explain the necessary documents used in the project. It contains details regarding your project's objectives, key points, and much other important information. It is a necessary evil while working on any Project Templates.
Library Management Project Documentation with Interior Design
weebly.com
This template is used to look after the management plan in a library . It contains various details such as transactions made, the details regarding the staff and the management of the library and also the issuing and returning of the books. It also keeps details of the new books and the books available in the library template.
Online Shopping Project Documentation Chat Bot Template
ndsu.edu
Online Shopping Project Documentation / Document PDF template manages the shopping quickly as it contains the fast-speed system through which the inputs and the details are stored easily and the billing and other important purposes are done more effectively.
Project Construction Documentation Templates
In any project plan work, documentation is an essential part of the project. It will be a notorious mistake if you have completed a project but do not have a single proof to show it to your boss. The documentation of your project can be in various forms, like photos, videos, or emails. When you document your project, it becomes easier to prepare a simple report about what you have achieved in the project work. It also helps in keeping track of your job efficiently. So, if you are looking for ideas to document your project, you can check out Project Documentation Templates.
Free Quality Improvement Project Documentation Template
ruralcenter.org
Data Ware Website Animation Project Documentation Template
mtholyoke.edu
Free Technical Software Engineering Project Documentation
ijana.in
Fact Sheet Earthquake Alarm Project Documentation Template
egovernment.tas.gov.au
Customer Relationship Management System Project Documentation
se.jku.at
Crime File Management System Project Documentation
ijirset.com
Free Hotel Management System Project Documentation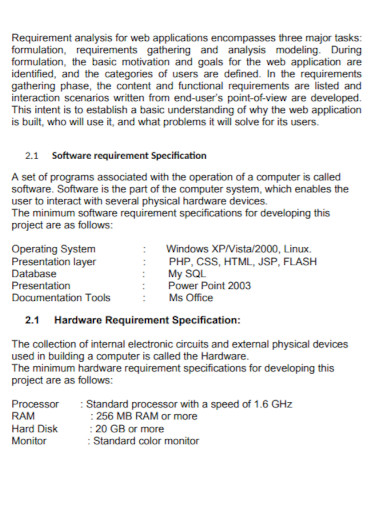 cdn.com
Hospital Management System Project Documentation
m.mu.edu.sa
Computer Scient Banking System Project Documentation
tcs.com
Tourist Guide Bus Tracking Project Documentation
dspace.bmsit.ac.in
Free Car Sales and Services Project Documentation
bbaravi.weebly.com
Uses and Purposes
For having a better knowledge of the plan of project, project documentation is required in almost every field now. These are very beneficial templates that might help you immensely. Here is why you need Project Documentation / Document templates Word.
>

Why do I need Project Documentation Templates?

Project Documentation templates give the details about the project in work using the necessary documents involved in it. The documents can help to make the project more effective as they contain various information such as objectives, criteria, expected outcome, etc. You can also see Project Budget Templates.
>

How to Create/Make Project Documentation Templates?

You don't need to create these templates as we have already a wide range of Project Documentation templates with us. All you need to do is to select your desired format and the rest is on us. You can also request the changes and we will make it for you for your convenience. You can also see Project Proposal Templates.
>

Conclusion

All these templates are available in PDF and DOC formats. You just have to select your favorite template and your desired format. They are quite affordable and have high quality as well as quantity. Also, you can customize the templates as per your wish and can print them out in the resolution of your choice.
More in Project Templates
| | |
| --- | --- |
| Project Assessment Template - 8+ Free Word, PDF Document ... | Project Plan Template - 10+ Free Word, PDF Document Downloads ... |
| 7+ Project Roadmap Templates - Free Word, PDF Documents ... | Project Assignment Template - 6+ Free Word, PDF Documents ... |
| 8+ Project Summary Templates - Free Sample , Example , Format ... | 8+ Project Roadmap Templates - Free Sample , Example , Format ... |
| 7+ Project Overview Templates - Free Word, PDF Documents ... | Project Estimate Templates - 7+ Free Word, PDF Documents ... |