Project Templates
11+ Excel Project Templates
Whether working on studying, Microsoft Excel works wonders from simply tracking to other work processes. The key to working on spreadsheets is adding any necessary formula and Word document design you need. However, creating a new business or students' project templates may require more time. We provided a report, timeline, sample proposal, management, and budget summary in our Excel project templates.
These project plan templates let you create an action plan, communication system, planner, and report status within minutes. But you need to use a suitable template to optimize your documentation process. Read more of our samples and get your hands on a simple template for manufacturing, construction, middle school, or high school improvement projects.
Simple Project Action Plan Excel Template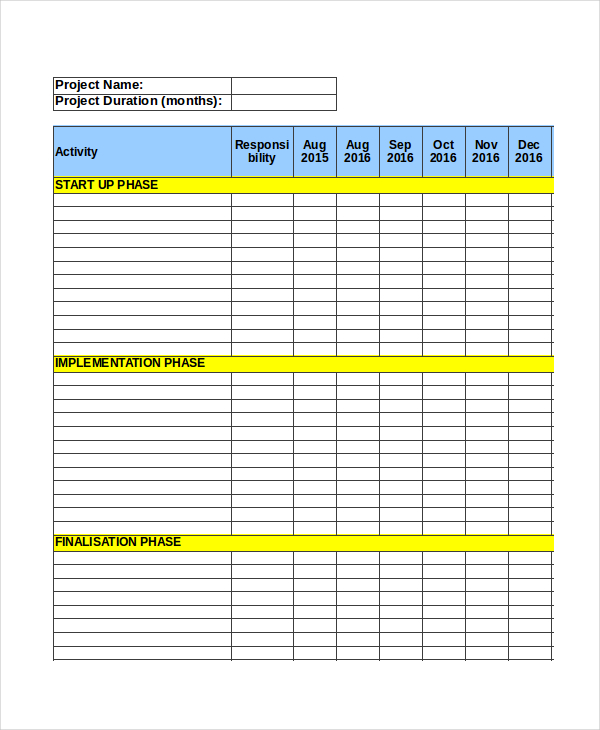 education.vic.gov.au
This is a project sample business plan template in Word. Once you download this template, you can note down the plan you have in mind for your project. It even tells you how to go about it.
Project Communication Management Template
projectman.cz
This project management plan template can be used in several ways. You can open the template and then go through the format presented here.
>

How Can One Use the Project Templates?

The project templates that you see here are pretty versatile and multipurpose. This is how you can use them:

Have you been assigned an important project in your place of work? Then you need to come up with a simple plan first. This plan will consider everything and would establish a course of action without which it would be impossible to proceed. There are also project management templates here. Each project must have a leader who makes all the decisions and supervises the work. For them, these templates would come in handy. Before you move ahead, you need to present a proposal of how you intend to proceed. Otherwise, it would be difficult to proceed logically. For that, you have project templates in Excel.
Project Timeline Excel Template
fct.pt
Each project must have a timeline that every member of the team must follow diligently. To create the timeline for your project, you can use the project timeline template given here.
Project Schedule Planner Excel Template
pma.doit.wisc.edu
Project Status Summary Report Excel Template
cdph.ca.gov
Why Should You Use Project Templates?
The project proposal templates that you see here would come in handy. Here's why:
The templates have been designed by pros. Naturally, they possess a degree of finesse that would be lacking otherwise.
The templates you see here are perfect for corporate use. They have been designed accordingly. The project templates have a formal tone and can easily be used in your place of work.
Using the project templates would save you a whole lot of time and energy.
You have a wide range of templates to choose from based on the kind of project you have.
Tracking Manufacturing Project Excel Template
cloudfront.ne
New Business Budget Project Excel Template
jhf.n
Student Project Dependency Excel Template
va.gov
Middle School Project Tracking Template
trainingables.com
Construction Project Charter Excel Template
adaptivebms.com
This project charter template already contains the established format. You wouldn't have to do much. You can just download the template, edit it or personalize it and then print it on a mass scale.
Project Executive Work Design Template
boxdox.com
Project Proposal Initial Budget Excel Template
humanitarianresponse.info
In this project template in Word, you can chalk out the rough draft of your project. This template comes in Word format too and is all set for printing. Plus, it looks professional as well.
>

Different Kinds of Project Templates

There are a plethora of templates on display here. Below are the different types:
You have project plan templates where you can mention the outline of the plan you have in mind. It would help you proceed in an organized manner.
You have project sample proposal templates where you should present a rough draft of your project. Once the rough draft is approved by your superiors, you can proceed to the final draft.
You also have management templates in Excel which are to be used by the management section of the project team. These would come in handy for the team leader.
If you have gone through the sample list of templates, you must have shortlisted a few of them. Based on your requirements and the kind of project schedule templates you are working on, you can download the template of your choice. Each template here is exceptionally easy to use.