List Templates
16+ Best Project List Templates in Word | Pages | PDF
With so many of projects on the list and still some waiting, we think there should be a proper way to organize the complete list of projects using the project list. While projects are so necessary, we think organizing anything in the most appropriate way is better and need of the hour as well.
Table of Content
5 Steps to Create the Best Project List
Step 1: Know Which Faculty or Stream You Need to Work On
With streams and various courses, there is various kind of projects that need to be enlisted, Some of the people might have an excursion trip involved in their project while some might have to spend the whole project time working in labs.
Step 2: Have the Knowledge of Various Kind of Projects to Be Considered
To be able to incorporate the information well in your project list, it is very necessary to get aligned properly. Thus have a good knowledge of the stream you have to make the list of.
Step 3: Get Ready to Do Some More Research Check
With the time and changing course, it is very likely that things keep changing. Thus to be assured of the various possibilities I any course, the list that you have prepared after research and follow-ups should be checked if it is up to date and in need of the hour or not.
Step 4: Look for Some Ways Online
After having the final updated, checked and edited list handy, now the need is to know which way the courses would look good. Try finding some of the examples available online and then get on your creative mode to add a personalization touch to it.
Step 5: Get the Information Collected and Draft the List
Finally, get the things arranged and edit or create your very first draft. After getting a print of the rough draft, get things aligned in your terms and see if the final print is good.
16+ Best Project List Templates
1. Free Project List Template
This orange and brownish tinge of sample project list template is a sure thing to go for. The ease and the kind of self-assembled places for everything you would like to fit in your project list are setting some major goals for you to try. So get this template now!
2. Sample Project List Template
charlescorrea.net
If you have your itinerary ready then it is time to transform it into a well-organized project list. Get the right information and edit it well in the spacious place against the white background and arrange your details well with this minimal design of the project list template in PDF.
3. Medical Student Project List Template
drexel.edu
If you have been given the responsibility to find some value taking task or project for you then we are surely willing to help you. This one project assignment template could be of good help for your small needs of maintaining the information and various details well.
4. Formal Project List Template
int.washington.edu
Need to get a profile ready for your projects and the various results observed. We understand that you have been all hung up with projects and the various experiment. Here is a little thing that we want to do for you, a place to bring this list template available so you can use it for your editing and compilation of results and processes of the project duration.
5. Completed Project List Template
unipune.ac.in
How can we forget the need for the first title page? The page wherein you get to organize and compile the major headings of everything that is been contained within. With this easy to use and most recommendable list template sample, you don't have to draw a line or try fitting in your titles in the proper formats everything is done for your ease and you just need to take it to make yours.
6. Professional Project List Example
health.ucdavis.edu
Writing is not everyone's cup of tea. We believe you when you have the reason for right words not coming onto your way. This is something that everyone struggles with after completing a successful project. Thus to help you cope with your project duration and bring ease in the creation of project overview, this template is a blessing.
7. Printable Project List Template
ugc.ac.in
This project list template example you do not keep shut in your software savior but you can even take a print out of same. With things going on the right rack this one would help you keep a brief note of the various important things undertaken during a project course. The ease and its simplicity is a good thing to hold on accountable for those last minute preparations.
8. Project Management List Template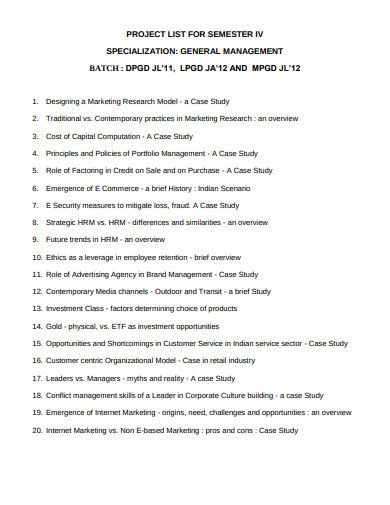 welingkaronline.org
Get your student know in depth and good detail, what project is to be done in which way with this brief and easy to use project to-do list. This is something that is easy to use and make it customized for your own needs that are pertaining to nay project. Hence the simple non tabulated sheet is ready to make your work all the way easier.
9. Simple Project List Template
civil.iisc.ernet.in
For your bigger and scientific project need, this list template in PDF is a sure try to keep things and every information tabulated well. With details like the sponsor of the project, head title of the same and the duration of each and every project, you are good to go and answer anything about project very effortlessly!
10. Project Potential List Template
develop.larc.nasa.gov
With the potential causes and needs of the project, it is very necessary to keep every information tabulated well. This is going to be the best way to keep monitoring your funding and the necessary resourced can also be kept in check easily for which this basic project list can be used as a template.
11. Project Development List Template
consilium.europa.eu
Keeping note of every small and big information has become easy with this template, the format is so easy to understand and thus it helps right in making things come out well. Using this list sample to edit and enter your custom information is very necessary to make sure things are going on the right manner.
12. Project List for Metro Template
cengrs.com
All black and white and no color in work makes it sometimes very dull and boring. To make your work fun, we can have a splash or color or we can even use some in our report preparation. This same is with this big project list template, In hue of blue, this one is ready to help you manage and organize your details very easily and hence keeping note of every single thing.
13. Project List Example
office.xerox.com
Manage your multi projects together and make it easy to refer when you need information about one or more than two projects simultaneously. This is possible with the help of this template as shown above, a tinge of orange helps it pop up while the ease of using it is a sure idea to help it get used more and in easy way.
14. Project Complete List Template
elecbits.in
A small glimpse of the various projects and the various price tags for same is the right kind of things that anybody needs when they need to go for a quick and easy project follow up. It might take your few minutes hence we recommend you to use this one, pre saved with grid and lines to help you enter your information seemingly easily.
15. Basic Project List Template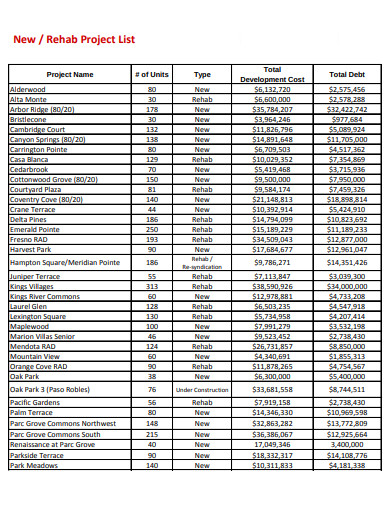 idealcapgroup.com
This one project template has a lot to contain within. The tabulated form is easy to refer for many of the information to be made available at one place. This is a right choice for your project needs that would help you get in the mode of entering information and you do not need to prepare any sort of format!
16. Project Process List Example
va.gov
17. Project Work Book List Template
srkit.in
More in List Templates