Proposal Templates
Event Proposal Template – 24+ Free Sample, Example, Format Download!
An event proposal is a kind of proposal that is to be used by an event planner when he/she is planning to host an event for the client who has asked them to do so. It is a form of a proposal that can either be used for personal or business purposes. The purposes and expectations that they can have after participating in the proposed event.
Event Proposal Example
Event planning has become essential for events of any kind in business or organizations. The template that is mentioned above is a Word proposal template that presents an outline of how any event proposal may be made in order to get approval for the said event. Clearly provide details and specifics for any event proposal such as personnel at the site, details of the event, budget specifics, and others. Download the template now!
Event Planning Proposal Example
Get the approval of your event through eh use of this above-mentioned event proposal template. It is fully customizable with a professional outline and easy-to-edit sections for information on the nature of the event, the event budget, and the like. All you would have to do is download the template, edit and customize it to meet your needs. Try it out now!
Event Sponsorship Proposal Template
Already have your target event sponsor in mind? Then let us do the rest through this event sponsorship proposal template, which is ready to access once you download it. Get to use a standard event proposal where you are able to tailor-fit according to the needs and wants of your target sponsor. Present a foolproof and winning proposal that clearly shows how both parties will benefit from the partnership. Another added advantage is that it is not just limited to the computer, but you can also download it on any electronic device with ease.
Event Photography Proposal Template
Create an Event Proposal in 5 Steps:
Step 1: Summarize the Client's Needs
The first thing you need to do is you need to know what your client needs. So, make sure that you have an official meeting before you start planning the event. This acts as the summary, for you need to have one to work in the most effective way you can. Take a look at marketing proposal templates for more. Such summaries help the client understand that you understand their desires and what they expect from you perfectly.
Step 2: Services Provided
Give your client the list of all the services you provide, so that they can choose the ones that suit them the best. Have a theme for the event, so that it is easier to choose everything else around that theme. Give the event overview of what is going to happen throughout the event and what are all the extra additions for it. Since this is your moment to shine, try and see if you can go out of your way to get what the client wants for the event.
Step 3: Calculate the Budget
A budget plays an important role in any proposal as it shows the number of expenses you will have during the course of the event. It is quite natural that most of the clients will look at how much is the event going to cost before finalizing anything. Create a section to summarize all the costs for each service and product you provide in the event so that the client can pay it in time. Also, give your clients the option to choose the type of payment method they want to make their payment in.
Step 4: Event Policies
Adding policies and the terms and conditions of the proposal are very important. This is the step where you will add all the necessary legal items like the terms and conditions, the state laws that you need to follow, etc. You should also add the clauses and steps for termination. Restaurant proposal templates can also be of great help to you. Mention the process of each and make sure that everyone involved in the proposal knows all the policies properly.
Step 5: Modify and Review
Once you have all the points together, the last thing for you to do would be to review the proposal and see if you need to make any changes, Make the necessary changes and get it signed by the client. Once it is signed, it is a legal document. Mention your experience as a planner and make sure that you also show proof as to why you are unique and different from the rest.
Restaurant Event Proposal Template
Music Event Proposal Template
Corporate Event Proposal Template
Event Proposal Template
Sponsorship Proposal Template in Doc
Sample Proposal in Pages for Mac
Simple Proposal Outline Template MS Word
Photography Proposal Template in Google Docs
Sample Event Proposal Free Download

groups.northwestern.edu
Event Photography Proposal Format Download
Example Fundraising Event Proposal Download
Sample Church Event Proposal Free Download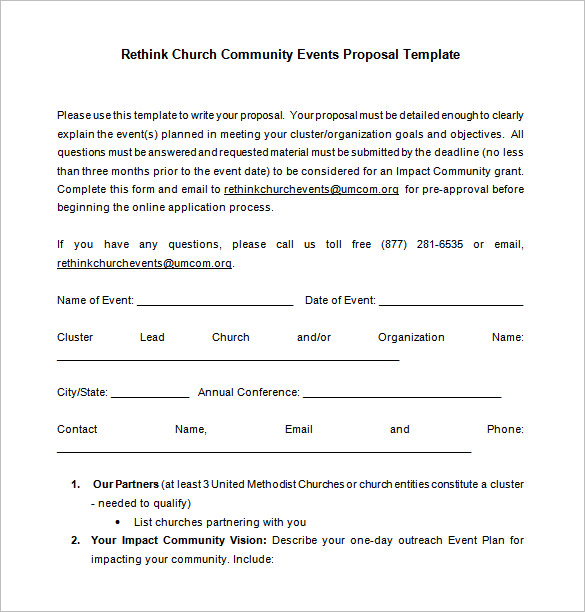 greaternw.org
Sports Event Proposal Format Download

Free Download
Example of a Music Event Proposal Download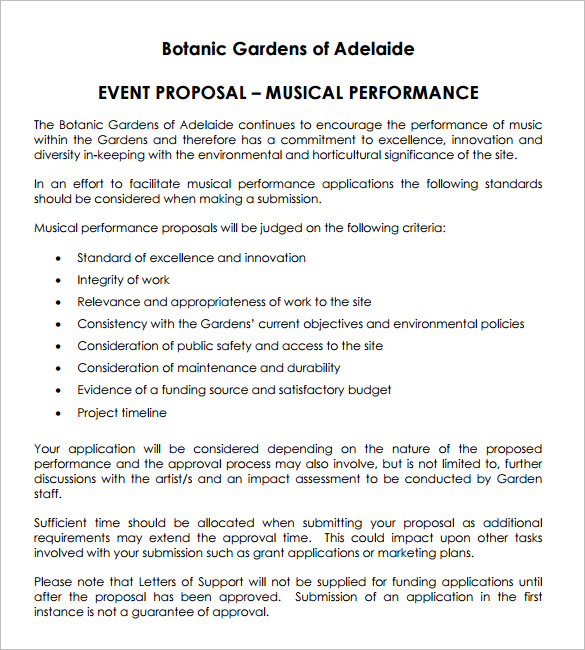 Sample Sponsorship Event Proposal Template

chnola.org
Event Planning Proposal Format Download

workplace.org
Special Event Proposal Format Download

chnola.org
Sample Wedding Event Proposal Free Download

fantasticfiveentertainment.com
Event Management Proposal Example Download

rw.undp.org
Event Budget Proposal Format Download

ohio.edu
Final Thoughts:
There are many event proposal templates that can be used by the desired candidate having required eligibility and willingness to perform. Such templates make it easier for the applicant to show his/her talent to the public as an entry to such events works like a platform for them. These templates also work as a contract deed between the selector and the applicant as it contains the conditions been laid down by the hosting body. Make use of these templates as it reduces your stress of making a proposal right from scratch. This event proposal template comes in a table format with boxes labeled with necessary keywords such as 'expected date', 'type of event' etc. You can also customize the format according to the type of event
While hosting a musical night, a proposal can be used to invite eligible candidates for showing their talent. In such proposals, there is a need for the candidates to possess certain conditions laid down in the form. There are many free proposal templates for the musical events available online which have the key points mentioned within and which are required to be signed by the authority as their acceptance. These forms contain the candidates' details also. You can also use any of the templates that are mentioned above so that it makes your work easier.
These proposals are being called to invite such photographers who have the talent of making the event more memorable. The photographer is restricted to not only capturing the event's pictures but also to edit them to be more effective and attractive. This type of event proposal template includes everything related to the terms of the contract as a fee, dates of the event, timing, and proposal submission dates, etc.
More in Proposal Templates
| | |
| --- | --- |
| 11+ Writing Proposal Templates – Free Sample, Example, Format ... | Sponsorship Proposal Template – 10+ Free Sample, Example ... |
| Technical Proposal Template – 13+ Free Sample, Example, Format ... | 11+ Event Planning Templates – Free Sample, Example, Format ... |
| Event Proposal Template – 12+ Free Sample, Example, Format ... | 18+ Proposal Templates - Free Sample, Example, Format Free ... |
| Proposal Template – 256+ Free Samples, Examples, Format ... | Funding Proposal Template – 12+ Free Sample, Example, Format ... |