Proposal Templates
17+ School Project Proposal Templates – Sample, Example
Schools open opportunities for their students to participate in decision-making and project-building. So are you a student with an idea you would want to present? Perhaps a project you would want to be realized? School project proposal templates are meant to help students engage in the school activities.
School Project Proposal Template
Student Project Proposal Template
Simple Project Proposal Template in MS Word
A business proposal is created to help generate funds for school matters and organizations. Meanwhile, students could also create an event proposal designed to promote school events. As you browse through this list, you will see a variety of school project proposal templates with an ideal format to help you get started with your proposal.
Project Proposal Templates
Are you on the lookout for a Project Proposal Template? If you are running your own business, you may devise a project for your work. A Project Proposal should have a goal and the things which you want to achieve in the project. It requires thoughtful planning and actions that correspond to the plans. The proposal should have information about the project budget, goals of the project, and a step-by-step process of the work you want to propose systematically. You can also add a sample project for evidence. The proposal should be written in such a way that it grabs the attention of the donor. The donor will generally look for the feasibility of the project. Therefore, you can try to write a proposal that is practical, feasible, and accommodates the budget with the work.
Training Proposal Template in iPages
Printable Sponsorship Proposal Template
Basic Editable Proposal Outline Word Template
Sample Proposal Word Template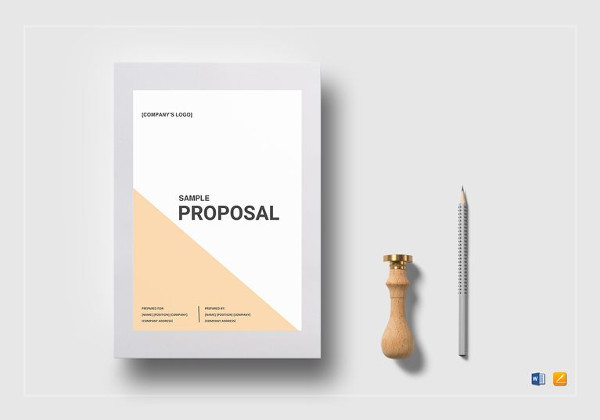 Simple Proposal Outline Template
High School Project Proposal Template
capital.osd.wednet.edu
Secondary School
globalhand.org
School Senior Project
lwsd.org
Elementary School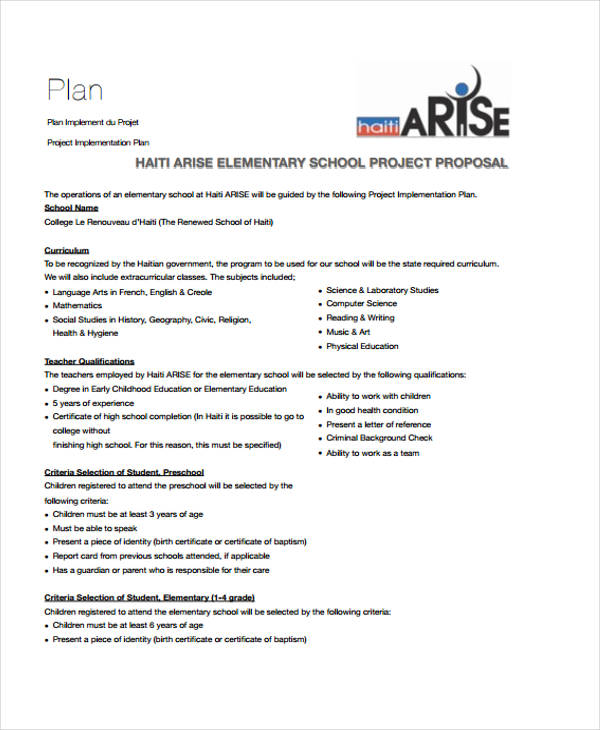 static1.1.sqspcdn.com
Academy School Project
globalgiving.org
How to Write a School Project Proposal
School project proposals need a bulk of information and data to increase its chances of getting approved. School training proposal templates or even school building contractor proposal templates are expected to be filled out with organized information in order to convey its intention.
Write school project proposals the right way by following these steps:
Proponent Details – A little bit of the background of the proponent forms part of the entire school project proposal. Whether you're from the student body or from the faculty, your identification helps give impact on your proposal.
Purpose – A sound and well-justified purpose for coming up with a proposal should all be translated into writing. It helps readers understand the purpose behind a proposal.
Procedures – Present the procedures you plan on taking action. A systematic presentation of which should convince your audience that your proposal is feasible enough to come into reality.
Plotted Time Frame – Provide your readers with an accurate time frame upon presentation of proposal. A time frame helps present proposals in a more manageable way.
Create a school project proposal with a timeline similar to that of a construction proposal template which is already achievable at first glance.
New Project
archive.ashanet.org
International Project
umich.edu
School Management
pitt.edu
School Renovation
meditationthailand.com
School Building
intervoc.de
Do's and Don'ts When Writing a School Project Proposal
Students always show eagerness when writing school project proposals. They usually back anything with loads of information aiming for approval. However, there are instances when proponents already provide more than what is needed.
Take note of these do's and don'ts to improve your school project proposals.
Do provide adequate information. Always aim at leaving your audience speechless in a positive way. See to it that you have already answered their questions before they could even ask for it. Like in an event proposal template, add all the details of the event proposal necessary for evaluation.
Do present relevant statistics. There is nothing wrong with presenting graphs, charts, and tables for as long as everything is directly relevant to the proposal. Information relevant to what is asked in an investment proposal template should always be complied with for better proposal presentation.
Don't leave necessary topics without proper discussion. You have included certain topics in your proposal for a reason. Everything that you input in your proposal should be properly discussed by any means possible. A technical proposal template is structured in a way that ensures that every item on the proposal is covered.
A comprehensive school project proposal is not derived from the quantity of information that you can input but on the quality of properly organized and researched information.