Are you a freelance or a full time photographer? So, what comes into your mind when you think of photography business proposal? It is a document that states what a specific client can benefit in your simple photography services being offered. You may also see proposal samples.
108+ Photography Business Templates in PDF, Word, Excel, PSD, Google Docs, InDesign, Apple Pages, HTML5, Google Sheets, Publisher, Apple Numbers, Illustrator - START DOWNLOADING
Photography Proposal Template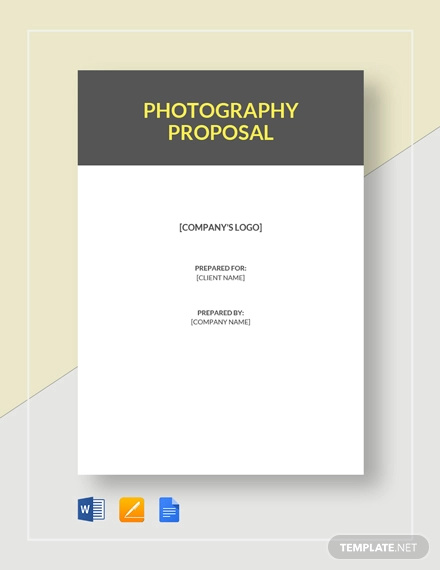 Photography Proposal Template in iPages
Green Business Proposal in Google Docs
Simple Business Proposal Template MS Word
Being able to close a business proposal contract is already a huge thing because it only means that your potential client is convinced to finally close the deal with you and therefore a grant proposal must follow. A grant proposal is another document that outlines a project's requirements and financial assistance, and is therefore waiting to be granted.
Professional Business Proposal Template in iPages
Sample Proposal Template in Word
Professional Filming Photography
Photography Studio
School Photography Proposal
Event Photography
Photography Proposal Sample
Guide to Writing Photography Proposal
Photography proposal is considered to be a critical document for photographers and for photography. Therefore, careful writing should be done observed and all relevant details should be clearly stated. For that reason, one must consider a business proposal template that we provide or go ahead and follow these few guidelines:
At the beginning of writing a photography proposal, one must think of all the possible questions a potential client must ask. Consider the what, when, where, who, why and how. This is mainly important because this is how you're going to win the "yes" of your client.
Also, while writing a proposal, you must also write with clarity. The proposal must state the specific services a client can get based on the type of activity the photography service will render. This could lead to needing an event proposal, for which you can be guided by our event proposal templates.
There must also be a proposal clause that focuses on the goals of the project so that you know the potential client is on the same page.
Wedding Photography
Digital Photography
Photography Plan Proposal
Example of Photography
What to Include in your Photography Proposal?
Anyone who plans to write a business proposal is basically only after one goal: closing a deal. That is why there is a need to consult information, do some research or simply refer to few proposal templates that may guide you in writing one.
Few of the things one must consider in writing a photography proposal:
Introduction – Just a brief sentence that states a brief description of the project. a complete introduction does have a name of the person who is going to execute the project as well as the name of the client, the dates of doing the activity and the and its anticipated date and the date when should it be accepted.
Delineation of Services – This includes but is not limited to the following:

location
duration
date and time
props (if any)
transportation fees (if any)
concept
stylist
art director

Fees – States the prices of the the service your client needs to pay. Applicable fees must be clearly stated, like travel time, location scouting, and equipment rentals.
Rights – This portion of the proposal is very important so that both parties would know where each one would like to use the photos for. I could be for personal use and exclusively purchase the rights or should it be for the campaign and so on.
If all these things are found in your photography proposal then I must guarantee, you have an effective one!