Proposal Templates
9+ Photography Proposal Templates
You may not consider yourself a writer or a pro at writing professional documents such as proposals but it doesn't really have to be such a complicated process. Contrary to what you might think, it doesn't have to be rife with legal jargon either, especially if you know what type of services you offer and what value you can bring to the table. Photography Proposals aren't necessarily what makes of breaks a business deal, but they make a large impact in a client's decision, especially for freelance services. You may also see proposal samples.
Table of Content
Elements of A Good Photography Proposal
If you have a good idea of what most clients ask for services that focuses on skills such as photography, and a good understanding of how you should deliver, you pretty much have all the basic information you need to follow a good structure in writing a winning proposal for photography with the following elements:
Introduction: This should be very simple. Your introduction should come with a cover letter explaining who you are and why you think you're perfect for the job as well as what you want the potential client to do after they consider your proposal. Obviously, this page would contain all your contact information so the client can easily reach you when he's ready for an agreement or email you with a response. A cover letter doesn't always have to be part of a proposal but it should come with the introduction when you feel it's necessary and appropriate.
Project description: You can write a brief description of the project so everyone involved (granted you're not doing it alone) is on the same page. This also eliminates misunderstandings about what everybody's task or responsibilities are and the possibility of getting asked to shoot more than what was originally agreed.
Deliverable: What type of images are you expected to shoot? What kind of photography project is this? In some cases, this might already be established to some extent if you specialize in events such as weddings, but if you practically accept anything thrown at you or want to keep your services and skills diverse to cater to a wider audience, then you need to include a section specifying what you can deliver and what the limitations of the service area.
Deadline: When are the images do? What's the schedule for the shoot? Are you open to shooting at 2-3 different dates for one price? These are the questions you need to answer in one part of your proposal, detailing when the images are expected to be handed and the schedule for the shoot.
Image rights: Be sure to ask the client where the photos will be used. Will they be used on the web only? Print? A national billboard ad campaign? Obviously, the usage fee should be higher if it's a national ad campaign vs. an email blast promotion.
9+ Photography Proposal Templates
Simple Photography Proposal Template
Event Photography Proposal Template
Corporate Photography Estimate Proposal Template
Event Photography Proposal Template
Photography Proposal Template
Free Photography Business Proposal Template
Details
Size: 8.5×11 inches
Aerial Photography Service Proposal Request
orangeburgcounty.org
Photography Proposal Request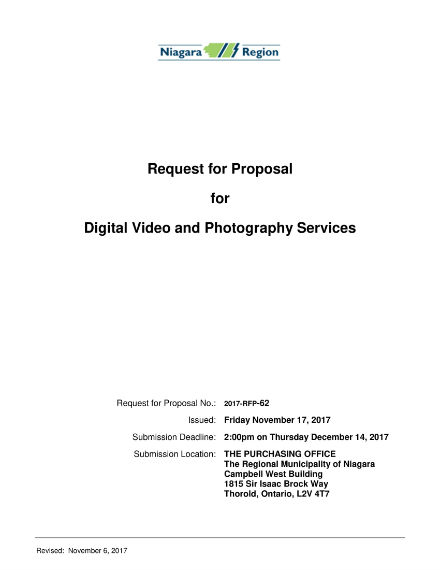 manchesterschools.us
Photography Yearbook Services RFP
orland135.org
RFP Youth Photography
springville.org
Steps to Write a Photography Proposal
In a growing marketplace of freelance photographers on top of having to compete with photography studios, firms and event service providers which include photography services with their packages, how do you make sure you get noticed? Between equipment and skills behind the lens that you can sell, a killer photography proposal will help you win projects and clients, especially if you follow these steps:
Make it easy to read: It may be a professional document, but don't assume every client knows the language of photography and business. Your future clients and grant-givers read the proposals before they get to judge your photographs. You can't rely on your images and portfolio to do all the talking for what you can offer. You have to make an effort in accurately describing the type of work you make which means you're going to have to convince people with words first, before they can trust you with the photography project.
Focus on the goals of the project: Once you know what type of project or task you'll be working on and who your clients or what your subject is going to be, the next thing to do in writing your proposal is to make sure that you stay on course. What are your goals? You need to be very clear about them and explain the story you intend to tell with the photographs you plan to shoot. Don't make the mistake of rambling on and making your pitch without having a clear idea of what you want to do and where you have to go from there.
Indicate responsibilities: Just as a good photography proposal states what you're responsible for, it should also be clear regarding what the client is responsible for providing. If you're waiting on materials and supplies from your client, that means their delayed response to the project is also delaying your cash flow. A detailed proposal means you can hold them accountable for their share of their project.
Submit the photos that present your abilities: Sell yourself and your skills. People need to trust that you'll be able to produce compelling, phenomenal pictures, whether they're for weddings, products, marketing campaign, corporate events or birthday parties. The photos in the portfolio you submit should show that you can deliver and that you'll be able to complete the task on the expected time with quality ensured.
Tips In Creating A Photography Proposal
Winning and well-written proposals are the ones which have been prepared through a draft, so you get an idea of what the task would be like and what the client would expect. Help your clients connect the dots by getting a hint from your proposal. Increase the chances of getting considered by the client in writing a proposal using these additional tips:
Do your research: Successful proposals that win photography projects are those that have been written with well-researched topics. You should prove to the client that you're an expert on the field and that you know what the task demands from the back of your hand. A great proposal would be able to bring a client to see what your idea looks like.
Consider formats: There are too many available formats and templates regarding how a proposal should be written and while they may be useful, you'd still want to save confusion, time and printing costs by nailing your own proposal rather than solely relying on ready-made ones you see on websites.
Get estimates: Try to check what the competition charges clients of the same type for the same services. It probably errs on the high side, but it's a good starting point if you have no idea what to charge. A general fee checklist includes:
1. Your creative fee/photographer day rate
2. Post-production editing time
3. Digital technician or photo assistant fees
4. Equipment rental
5. Usage Fees
Make sure that you include everything that needs to be charged on your list especially if you're also involved in casting the models, conceptualizing the whole shoot yourself and even when you're requested to be in charge of scouting the location for the shoot. In this case, you may also want to try using high-end and accurate estimates so that you can adjust charges and negotiate when the situation calls for it.
Types Of Photography Proposals
Solicited Proposals: Many federal agencies, businesses, and other private and non-profit organizations announce proposal requests for certain types of services that can save them some overhead costs or are beyond the realms of their operations. Interested parties develop proposals that they submit to these organizations discussing their availability and qualifications to provide the services needed. In this case, the proposal is the ticket to getting the contract, competing with other interested applicants.
Unsolicited proposals: There are times when a business, a third party or individual's specialized skills, training and qualifications will be valuable to another person or organization and the company didn't announce any request for proposal publicly. In this case, the goal of your proposal should be to present both the obvious and unidentified need amd why the company should consider hiring you for the job.
Proposal Templates FAQs
Why is it important to write a business proposal?
Writing a business proposal will give you the chance to research and find out certain challenges and risks of what you can provide to the client and your business itself. Sometimes, it will be better to look at worst case scenarios than set unrealistic expectations of your capabilities and limitations.
How do you make sure your proposal is polished and organized?
Proposals are at times, vaguely written and that's not going to win you the job or get the right people for the services you need. Before presenting how you plan to take on the task, you have to make sure you understand what it demands and write that you know the task's ultimate goal.
Make your sure your points are organized and that you value what the person or the business' needs and that you have every intention to fulfill it the best way possible, using your expertise.