Report Templates
10+ Project Closure Report Templates in PDF | MS Word | Pages | Google Docs
A project closure report is a must to prepare after the complete completion of a project undertaken by a team. As soon as the team completes the said project, it must send a report sample to the higher authority who would then close the project formally. The project closure helps the senior management to identify the best practices to be undertaken for future projects & resolve the open issues. The team manager is supposed to submit the project closure report.
Table of Content
10+ Project Closure Report Templates
Project Closure Report Template
Check out this professionally made "Project Closure Report" template that lets you document the final phase of the project. It can be used by the management in order to assess the success or failure of a finished project, identify the effective practices to be used for upcoming projects, solve all open issues, and formally close the project. This customizable template is available in A4 and US print sizes. This sample report template also comes with suggestive headings and content that can be personalized as you see fit.
Project Completion Report Template
Be able to provide a thorough report when it comes to the project completion by downloading and using our above-shown template. This Word report template lets you brief the management or concerned authorities on the project summary, description, budget evaluation, areas of improvement, and other factors. It comes with ready-made content so you can customize and modify it as per your requirements. Download now!
Editable New Business Project Report
Are you planning to make your target business more appealing to your investors or creditors? If so, download and use this comprehensive "New Business Project Report" template that is available in A4 and US letter sizes. Use any software app supporting file formats for MS Word or Pages so that you can edit the contents present in it easily. You may also see the Project Status Report Templates.
Project Management Report Template
Download and use this Project Management Report template so that you can present the results of a project that you are working on. This 14-page document can be opened and edited with your preferred app or program that supports file formats for MS Word or Pages. Downloading this formal report now will get you immediate access to this easy-to-edit template with standard fonts in A4 and US letter sizes.
Free Project Report Template
Download Project Closure Report Template in Word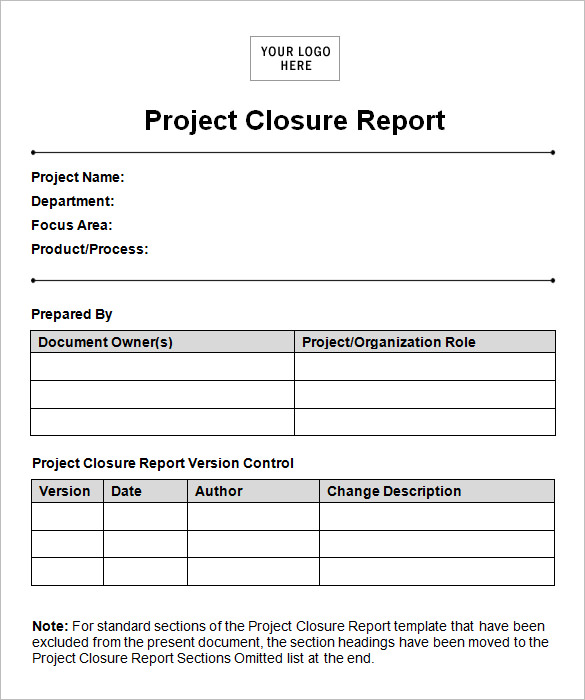 pmicie.org
Project Closure and Post Implementation Report Template

utas.edu.au
Project Closure Report Template for Large Projects

egovernment.tas.gov.au
Sample Project Closure Report Template

cdc.gov
How to Draft a Project Closure Report in 5 Steps
There are four phases in a project's life cycle: (1) initiation, (2) planning, (3) implementation, (4) closure.
According to the Harvard Business Review, projects exceeded 27% that their actual cost on average.
Moreover, data from Gallup showed that only 2.5% of businesses are successful in fully completing their project.
Step 1: Create a Title Page for Your Report
To write a project completion report, you should firstly open a new document in any file format such as MS Word, Pages, or Google Docs. Once you have opened the new document, you can create a title page for your report. Enter the name of the title report along with your company name, address, and contact information.
Step 2: Present the Summary and Background of the Project
Next, provide a summary of your project completion report and then proceed to present the background information of your project. Give a description of your project and mention its objectives along with the timeline of the activities.
Step 3: List the Tasks to be Carried Out
After presenting the background of the project in the sample report, you may now list the various tasks that have to be carried out for the completion of the project. You can make use of a table to enter details such as the names of the tasks, team leader, team members, methods used, tasks failed, and so on.
Step 4: State the Budget Evaluation Details
Moving on, state the details of the project budget. If there have been any additional expenses during the completion of the project, mention the amount. Prepare a table consisting of the costs, budgeted amount, actual amount, and the budget variance.
Step 5: Provide the Areas of Improvement
Finally, identify the areas of improvement and list them so that they can be implemented in the upcoming or future projects. Once all of the above details have been entered, make sure to review the status report before you save and get it printed.
If you are in the same position as the team manager, you can go for the Project Closure Report template as it is meant to make your work more convenient. The Project Closure Report templates are pre-made project closure report framework that saves you from the stress of creating a complete report from scratch. You may also see the Non Conformance report templates.
The template will come featuring all the categories or sections to be mentioned on a project report and you would simply need to fill the designated spaces with the required information. The same template will serve as the form for all your further project closure reports- saving you enormous time and energy. These templates are to be downloaded from online sites and you will even get them free of cost. We have collected some sample Project closure report forms, hope these templates will help you. You may also see Closeout document templates.