If you are engaged in online trading or business you must first consider the means to make your webpage or product be the most visited site by any online user to be able to achieve the target income you ever wanted. Using the social media report template in sample format found online, you will no longer have the dilemma of making your website the trending place to visit online. You may also see report templates.
SEO Report Template
SEO Audit Report Template
SEO Analysis Report Template
It shows any person the best words, offers and program to be applied in your webpage to make it one of the leading search terms or site in the internet. The example report template is the tool you can have the idea of your webpage status online and the means of improving it.
SEO Audit Report
Printable Monthly Report Template
Audit Report Template in iPages
Progress Report Template to Edit
Sample Google's SEO Report Card
static.googleusercontent.com Whether you want to showcase the results SEO results achieved for your clients' websites or want to analyze your own website status, try this sample Google's SEO report card and create a personalized report of the website under consideration. It will help you identify the present status of the website on Google's search results. It includes representation of stats with a perfect pie chart.
Advanced Web Ranking and Seo Report Example
advancedwebranking.com Provide effective, appealing and comprehensive reports to your SEO clients with this wonderful advanced web ranking and SEO report sample designed for webmasters and SEO professionals to make your client understand the improvements in website reputation and rankings clearly. This template is available in PDF format and can be customized with your own logo design, text, charts, images and stats.
Free SEO & Marketing Report Download
rankranger.com Represent the progress that you have made to your clients' SEO projects with this comprehensive free SEO and marketing report template available online for download in PDF format. With this template you can represent all your marketing data and backlinks you have created for your client's website along with ranking stats. It can help them understand their website status on search engines.
Comprehensive SEO Audit Report Sample Download
intriguingideas.com Want to create detailed and comprehensive SEO reports to your clients? Here is the most reliable and appealing SEO audit report sample that you would find really amazing for offering complete audit reports to your clients. With this template you can represent various SEO factors of website in graphical and table format along with vivacious space for text as well.
Benchmark SEO Report Template Example
marketingsherpa.com
Sample Monthly SEO Report Free Download
coursevector.com
SEO Analysis Report Sample Download
delicious-webdesign.com
General SEO Analysis Report Download
overthetopseo.com
Free Local SEO Report Template online
Sample Client Monthly SEO Report Template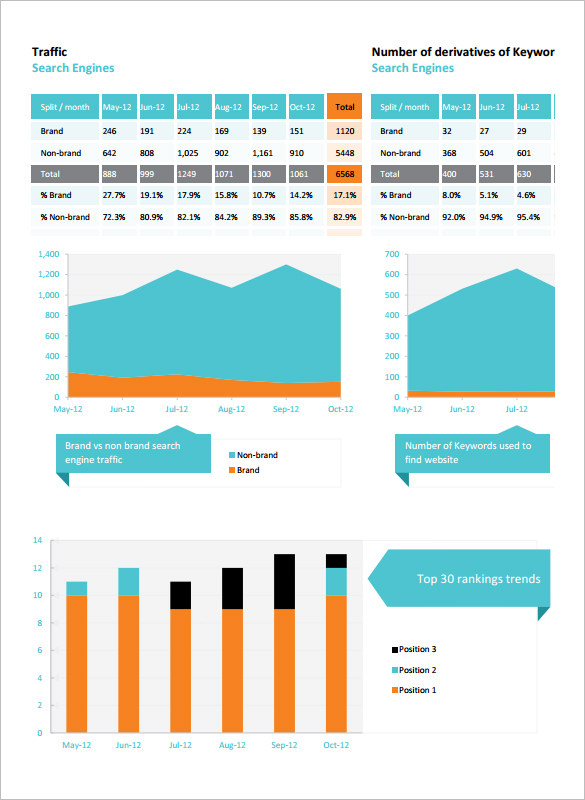 trackpal.com
> What is the Purpose of SEO Report Templates?
The various SEO report templates have been designed with the purpose of creating complete website SEO reports. These are basically are useful for webmaster and business owners to understand the behavior and response of the website to an SEO campaign. Different SEO report templates have different uses. There are report formats like SEO audit report, SEO back linking report, SEO ranking report and more. The SEO audit report is used to analyze the current status of website to find out various SEO possibilities and room for improvement. SEO back linking report templates are utilized to analyze various backlinks created for the website and an SEO ranking report template is utilized to identify the ranking of various keywords for the website.
> What is the Target Audience of SEO Report Template?
The target audience of SEO report templates include all the webmasters, SEO companies and SEO freelancers who has to provide comprehensive monthly, weekly or daily SEO reports to their clients. These template can also be used by various businesses that have websites and want to have a thoroughly analysis of how their websites are performing on search engines. These templates come with a wide set of graphical representations representing Google analytic traffic stats, Google ranking stats, backlinks built and traffic improvement graphs that help client or website owner understand clearly about the increase or decrease in website traffic as well as keyword rankings.
> What are the Benefits of SEO Report Templates?
There are countless benefits of SEO report templates that make it crucial for SEO experts. Here are a few of those benefits. These help webmaster, SEO experts and SEO agencies offer comprehensive and clear SEO reports to their clients disclosing all the improvements you have attained. For a business these SEO reports help as perfect tools to create SEO campaign strategies and work and perfect online marketing plan that can take website on the top of online competition. The other important benefit of using these templates for webmasters is that they no longer need to create reports from scratch as everything comes pre-structured and formatted. If you have any DMCA issues on this post, please contact us!