A training schedule templates may be given both to new employees and the employees of the company who needs to review the competencies that they need to have to provide the functions that the business expects them to give in a daily work basis. There are many reasons why training has to be conducted in the workplace but all of them are mainly done to support the professional development of the employees of the business.
Sample Employee Training Schedule
We can give you samples of employee training schedule templates if you want to have an idea on what is being done during employee training and how the activities are being scheduled, depending on their part in the training processes. Schedule samples will help you get a better idea of what to do for a training schedule.
Employee Training Schedule Template
A training schedule will help you regarding the management of your employees' training and what will make them better. Use this perfect employee training schedule template, which is guaranteed to help you keep everything organized and will also help you with an improves the allocation of your company's training time. Download now and enjoy its stress-free editing ability at the comfort of your house.
Restaurant Employee Training Schedule Template
Every business needs to train its employees so that they can work in the right way to produce fruitful results. For that to happen, you should always have a plan ready. To make one, download this schedule template in PDF that allows you to maximize your time and effort with a given period of time. It is perfect for helping you organize every aspect and part of the training from start to the end.
Sample Work Training Schedule Template
Schedule an upcoming training program for your employees by creating a document designed to help them become more capable for your company or business organization so that they can help in its growth in every possible way. Make sure that your work training is going according to schedule by downloading this template now.
5 Steps to Create an Employee Training Schedule
Step 1: Goals and Objectives
The first and foremost step in creating a training schedule is to set goals and objectives that you will have to reach in order to complete the training for your employees. These goals are business goals- the goals that will increase your business in the market, learning goals- training your employees, so that they learn and developmental goals- goals that will develop your business and also, your employees in return. The goals should be specific, measurable, achievable, relevant and time-bound(SMART).
Step 2: Training Plan
Create a plan which consists of the tasks your employees need to finish in a given time. These targets can be daily, weekly, monthly or annually based. Check staff schedule templates for more. Ask yourself what is it that your employees have to do for your company to reach the goal. While you are at it, you will understand what is it that your employees are able to do and what they should do to increase growth. They must know what to do, what they can learn and how they can implement their training in everyday work.
Step 3: Characteristics of Your Workers
Address what your worker's knowledge, skills, and attitudes are. This way, you will understand them better. Knowing their characteristics will help you understand what type of work you can give them and whether or not they will be able to finish it in time or not. See excel schedule templates for more references. Consider training that combines different aspects so you have a better chance of reaching everyone.
Step 4: Resources and Materials
The next step would be to make a list of all the resources and materials you need and have to get done with the training process successfully. Once you have the outer framework ready on what to do, you have to put in the right content using the right tools. Mentor and train your employees in the right way, so that they can be guided to working the right way too. Try different techniques, methods and assessment process to get your employees to understand their work better.
Step 5: Implement and Evaluate Success
The last and the final step for the training schedule is to implement your plan and evaluate whether or not it was a success. You can use 4 levels to check whether or not your plan worked- the first level is the employee's reaction to the training- that is whether or not they liked the training and understood what was being taught. The second level would be the employee's learning through the training. Employee's post-job behavior would be the third level, as it shows whether or not what they have learned from training is being applied in their work where it counts. The final level is business results- where you will know whether or not the training has satisfied the goals and objectives.
Editable Monthly Training Schedule Template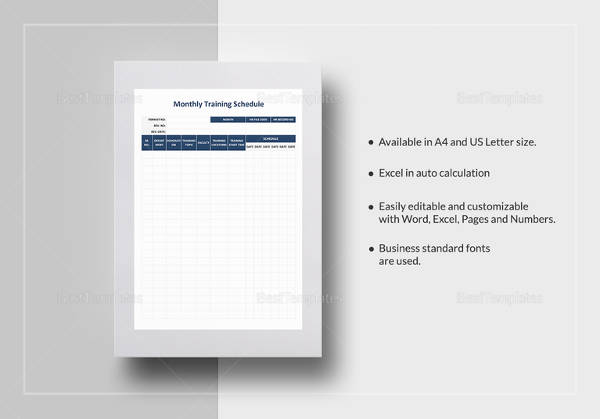 Want to follow the training regimen of your company while you are away? Well, worry no more. Use this template that is completely available for editing and customizing it in your own way. This will help you keep a check on how the training is going on at work on a monthly basis. Check it out for more details!
Employee Work Schedule Template
Employee work schedule templates, like the one above, will help in keeping your business more organized and planned so that you can follow everything in a set fashion. It will help you distribute work equally to all your employees and keep a check on their work schedule on a regular basis. All you have to do is download, edit it in the way that is best suitable for you, then print or share with the employees so that you can manage work schedules better.
Employee Schedule Template in MS Excel
Employee schedules will help you organize your employee's program and schedule in an efficient way. Simple but effective in organizing work schedules, you never have to worry about overworking or underworking your employees ever again. Give them the right schedule they need to work in and also, mention the perks they might get for extra work. It also helps in effective communication in the workplace. Try it out now!
Printable Employee Shift Schedule Template
New Employee Training Schedule Template
Employee Training Class Schedule Template
Basic Employee Training Schedule Template
Employee Safety Training Schedule Template
Employee Training Schedule
A basic employee training schedule has the following information:
The items that are included in the training and the particular things that the employee needs to be aware of.
The number of days allotted for the training.
The hours that are given for a specific training discussion.
The departments that should be involved in a particular employee training.
New Employee Training
The new employee training is needed for the new hires to be aware and familiar of the things that they to know about their job functions and the entire business operations. A new employee training schedule includes the following details to be taught:
The information about the business operation procedures followed by the company.
The nature of the business that the company is involved in.
The job functions that they will do depending on the job positions assigned to them.
The rules, regulations, and policies of the company.
The key qualifications where they will be assessed for.
Other items that new employees must be aware of.
Employee Mandatory Training Schedule Template
Free Employee Training Schedule Template
Seasonal Employee Training Schedule Template
Employee Orientation Training Schedule Template
Employee Training Courses
A training schedule must have specific parts where the course of the training will focus on. A few courses that may be used in employee training are as follows:
Effective work functions that should be applied by the employees in the work environment.
The kind of customer service practices that the employee should always showcase.
Team management and leadership practices.
The systems that are used in the daily operations of the business.
Effective job analysis.
Product knowledge and its importance to different business transactions.
Conflicts that are needed to be addressed right away in the workplace.
Proper behavior that should be showcased by the employees in the work environment.
It is very important to list down all these courses first so that the scheduling flow will be appropriate, depending on the inclusions of the training course and how they are related to each other based on training specifications.
Employee schedule templates on our website, which you may use as references in creating the daily schedules of the employees might be of great help.