Schedule Templates
13+ Schedule Templates in Word | Google Docs | Google Sheets | XLS | Numbers | Page | PDF | DOC
The Earl of Chesterfield had once said, "Take care of the minutes, and the hours will take care of themselves." And to do that you need a schedule. A schedule lists out all the goals to be achieved by a person or an organization along with the timeframe of each goal. Schedule Templates help in making such schedules.
Table of Content
6 Steps to Make a Schedule
Step 1: Track Your Activities
You cannot start making a schedule if you don't know what tasks you have to complete. So, the first step in creating a schedule is to track your activities throughout the day. You also need to see how long you take to finish each task. For example, find out how much time you take to get ready in the morning to go to work.
Step 2: Choose the Appropriate Method
There are several ways of making a schedule. You can handwrite it on a note pad, use a scheduling app, use a planner, etc. It depends entirely upon your discretion what method you want to use to create the schedule. If you are making the schedule for the first time, it is advised to use a diary or notebook to make the draft.
Step 3: Write Down the Dates
If the method you are selecting does not include dates, you need to insert them manually. No matter what type of schedule you are making, you need to have written down the days of the week and the respective dates. Including the days makes the work of tracking your activities more comfortable to manage.
Step 4: Make A Task List
Why are you making the schedule? What are the tasks that you need to complete? The answers to these questions will constitute this section. You need to carefully think about the goals that you want to achieve and then break them down into achievable tasks. If your schedule is for the week, then make a weekly task list; if your schedule is for the month, make a monthly task list, and so on.
Step 5: Assign the Tasks to the Time Blocks
Once you have all your tasks written down in front of you, you need to start prioritizing them. What are the most important tasks? Which tasks can you afford not to do? When you have prioritized your tasks, you can start assigning them to your time blocks. It is advisable to assign the most important tasks at the start of the day as productivity is high at that time.
Step 6: Set Time for Leisure
While making a schedule, people often forget to include time slots for relaxation. Keep in mind the age-old proverb 'all work and no play makes Jack a dull boy'. Nobody has the power to be productive throughout the day. So it is mandatory that you input time slots for breaks in between your tasks.
13+ Schedule Templates in Word
1. Weekly Schedule Template
Schedules can be made for the day, for the week, for the month of the year. If you want to make a weekly schedule, then this schedule template is just the thing for you. This template can help you make a good schedule for your weekly tasks. The template can be downloaded in a range of file formats including Excel, Word, Numbers, and Pages.
2. Wedding Schedule Template
The big day is almost around the corner and you can already hear the wedding bells; do you have everything ready? If not, don't stress, we are here to help. This schedule template in Google Docs has been made specifically to help you make a wedding schedule to ensure the smooth management of your special day. Hurry and click on the download icon to make the file yours!
3. Visitation Schedule Template
We all have so many types of visits to make throughout the year. Without a proper schedule, it is quite possible that you forget an important one. Do not let this happen to you and make a working visitation schedule with the help of this schedule template in Excel. This template comes with a tailor-made schedule that is ready to be downloaded on the go.
4. Vacation Schedule Template
Traveling is one of the best things one can do with his or her life. And you as the employer need to provide time off to your employees with this benefit. You can make a vacation schedule for that with the help of our schedule template in Pages. The template is compatible with both Mac and Windows operating systems.
5. Teacher Schedule Template
Being a teacher is a demanding job. And it becomes tougher if you don't have a proper schedule for your tasks. That is why we are offering you this schedule template in Google Sheets to lessen your burden a little. This template will help you make a good teaching schedule to manage your duties and responsibilities. You can download the template for use in any of the available file formats.
6. Sample Weekly Schedule Template
A weekly schedule helps to outline the weekly tasks and the timeframe within which those tasks should be completed. If you want to make such a weekly schedule for your tasks, then you need to download this schedule template in Word. This template is the best tool out there to use to make a solid weekly schedule.
7. Free Weekly Schedule Template
You might have some long term goals in mind that you want to accomplish. The best way to make sure that these goals are achieved is to break them down into small achievable tasks for each week. And to help you do this, we are providing this weekly schedule template. This template provides the file in the portrait style orientation for your benefit. You can also edit the given contents to make a production schedule.
8. Payment Schedule Template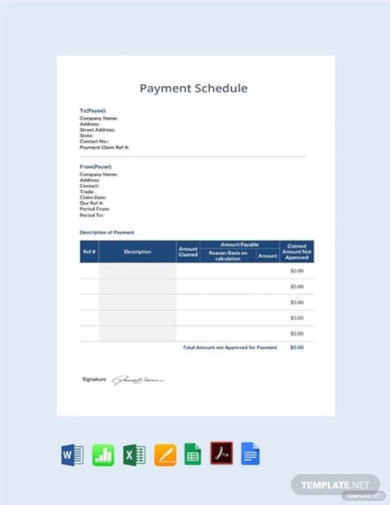 Payments are anyway difficult to manage. Add to that the fact that you have more than a dozen payments to make and you have a nightmare in the making. So we are here with our editable schedule template to help you get out of this nightmare. With this template, you would be able to make the perfect payment schedule that will ensure that you never miss one ever.
9. Cleaning Schedule Example
cph.co.nz
Cleaning is a mandatory chore no matter how much one wants to avoid it. It helps make this job seem less burdensome if you keep a schedule for it. And you can use this schedule template to make a proper cleaning schedule that will help break down your tasks into smaller, more achievable ones. You can also use the template to create a study schedule.
10. Inspection Schedule Template
michigan.gov
Inspections are carried out to mainly determine if the asset, property, product or service is safe to be used or not. Hence, it is important to keep track of such inspections. Make a schedule for all your inspections with the help of this inspection schedule template and ensure their proper management. The template can even be edited to form a restaurant schedule.
11. Assessment Schedule Template
nzqa.govt.nz
Assessments are done to determine the outcome or progress of a particular project or task. An assessment schedule helps to know what assessment is to be done and when. This schedule template has been built to help you make assessment schedules solely. The template can be downloaded in DOC format on any operating system.
12. Weekly Schedule Planner Template
oss.msu.edu
A schedule planner is a tool that is used to input the already made schedule. With this schedule planner template, you can make an appropriate weekly schedule planner for your tasks easily but efficiently. The template features original suggestive headings and content written by professional writers. To use the template, all you need to do is fill in the blank schedule with the necessary info.
13. Cleaning Schedule Template
failteireland.ie
Nobody likes to do cleaning chores. However, having a cleaning schedule in place helps make this process easier and seem less troubling. Use our schedule template to make a great cleaning schedule that will divide your cleaning tasks into more attainable tasks. The template is fully editable and printable and can also help to make a project schedule.
14. Weekly Class Schedule Template
indistar.org
Are you looking for a tool to help you make a solid weekly schedule for your class? Allow us to introduce you to this schedule template that has been made with the exact purpose of creating weekly class schedules. This template contains a sample class schedule that can be downloaded and used easily. The template can also be used to make a practice schedule.
More in Schedule Templates