Schedule Templates
Employee Work Schedule Template – 17+ Free Word, Excel, PDF Format Download!
The employee work schedule templates are basically ready-to-use excel sheet templates which help you add information relating to the employees and their shifts. They also let you keep a track of overtime apart from calculating your labor costs and much more. The best part about having these schedules is that you get to have a quick peek at your staff schedule at any time you want. If you are planning to create a work schedule for your employees, you can easily download and make use of our ready-made work schedule templates.
Employee Work Schedule Template Sample
Keep track of your employee's schedules by using our "Employee Work Schedule" template. This well-made sheet template gives you the freedom to make any edits that you deem necessary. Using this, you can ensure greater productivity, efficiency, and success of your company. Save time and effort by hitting that download button now!
Restaurant Employee Work Schedule Template
Check out and make use of this ready-made "Employee Work Schedule" template that you can use for your restaurant business. Using this schedule sample, you can stay updated on each of your employees' schedules for an entire week. Be able to enter information relating to the schedule, such as the total number of worked hours and the daily labor costs.
Employee Work Schedule
Ensure that your business is organized by trying out this well-designed employee work schedule in Google Docs. Upon using this template, you can ensure that work is distributed equally. Simply customize and add information by opening this document in any of the file formats. After that's done, print or share with the employees so that you can manage work schedules better.
How to Create an Employee Schedule in 5 Simple Steps
Step 1: Open a New File
In order to create an employee schedule, you need to first open a file format. There are many types of file formats available such as MS Word, Google Docs, Pages, etc. So, open a new document in any of the selected format.
Step 2: Enter the Heading and Basic Details
After opening a new file, enter the heading towards the topmost center of the page. Followed by this, enter the basic details such as the name of the company, name of the supervisor, name of the employee, date, and address.
Step 3: Insert a Table
Next, insert a table in the document underneath the previously mentioned information. Divide the rows and columns depending on the requirements in the printable schedule template.
Step 4: Fill in the Contents
Now fill in the contents such as the name of the task, total hours worked, total days worked, and the number of the week in the table. The table will ensure that the contents are presented in an orderly manner.
Step 5: Save and Print
In the end, save the file and get it printed. You can also share the file digitally to the concerned people. You can also see the employee schedule templates.
Printable Employee Schedule Template
Blank Work Schedule Template in iPages
Sample Weekly Work Schedule Template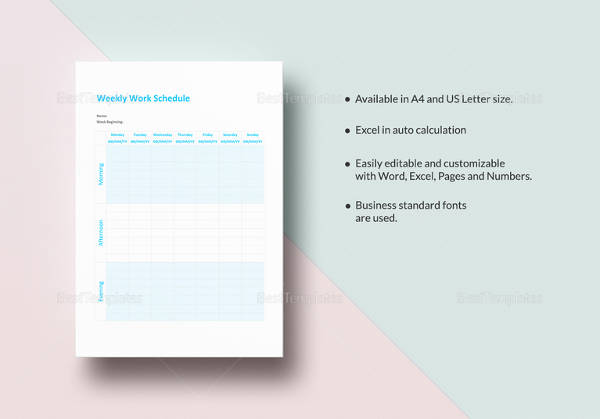 Editable Employee Shift Schedule Template
Monthly Work Schedule Template in Excel
Simple Work Training Schedule Template
Daily Work Schedule Template
Employee Hourly Work Schedule Template Excel Download

uc.edu
Editable Alternate Employee Work Schedule Template Word Doc

towson.edu
Blank Weekly Employee Work Schedule Template Word Doc

calendarpedia.com
Download Employee Work Schedule in MS Word

calendartemplates2014.org
Employee Work Schedule Template Excel Format Download

atyourbusiness.com
Employee 10 Hour Work Schedule Template PDF Download
Restaurant Employee Work Schedule Template Pdf
Printable Hourly Employee Work Schedule Template PDF Download
Explore a World of Amazing and Free Scheduling Templates
Most of these templates are free and if not, they come with a free trial period of a minimum 30 days to check their applicability. Download Free schedule templates Word Docs or Worksheets. Easily change header/footer, background colors, the total number of rows and columns.
Using such templates allow you to keep an easy headcount of people working under you, putting in overtime or on leave. To print it out, simply create a PDF form. The schedule templates in PDF are completely printer-friendly, can be printed on A4 sized paper according to your convenience and these qualities make them the best templates in tech-town.