The employee work schedule templates are ready to use excel sheet templates where you can add employees, their shifts, keep a track of overtime and calculate your labor costs and much more. You can get a quick peek at your staff schedule any time you want if you maintain such templates. You can find many of these work schedule templates available for free downloads. You can also see employee schedule template.
Employee Work Schedule Template Sample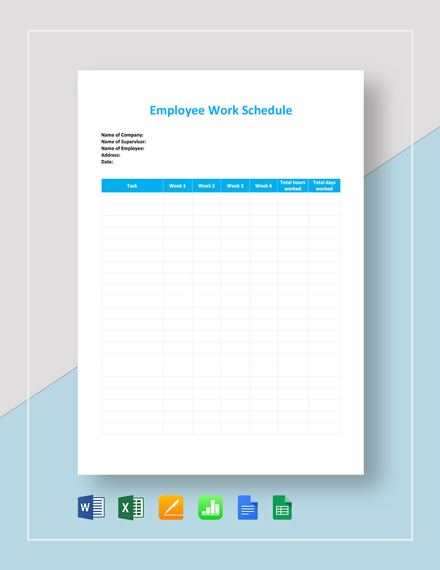 Restaurant Employee Work Schedule Template
Employee Work Schedule
Printable Employee Schedule Template
Blank Work Schedule Template in iPages
Sample Weekly Work Schedule Template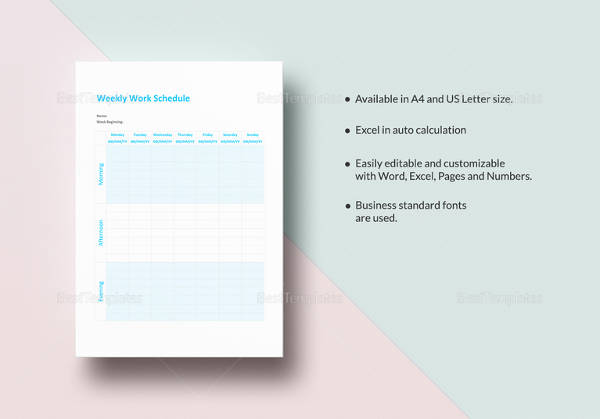 Editable Employee Shift Schedule Template
Monthly Work Schedule Template in Excel
Simple Work Training Schedule Template
Daily Work Schedule Template
Employee Hourly Work Schedule Template Excel Download
uc.edu
Editable Alternate Employee Work Schedule Template Word Doc
towson.edu
Blank Weekly Employee Work Schedule Template Word Doc
calendarpedia.com
Download Employee Work Schedule in MS Word
calendartemplates2014.org
Employee Work Schedule Template Excel Format Download
atyourbusiness.com
Employee 10 Hour Work Schedule Template PDF Download
Restuarant Employee Work Schedule Template PDF
Printable Hourly Employee Work Schedule Templare PDF Download
Serve More Than One Purpose with a Single Download
The easy customizability of these templates makes them well suited for more than one purpose. The premium versions of such schedule templates come with time-off requests, real-time reporting, texts and email alerts, salary charts, reminders, payroll exports and over-time rates. Bid farewell to clutter and welcome neatness and organization with the monthly employee Free weekly work schedule templates excel sheets today.
Explore a World of Amazing and Free Scheduling Templates
Most of these templates are free and if not, they come with a free trial period of a minimum 30 days to check their applicability. Download Free schedule templates Word Docs or Worksheets. Easily change header/footer, background colors, total number of rows and columns.
Using such templates allow you to keep an easy headcount of people working under you, putting in overtime or on leave. To print it out, simply create a PDF form. The templates are completely printer-friendly, can be printed on A4 sized paper according to your convenience and these qualities make them the best templates in tech-town. If you have any DMCA issues on this post, please contact us!