Announcement Templates
9+ Retirement Announcement Letter Templates – PDF
When the time comes that an employee will need to leave an organization due to retirement, then the people that he or she is currently working with will need to be notified. Not only will this help them prepare for the upcoming changes, but it also allows them the opportunity to say their goodbyes to the retiring employee. You may also see sample retirement letter templates.
So how would you go about in announcing one's retirement? Well, one of the best ways of doing that is through a retirement announcement letter and this article will give you all the information you need in order for you to learn how to create them.
Announcement of a Retirement Letter Template
Download
Retirement Announcement Invitation Letter Template
Download
Download Retirement Announcement Letter
Download
Who Should Make a Retirement Announcement Letter?
While this can be made by an employer in the event that he or she wishes to share the information regarding an employee's upcoming retirement, this can also be made by the retiree to announce his or her departure towards the employer or colleagues. It all depends on who you are in the situation, but the point of this letter is to show these people that someone is retiring – whether that person is you or not. You may also see sample retirement resignation letters.
What Should Be in the Retirement Announcement Letter?
When the whole point of this sample letter is to announce one's retirement, it will need specific types of information to ensure that readers acquire all that they need to know about it. Also, you need to think about your situation: are you the employer or are you the employee?
So here are the things that your retirement letter will need, depending on which role you might play:
1. Retiring Employee's Basic Information
This will be needed from the very moment that you start writing the letter so that the people reading it will know exactly who's retiring. Also, this is going to be very helpful in the event that one has to pull up the retiring employee's retirement letter in his or her personal records. So what you'll want to put in are the complete name of the retiree, the complete address, and possibly even the job title.
2. Employer's Basic Information
No matter who you may be in the situation, this will be needed in the letter. If you're going to send this to the employer, then you would obviously want this to actually reach the right person. If you're announcing the retirement to different people, then you would want them to know who's doing it. So similar to providing the retiree's basic information, you'll need to write down the employer's complete name, address, and the job title if necessary. You may also see retirement resignation letter templates.
3. The Date of the Letter's Creation
You should never forget to include this in the letter while you're making it. There will come a time where you'll need to pull this document out from the retiree's personnel file, and it'll be much easier if you can find it via the date of when the letter was submitted. You may also see sample retirement letters.
4. The Date of Retirement
Retirement Announcement Letter Template

findlegalforms.com
Sample Retirement Announcement Letter

ipfa.nl
Retirement Announcement Letter Example

heritagedental.info
5. The Achievements
6. Gratitude
7. Statement Regarding Aid During the Transition Process
This is only if you're writing as the employee who is about to retire. Since you've just announced that you're going to retire, your employer will no doubt be thinking about who has to replace you. Since you're the person that's about to leave, you should definitely considering aiding your employer with the process as you owe the organization you've worked a good amount of years for at least that much. Although you do not necessarily have to do this, but majority of retiring employees do this out of gestures of good faith and because it can help with the transition process finish at a much quicker pace. You may also see examples of resignation letters.
Aside from that, you're the one person who should know what it takes in order for the role to be fulfilled in a manner that's expected by the organization. What this basically means is that you should know what kind of person would be the perfect replacement for you as you know what your job takes in order to considered as passable or even exceptional. You may also see sample volunteer resignation letters.
8. Celebrations
This is only if you're the employer in the situation. When the employee has announced his or her retirement, then majority of employers would want to do something special such as throw a celebration in the workplace. This is especially true if the retiree is someone who is well beloved by the people in the workplace and if he or she has stayed with the company for a long time. You may also see promotion announcement letters.
So as you're writing it down, you'll want to point out just what kind of celebration it's going to be, the location as to where it's going to take place, the time and date as to when it's going to start, and the people who are invited (this would usually be the retiree's co-workers who are in the same department, but some opt to invite all employees to join in). While you don't necessarily have to throw a celebration for the retiring employee, it's still a way for you and the company to show that he or she will be greatly missed and that he or she is appreciated. You may also see transfer letter templates.
Sample Letter Announcing Resignation

discipleshomemissions.org
Early Resignation Announcement Letter

stf.sk.ca
Director's Retirement Announcement Letter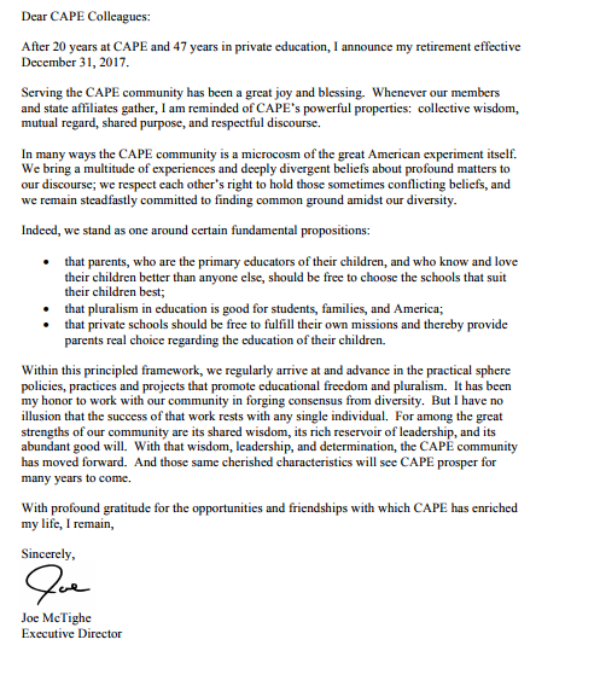 capenet.org
Formal Retirement Announcement Template

sjsu.edu
9. Contact Information
If you're the employee in the situation, then you'll have to write this down as you'll never when a situation may arise where your employer might contact you regarding the retirement process. There may be cases where your retirement can be held back because there wasn't sufficient enough information or because you didn't follow the right procedures. So to prevent that problem from happening, it's best that you provide your employer all the ways in which he or she may contact you. If you're going to do this, then you should write down your phone number, home number, email address and more. You may also see promotion letter templates.
Once you're finished doing all of that, then the last thing you'll have to do before providing your signature on the letter is too proofread everything. You do not want to share this kind of letter if it's still very unpolished, that can only lead to embarrassment on your end. So what you'll need to do is go through the letter at least twice so that you will be able to spot any errors related to grammar, spelling, and even information about the retirement. Once you manage to find any, you'll need to fix them immediately. After doing all that, then you may proceed to provide your signature and hand it over to the respective person or people that should receive it. You may also see vacation letter templates.
In the event that you would like to learn more in regards to how you should go about in creating a retirement announcement letter or if you would like to learn how to create other types of letters, then all you have to do is go through our site. We have all the articles that should contain the information that can help you during the situations where they'll be needed. You may also see notice letter templates.
More in Announcement Templates