Letters of promotion are a kind of Acknowledgment Letter and are very useful to a HR department, as they require such letters very frequently along with Appointment Letters, given how people are constantly moving among the company ranks after joining it. You may also see Letter Samples.
These templates need only be slightly altered and they become ready for sending out to the concerned party, thereby saving the department a lot of time and making it more efficient.
Sample Restaurant Employee Promotion Letter Template
Free Promotion Letter Format
Free Promotion Letter Sample
Job Promotion Letter Template
Promotion Letter from Employer

HR Promotion Letter Template
Employee Promotion Letter Template
Uses of Promotion Letter Templates
A promotional letter is a formal affair and hence you have to be really flawless with promotion letter word format- whether you are writing it for your hiring manager or boss or your employee or your customers. If you are writing such a letter for the first time, it's natural that you would be on the lookout of ideas and this is where the promotion letter templates come up as a handy aide. You get readymade promotion letters here with professional layout and wording. These are editable pieces and you would simply have to download and customize them with your specific data. Thanks to these templates, you won't need to write up the entire thing from scratch. You may also see Promotion Letter Formats.
Whether it's the Vice-President being asked to take over as President, or a Manager being promoted to Senior Manager, there are templates bearing the layouts of letters covering a range of promotions. However, the letters can also be changed easily, for the full satisfaction of the user. Changes include grammatical modifications in the language, structural alterations to the body of the letter, etc. You can also appointment letters.
Sample Letter of Interest for Promotion Template
This promotion letter example would be handy for you if you are planning to apply for a senior position in your current company. It's a detailed letter highlighting on your eligibility. You may also see Things to Consider When Asking a Job Promotion
Sample Promotion Cover Letter for an Internal Position
If you are looking forward to apply for promotion to an internal position in your current company and looking for a guide on an appropriate cover letter, this template would be handy for you. You may also see Staff Promotion.
Letter to Manager for Promotion Template Download
This letter for promotion offers you the right choice of wording and format when you are planning to send an application samples to your company's hiring manager regarding your eligibility in a senior position in the firm.
Sample Promotion Letter
This sample announcement letter of employee promotion would be great for you when you are about to send a letter to an employee announcing the news of his promotion to a senior position in your company.
Sample Job Promotion Letter
This job promotion letter would be helpful for you when you are about to inform an employee regarding his promotion to a senior position in your office on the basis of his application for internal job posting. You may also see Business Promotion Letter Templates.
Sample Announce Promotion Letter
This sample announce promotion letter offers you the right choice of wording and letter format when you are going to notify an employee about his latest promotion in your company. You may also see Promotion Cover Letter.
Sample Employee Promotion Letter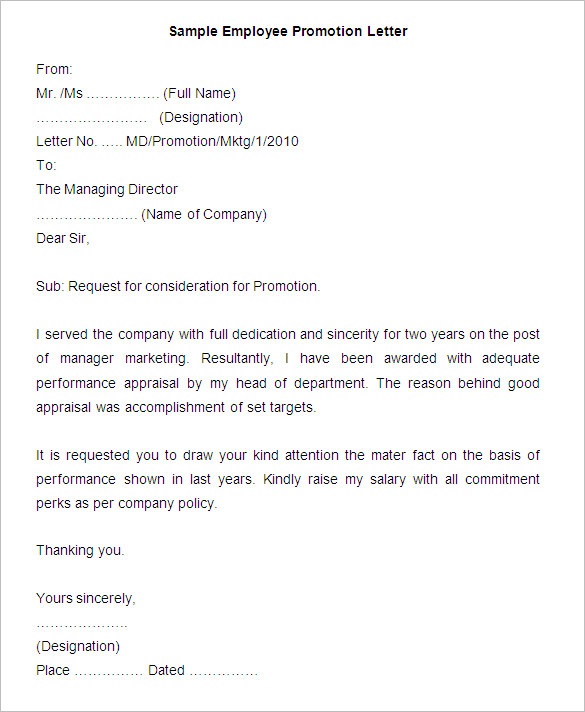 If you are looking to appeal to your company's MD regarding a hike in salary & promotion based on your continuous dedicated service and recent appraisal from your team head, this template would be your guide. You can also check out here Sales Promotional Letters.
Sample Promotion Letter from Employer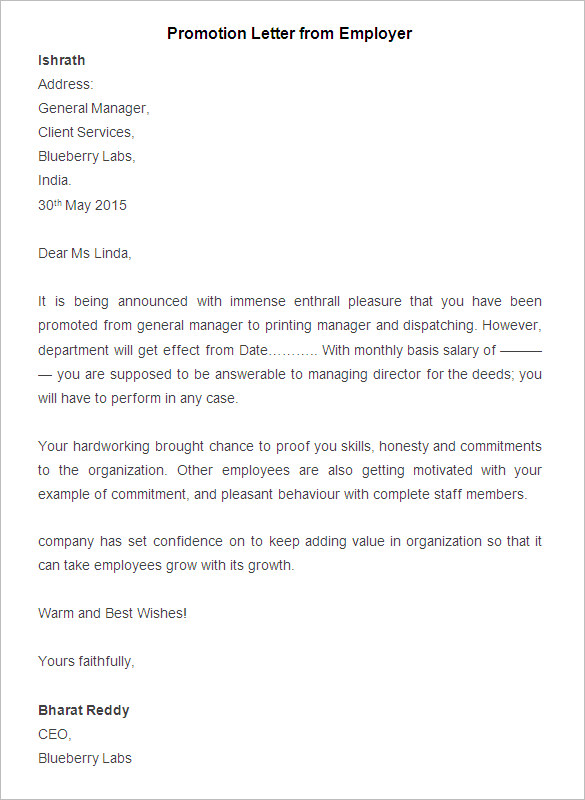 If you are looking for a right sample promotion letter that will offer you the most professional letter format to announce the news of promotion of an employee in your office, this template would be great for you.
Thanks Letter for Promotion Template Free Download
If you are looking for a congratulation letter to boss on promotion where you can express your gratitude for being promoted to a senior position and where you can also promise of a glorious performance further, this is the template for you.
Sample Cover Letter for Promotion
Job Promotion Congratulation Letter Example
Sample Promotion Acceptance letter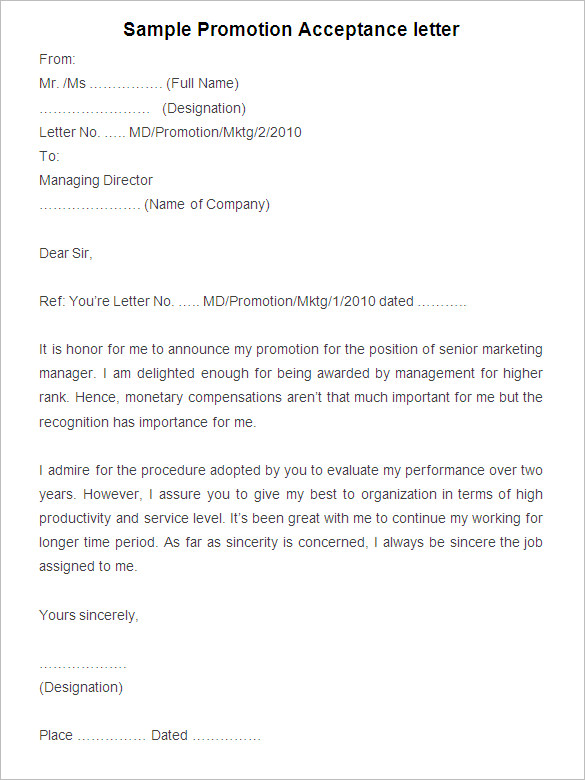 Job Promotion Letter Example
Sample Increment & Promotion Letter
The word "promotion" holds great significance in marketing and businesses often offer promotional gifts to target niche for an effective advertisement of their brand. While announcing the promotional offers, many companies and stores often come up with a promotional letter where they officially notify the customers about their latest discounts. Such promotional letters are often launched as mark of special celebrations by the company- say, 10th anniversary. You may also see Promotion Recommendation Letters.
Grab Your Promotion Is Style With A Graceful Promotion Letter
A promotion in the career is what every employee looks forward to. Do you think you have an opportunity of a splendid promotion in your office lately? Well, then, don't miss the chance and make the most of the opportunity with a professional promotion letter. You may also see Promotion Offer Letter Templates.
Types of Promotion Letters
Promotional letters can be of various types. The first one is where an employee finds an opportunity of promotion and being confident of his skills & experiences writes a letter of promotion to the hiring manager. It could be that your company has offered an ad for that senior post or the person holding the post has just retired or left the company, as per your knowledge.
Another promotion letter is congratulatory letter of promotion where the company authority notifies and congratulates the particular employee chosen for the promotion. Then, you have a different type of promotion letter where the employee just promoted writes a letter thanking his boss for the great opportunity. Such a letter also mentions that he would be committed to the new responsibilities bestowed upon him.
Customize fonts as per the user's requirements.
Include additional data in the form of graphs and tables.
Alter the subject and address at will. Even the body of the letter, if need be.
Download for free from the internet as samples that can be easily stored and from which extra copies can be made.
Tips for Promotion Letters
Main Message in First Paragraph
A true professional promotion letter would have the main message of the letter in the first paragraph only- whether you are applying for promotion or congratulating an employee who has recently been promoted.
Highlight on Your Achievements
While applying for a promotion, you must put forward your achievements confidently & succinctly. Back your data with specifics & explain how your committed efforts have benefited the company. For example, you can write "since my joining I have raised your sales by 50%".
Loyalty & Dedication Further
If you are writing a promotion acceptance letter thanking your boss for the high, you should mention that you are grateful for being considered for such an esteemed position- and that you would religiously strive to meet up the duties and expectations with complete dedication & loyalty.
Fun & friendly
It's good to follow a fun & friendly tone while your store is announcing promotional offers through a letter to the customers.
Dos & Don'ts
Dos
Be clear & concise with the letter
The promotional offers must convey a rounded figure, like 15% or 20%
Make sure you are eligible enough for the senior post while requesting a promotion
Don'ts
Never brag about yourself in your promotion application
No harsh or offensive words
No grammar mistakes or misspelled words
We are ready to help
If you are looking for the best and most professional promotion letters that can help with graceful promotion announcement wording, come to us at template.net.
If you have any DMCA issues on this post, please contact us!