As the name suggests, the Zen cart Beauty templates are dedicated to creating well resourced websites based on beauty products, beauty services; and sometimes fashion and other nuances of beauty. They are unequivocally well structured and powerfully coded to support multiple alterations in look, layout, content and much more. You can also see Fashion Zen Cart Templates. Header image space, a responsive Ajax slider, sortable galleries and high resolution image support make these templates ideal options for small and big corporations to showcase their online inventory. They can be adopted to showcase hair care products, be the online face of prominent Hair and Beauty Salons, Cosmetic brands, perfumes etc. You may also see Responsive Zen Cart Templates.
Hair Salon Zen Cart Template – $140
This template has a unique and innovative design that suits any type of hair salon, or hair related online store or website. For mobile version, it has a responsive design that opens well on almost any screen size. It has a custom color scheme, nice background, mobile-friendly layout, list or grid view options etc.
Perfumes ZenCart Template -$139
Organic Cosmetics ZenCart Template – $140
Organic Cosmetics is a responsive and clean ZenCart template built with the latest CSS3 and HTML5 technology. The blog or website made with this template looks great on different screen sizes. It has all the aspects that you would expect from a ZenCart theme, including colors, widgets and customizability.
Premium Beauty Zen Cart Template – $44.99
Premium Beauty is created while keeping professionalism and simplicity in mind. It is so plain and simple that it will make your online store beautiful and unique in a special way. Compatible with the ZenCart standards, it is kept intact so that you can upgrade it in future with ease.
Perfumes Zen Cart Templates – $39
Spa Accessories Zen Cart Template – $130
This one has a very clean and minimal design that is best suitable for a spa accessories online store. It is focused on creating a soothing environment for the customers, so that they feel comfortable while browsing through and buying from your online spa accessories store.
Fashion Zen Cart Template – $19
Cosmetics Store Zen Cart Template – $140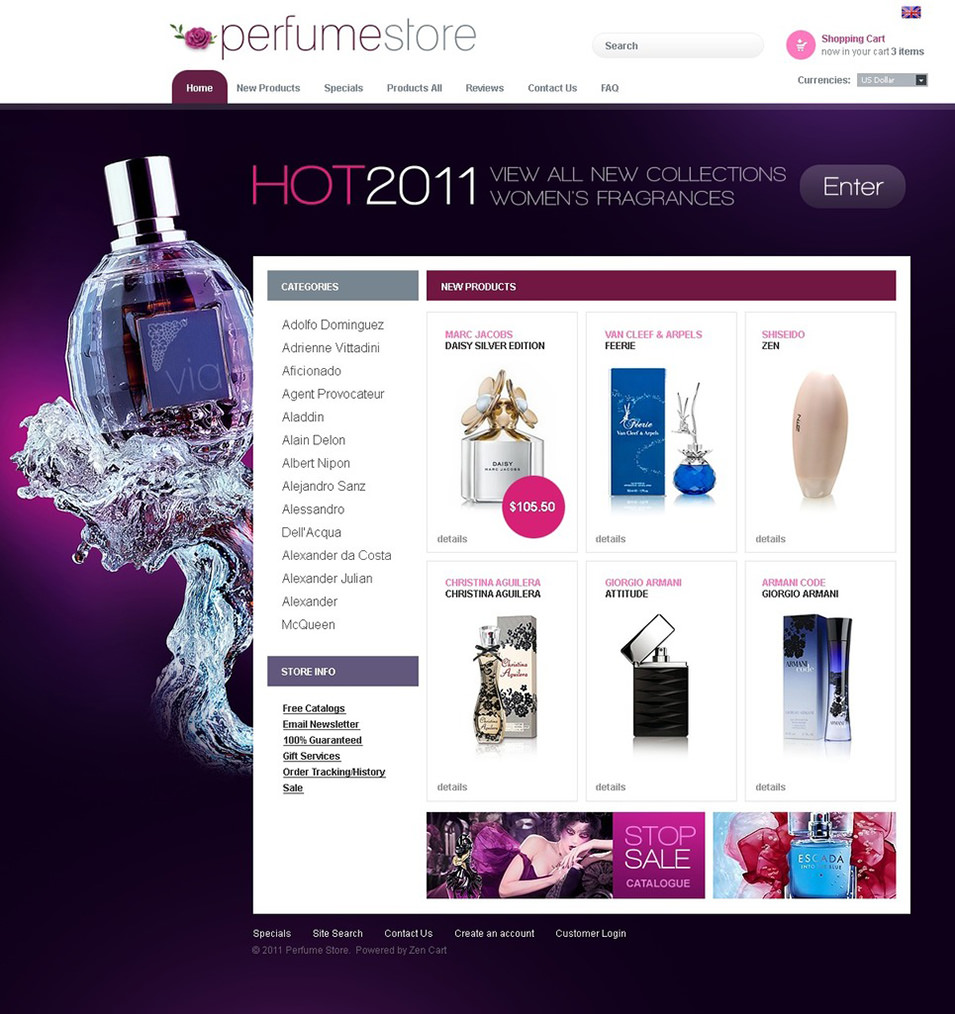 This ZenCart template is ideal for any online cosmetics store. Powered by ZenCart e-commerce system, this is a beautiful template that can be used for a variety of cosmetic products. Due to its responsive design, it fits well on a variety of devices, including tablets and smartphones.
Beauty Zen Cart Template – $29.99
Beauty ZenCart template is the right choice if you are looking for an elegant layout that can best complement your products. It is a very beautiful and nice template that works well on a variety of mobile devices and screen sizes. You can use this 100% customizable template to create a unique design.
Cosmetics Store Zen Cart Template – $140
Beauty Zen Cart Template – $39.99
Aroma Shop Zen Cart Template – $140
Aroma Shop is a modern, clean and responsive cart theme suitable for a variety of ecommerce websites. Built with the latest of technologies like CSS3 and HTML5, it has a responsive grid system with which you can list your products in a number of categories. It has a responsive layout that works well on different screen sizes.
Cosmetics Store Zen Cart Template – $160
Beauty Zen Cart Templates – $39
Perfumes to Smell Sweet ZenCart Template – $56
This one is a fresh ZenCart template equipped with a whole lot of powerful options. It provides featured shortcodes that you can use to create a powerful online store. With this template, everything can be easily configured and customized. Thanks to its responsive layout, it can be easily accessed from tablet and mobile devices too.
The advanced search options along with the back to top buttons, dropdown menus, multiple filtering options and commenting system make them ideal for online stores. In addition to the usual perks, they also pride themselves with crossbrowser compatibility and retina display, which means that one can access these websites from any device by using any of the more popular browsers like Chrome, Firefox, Explorer, Opera and Safari.
>

The Secret to Good Performance
CSS3, HTML5, JQuery and Semantic Coding give the websites their own intelligence. They can be easily managed and manipulated. They contain more than 500 Google Fonts and a rainbow of colors to jazz them up every second day. The well documented, customized modules impart a well organized look to these websites. The Header images, image sliders, features product options are the attributes which make Zen cart Beauty templates stand out in the crowd. The integration of Social media into the templates adds an extra edge to the websites. The other traits include Navigation block, search blocks and banner box which are inherent to Zen cart Beauty templates.
> Conclusion
These best ZenCart beauty templates are the easy way to create fantastic beauty related online stores. Use these templates to display your website in a beautiful manner. All these templates are responsive in layout, and are 100% customizable to best your individual needs and preferences.