Cancellation letters are used for an extensive range of purposes which includes personal as well as professional reasons. Whenever one wants to cancel any service, agreement, insurance, etc, these cancellation letters come to the rescue in preparing them effectively. There are varieties of cancellation letters available and one can make use of the best of them. You may also see Letter Samples.
They can also be used as termination letters when an employer wants to terminate the services of the employee. To know more about these cancellation letters, one can search Google using "membership cancellation letter", "event cancellation letter", "cancellation letter template" or "cancellation of order letter".
Purchase Order Cancellation Letter Template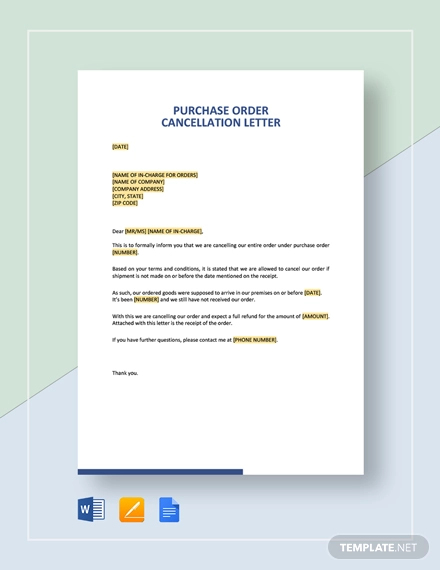 Cancellation of Appointment Letter Template
Insurance Cancellation Letter
This cancellation letter format is presented by a policy holder requesting the insurance company to cancel his life insurance policy and return the premium payments. It provides three different letter formats.
Contract Cancellation Letter
This cancellation letter sample presents a contract cancellation letter for canceling the contract samples that was made by the consumer for the purchase of a home appliance. It provides the complete details about how to frame the cancellation letter.
Lease Cancellation Letter
Service Cancellation Letter
This service cancellation letter is presented by the employer to terminate the services of the employee. It also mentions the monitory benefits that are being provided to the employee on termination. You may also see Termination Letter Examples.
Flight Cancellation Letter
Gym Membership Cancellation Letter Form
What is a Cancellation Letter?
A Cancellation letter is a formal statement of one's intent to terminate a business deal, rental contract, consumer service, insurance policy and many more. They are also used for cancelling the services of a company for providing any deficient product. They mention all the details required to request cancellation like policy holder name, policy number, etc. when a life insurance policy cancellation letter is prepared.
They help in knowing the procedures involved in writing an effective cancellation letter to complete the process without ambiguity. They can also be used to get compensation from organizations when their services are deficient and loss is incurred by the affected person.
How to Write an Effective Cancellation Letter?
To write an effective cancellation letter, one should gather good knowledge about the type of cancellation process he is going to initiate. Since a cancellation letter is a formal letter intended to end the services or agreement, one should draft it carefully by providing all the relevant details. One should specify the reason for cancellation and one should be authentic in his intent.
One should ensure to prepare the cancellation letter as briefly as possible and avoid excessive information. The employement termination letter should be addressed to the right person who holds authority. One can ask for acknowledgement of receipt of the cancellation letter as well.
What are the Advantages of the Cancellation Letters?
Some of the benefits of the cancellation letters are presented below –
They enable one to cancel an sample agreement or service authentically
They help the employers to terminate the services of the employee and avoid legal hurdles
They help the customers to obtain reimbursement when the company fails to provide efficient services
They enable to communicate to the relevant person the reasons for ending agreement or service
They enable to start the process of termination or cancellation as stipulated by the organizations
They help in cancelling any important events due to unavoidable situations like death of important member, natural calamities, etc.
They also help in getting refunds for the passengers when a transport service is cancelled
Cancellation letters are widely used in various situations and they help in informing the authorized person about cancellation. They also help in abruptly ending agreement letters that are made between the owners and the tenants when a house is let out for rent. There are many types of cancellation letters available and one can utilize them as per their requirement.