Certificate Templates
30+ Certificate of Appreciation Templates – Word, PDF, PSD
If you are looking for an outstanding way to appreciate someone for a work well done, certificate of appreciation template is a perfect way to accomplished that the certification template of appreciation is a document presented to an organization or individual for a job well done. It is like an award and is a formal document given by authority. You may also see Certificate Samples.
Certificate of Appreciation for Training Template
Certificate Documents Bundle
Certificate of Appreciation Illustration Design
Organization Certificate of Appreciation
Student Appreciation Certificate by School
Army Certificate of Appreciation Template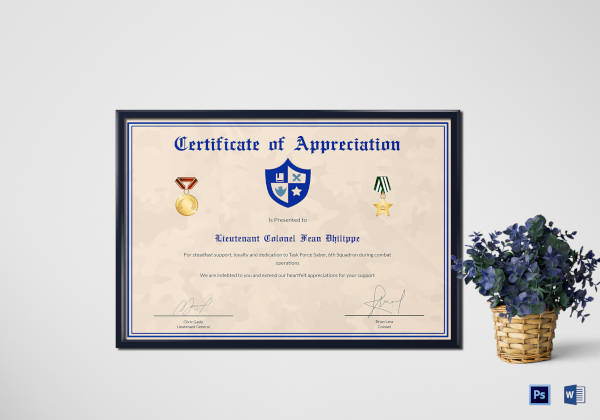 Printable Certificate of Appreciation Template
Company Appreciation Certificate Template
Health Certificate of Appreciation Template
Company Employee Appreciation Certificate
Company Manager Appreciation Certificate Template
Editable Appreciation Certificate Template
Golf Certificate of Appreciation Template
Physical Fitness Appreciation Certificate Design
Sample Table Tennis Appreciation Certificate
Rafting Participation Certificate Template
Appreciation Certificate Template
Certificate of Appreciation Free Template
Multipurpose Certificate of Appreciation Sample
Certificate of Appreciation Format
Modern Certificate of Appreciation Template – $6
Simple Certificate of Appreciation – $4
Premium Multipurpose PSD Certificate of Appreciation
Printable Certificate of Appreciation Download
Appreciation Certificate Gold Ornament Design
President's Appreciation Award Design Template
3 Design Multipurpose Certificate Illustrator
Best Floral Frame Appreciation Certificate
Colourful Certificate of Thanks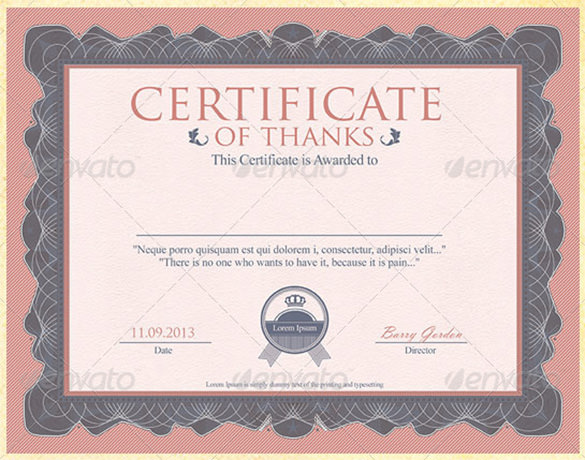 Military Certificate of Appreciation Free Download
Download OHO InDesign Certificate of Appreciation Template
Making your own certificate of appreciate from scratch is hard and tedious, but because of the already design certification templates you do not have to worry anymore. In an organization, this document is used as a motivation tool as well as to boost individual or companies confidence. Design it in an impressive way that will make the receiver feel good. Therefore, it should be professional as well as formal. Blank appreciation templates serve that purpose very well.
There are printable certificate of completion templates, which can download free from the internet. You can make changes to these templates depending on the nature and needs of your organization. The templates are designed in stunning manner using beautiful colors and other customizable artistic designs. The templates make you work easy because you can download them and save in your computer even for future use for sure.