WordPress Galley Templates
14+ Medication Schedule Templates
Everybody, from the kids of the family to the elderly members, need to see a physician regularly. An online medication schedule template helps you track the medication, tests, prenatal checkups, doses and annual screenings of your family.This medication schedule template is tailored to suit the needs of all family members year round. Whether it is the family doctor, dentist or pharmacist, this planner Project Schedule Templates schedules the important details like their contacts, addresses and other important things.
Simple Medication Schedule Template
Daily Medication Schedule Template Example
Medication Schedule Word Template
Appointment Schedule Excel Template
Daily Medication Schedule Template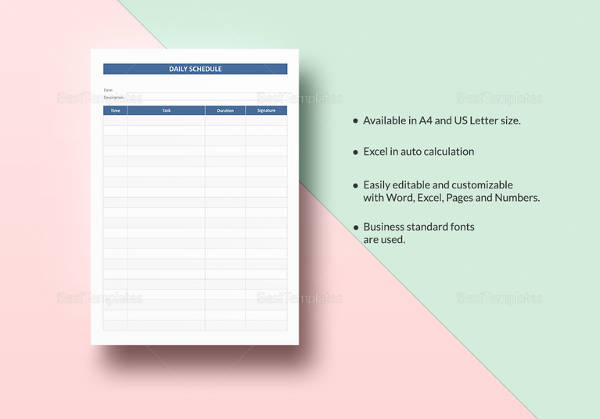 Editable Monthly Schedule Template
Easy to Edit Weekly Schedule Template
Hourly Schedule Template in iPages
Blank Schedule Word Template
Download My Health Medical Schedule Template PDF Format

c.ymcdn.com
The My Health Medical Schedule Template is one of the easiest ways to manage your personal medication plan, in case you reside alone or doesn't have anyone to take care of you. You can easily download and use these templates to adopt all of the medication safety measures and keep a track of everything to manage your daily intake of pills, vitamins, and herbs.
Printable Daily Medicine Medical Schedule Template

cigna.com
The Daily Medicine Medical Schedule Template is specially designed to maintain and keep a track of the daily dose of medicine that one has to take in order to complete the medication routine designed by a physician. Ideal for usage at both in the hospitals as well as at home, all of these templates can help people in coping up with their medical schedules along with managing their busy work or life schedules.
Free Download Daily Medication Schedule PDF Format

freeprintablemedicalforms.com
Free Personel Daily Medication Schedule Template PDF

ep.yimg.com
Download Free E-Pill Weekly Medication Schedule Template

ep.yimg.com
Download Medication Schedule Organizer for Excel

freeofficetemplates.com
The Medication Schedule Organizer template is ones of the easiest and common ways to assist patients and care providers in managing medications and lab tests on the go. The template can be easily customized to set reminders, keep a track of their medication routine, and assist in communicating the same with their doctors, surgeons, and healthcare providers.
Take Care of your Health With Medication Schedule Template
Most times, it is equal to having your very own nurse who reminds you of upcoming medical appointments, daily doses of medication and how else to maintain your health better. There are hours, days, weeks, months and years in the schedule template planner and you can plan in advance for an important event.
Why do you Need Medication Schedule Template
If you and your family are on medication and need to take doses regularly, you can do so without forgetting an important dose.
Prepare in advance for an outing or trip by taking care of your medications.
Keep your physician at hand by noting down his contact number so every family member can access it in emergencies.
Why You Must Use These Templates?
One of the most common excuses that patients and their care providers often give while missing out medication schedules is that their busy lifestyle and work pressure doesn't reminds them of taking or giving medicines on time.
Downloading and using these templates can assist both of them to create a detailed chart that can remind, re-call, and even let them mark the medications the patient have taken to present the accurate report while visiting the doctor on their planned appointment.
The template enables you to take appropriate dosage of the medication at the right time, leaving no scope of misses or overdoses. Assisting you to take adequate medications and avoiding over-doses, all of these templates help in printing detailed medication schedules that can be read, marked, and updated at regular intervals.
Aiming towards keeping a detailed track of all your medications, you can customize these templates to map your medical and dental appointments with ease. Download these templates, customize them, and create a detailed plan to ensure that you never miss out your medications. If you have any DMCA issues on this post, please contact us!