Agreements
11+ Simple Business Agreement Templates – PDF, Word
Any businesses will not survive without agreements templates. These are important in keeping the best interests of both parties while negotiations and contracts between them are valid and ongoing. Business agreements are made orally or in written form, but it is much better if it is the latter. There are things that both parties must not do when they come to an agreement.
Business Agreement between Two Parties Template
Business Agreement Contract Template
Business Development Agreement Template
Business Associate Agreement Template
Business Non-Compete Agreement Template
Agreement Relating to the Principal Place of Business Template
Before formally going into a business partnership, an agreement must be written between. This ensures protection between the two parties in case of a lawsuit. Terms and conditions are also laid out in the agreement and it must be read thoroughly before inking the signature.
Sample Business Agreement

hrcouncil.ca
Sample Document Partnership Agreement

cleardocs.com
Sample Partnership Agreement

sbdc.duq.edu
More On Business Agreements And Its Types
Writing a basic business agreement offers more certainty of the future of your business. Everything that is agreed on is clearly written in the agreement. It is a living proof that you can use in case you get breached. The court also provides legal action for the breach of contract in case it happens.
Having a written agreement prevents disputes between you and the other party and a way of making them pay in case you get breached. It states how much you get paid and how long the payment goes on. The agreement decreases the risk of misunderstanding, dispute, and non-settlement of duties should something bad happens. It also decreases the chances of courts not acting and giving what needs to be given and done in case of a legal dispute. You may also see
There are some factors for the validity of the contract. An offer has to be made. It can be of any kind, such as cash, equipment, or marketing and promotions, in exchange for something. It has to be accepted by the other party to the agreement can be drafted right away. There is no backing out when the contract is already made. However, counteroffers are made when the other party finds the offer unfavorable on his side. There also has to be some legal elements and consideration in the agreement for it to be valid as well. You may also see
Some types of agreements are unilateral, bilateral, period and voidable. A unilateral agreement is a one-sided kind, wherein one party demands the other to do some work without any guarantee. This is risky since he is the only one covered by the legal actions of the court should he choose to leave the agreement. The other party is left with nothing. You may also see
Bilateral contracts, however, are a two-way type. Both parties engage in the agreement and have a clear exchange of items and duties to be carried out. This is the most common type of agreements business owners goes into. For a period contract, both parties just go into the agreement when there is work to be done. In voidable contracts, one party has the right to leave the agreement in cases of misinterpretation. You may also see
An agreement is essential when there is a big amount of money involved, and when the other party wants to keep some information confidential. Quality requirements are also an essential ground for going to a business agreement. Moreover, business agreements are entered into when the work to be done should be carried out in a short span of time. You may also see
Sample Partnership Agreement Form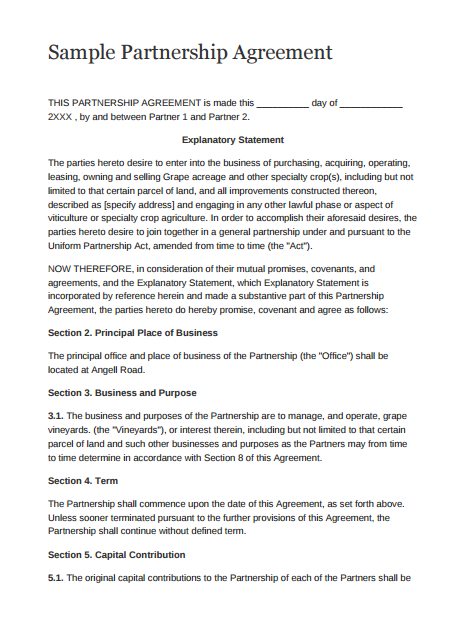 lergp.com
General Partnership Agreement

gaylevanleer.com
Business Development Agreement

openet.com
How To Write A Business Agreement
Writing a business agreement is simple. Just take note of the most important parts to be included and you're good to go. Business agreements prevent misunderstandings, as well as protection when one party does not do his part in the long run. You may also see business agreement templates.
1. Legal participation.
A person must be at least 18 years old if he wants to make business agreements of any kind with others. More than the age, it is a must that all the parties have read and understood the contract before signing it. If a minor is essential to entering the contract, the parent should be present and represent their children in the signing of the contract. You may also see general partnership agreement templates.
2. Legal purpose.
Before the contract is written, it's legal purpose should be determined. The contract becomes null and void when the offer being made is illegal in any way. Every contract has its own purpose in doing business. You may also see simple partnership agreement templates.
3. Set the agreement terms.
Talk to the other party about the terms of your agreement. This is an essential part before you begin writing the contract. Jot down each term both of you have agreed upon. Once the terms are set, begin drafting the contract. The final output of the contract becomes legally binding once you have inked your signatures. You may also see business contract templates.
4. Start with basic information.
State the names of the parties entering the agreement, and the date the document is printed. Other identifying information such as their position and designation should also be included. If you are coming into an agreement with a business, the person's name who is agreeing with you in behalf of the business should be written down. You may also see referral agreement templates.
5. Write down the exchanges.
The next part of the contract is about the exchange of items both of you have to carry out. Write down how many or how much you need to give, as well as the other party. Provide a breakdown of the exchanges as possible. Make sure you have agreed on the respective amounts. If it is a property, write down the description and the exact location. If payments will be done, state the exact amount of money to be paid by the other party and vice versa. You may also see management agreement templates.
6. Observe the tone and language.
Write concisely, and in the simplest of language. As much as possible, avoid putting legal terms on the agreement so it will be understandable to all kinds of readers. You may also see business confidentiality agreement templates.
7. Put the start and end date.
Write down the date where the agreement becomes valid and when it ends. You can also put a notice for the renewal of the agreement should you want it to be renewed. The agreement is often revised upon renewal. You may also see business non-compete agreements.
8. Add a confidentiality clause.
The confidentiality clause ensures that whatever process, output, and product made out of the agreement remains between them only. It is not to be shared with others. If any party shares information regarding the agreement, it is considered a breach. The confidentiality clause protects everything that comes out of the agreement. You may also see operating agreement templates.
9. Put dispute resolutions.
A dispute is an inevitable part of the business. There are several factors to it. It is usually the other party not upholding his duties. In the agreement, state the necessary steps to be taken if there is a dispute. The breached party can terminate the contract and sue the breaching party for damages. You may also see agreement templates.
State how much the breaching party pays the breaching party. The monetary penalty is a heavy one when it comes to breach of contract. If the agreement involves intellectual property, there should be a process on who handles it after the agreement is terminated. You may also see business administration agreements.
10. Include a termination clause.
A termination clause means the things should be done when the contract expires. State whether the contract expires when the transaction is completed. The contract will automatically terminate even if neither party breached the contract. You may also see funding agreement templates.
11. Make counteroffers and negotiate.
When the contract is ready, one of you usually makes an offer about some parts of the contract. Make a counteroffer as well if such need arises. Negotiate with the other party until you reach a decision that both of you mutually agree on. Make sure that both of you are satisfied with the contract before you sign it. You may also see sample business non-compete agreements.
12. Have a lawyer review the agreement.
After drafting the entire agreement, consult a lawyer and have it reviewed. All parts of the agreement have to be in accordance with the law. Lawyers can help in revising the termination clauses and add more provisions in case of breach of contract. You may also see cooperation agreement templates.
13. Edit and proofread.
It is a must to edit and proofread the contract to single out grammar errors and spelling inconsistencies. No one wants to read a contract full grammatical and spelling mistakes. It is too much of a headache. Has it printed after such action is done? You may also see sponsorship agreement templates.
Conclusion
Business agreements are one of the backbones of business. Always seek an advice, and read and understand everything in the contract first before you put your signature. It is a proof that you have understood everything and you are willing to do your part while the agreement is in full effect. You may also see commercial agreement templates.
More in Agreements