How often do you go out and travel to see our world's beautiful sceneries? Or how often do you travel to spend quality away from all the stresses? In our world today, people are more preoccupied with making a lot of money and getting rich. When people stress out too much on these material possessions, they risk not knowing some of the most important lessons that life can teach us, which is making a lot of memorable experiences. You may also see travel company brochures.
Money and other material possessions simply come and go, and people should not be too attached to these because they risk teaching us nothing but selfishness. Instead, people should treasure memories more than these because memories are more valuable and can be brought with your for the rest of your life. Therefore, people should learn to invest on travelling and say how rich they are not on money but on lifelong memories. You can also read holiday brochure templates.
41+ Travel Agency Templates in PDF, Word, Excel, PSD, HTML5, WordPress, Google Docs, PowerPoint, InDesign, Apple Pages, Google Sheets, Publisher, Apple Numbers, Illustrator, Apple Keynote, Google Slides - START DOWNLOADING
Travel Agency Tri Fold Brochure Template
Creative Bifold Travel Brochure Template
Classic Travel Agency Bi Fold Brochure Template
Travel Agency Brochure Template
Printable Travel Agency Brochure
Travel Agency Brochure Example
With regards to the benefits of traveling, let's discuss more about that later. For now, let's focus on what we are really trying to imply to you in this article. If you are managing a travel agency business, then one of the best ways to make your agency visible is by using brochures. Below, we have various creative brochure templates that are downloadable and editable for your convenience, feel free to check them out before actually downloading one.
Travel Brochure Template
Do you prefer your brochures to utilize an A4 size? Then you might want to consider using the half fold business brochure template above. This template also utilize the half-fold type, which is just as similar as bi-fold brochure because of the two equally-measured panels that are used for the content.
Holiday Travel Brochure Template
Vacation Travel Brochure Template
Benefits of Traveling
Do you know that science actually backs up the claims that traveling is good for the health? They actually are and you shouldn't be surprised about it because traveling can help in taking your mind off things including stress, and we already know how harmful stress can be for our physical, emotional, and psychological health. While you may already be aware of these benefits, a lot of people may not. And when promoting your travel agency, you can include these benefits to really encourage others to travel more. You may also see travel brochure templates.
1. Traveling Makes Your Mind Sharp
When we travel, we are usually exposed to multiple cultures especially if we travel to different countries. We get to interact with people from those places, familiarize their culture, and learn new information, and all these allow our minds to become active and sharp. You may also see travel business brochures.
2. Traveling Lowers Your Stress Level
This doesn't necessarily mean that traveling keeps our minds off stress factors, but it also enables us to learn to overcome and tolerate stressors. A short trip outside the city is already enough to give you a break from stress and help regulate your cortisol levels—a hormone that helps control blood sugar and blood pressure, promotes metabolism, and sharpens the memory. You can also see free brochure templates.
3. Traveling Decreases Your Risk of Heart Diseases
When you are traveling—especially when you're out in the woods trying to embrace nature—you are most likely moving and engaged in various physical tasks. You probably know by now that physical activity is good for the body and promotes efficient circulatory system. Other than that, being free from stress contributes to a healthy emotional health, which also leads to a healthy heart. You can also like examples of travel brochures.
4. Traveling Makes You Happier
Without a doubt, traveling frequently contributes to a positive outlook in life. And as we have kept on mentioning before, being happy and optimistic is healthy. You may also see travel brochures.
Simple Fun Travel Brochure Template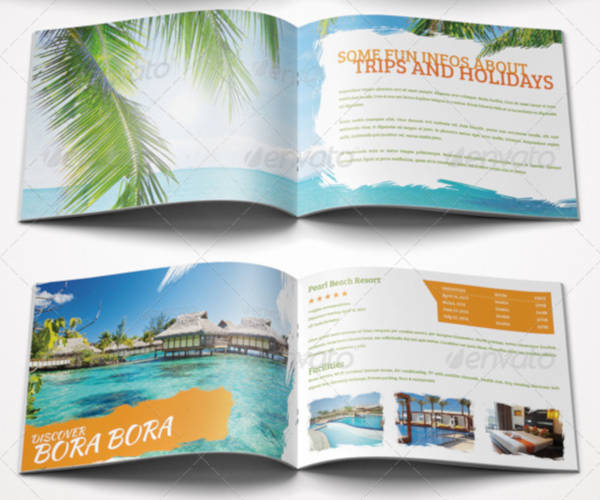 Traveling is indeed all about fun and good memories, and you should make that clear on your brochures. With this brochure template, you will not only be showcasing various travel deals, but you will also be providing prospects with even more reasons to travel more. If you're more into cruising, then you might be interested in our collection of cruise brochure templates.
Destinations Travel Brochure Template
Here's a simple tri-fold brochure template to those travel agencies that are looking for something more compact yet still informative. This travel company brochure template will allow you to maximize your content while providing enough space for your images of the stunning sceneries.
Simple Modern Travel Brochure Template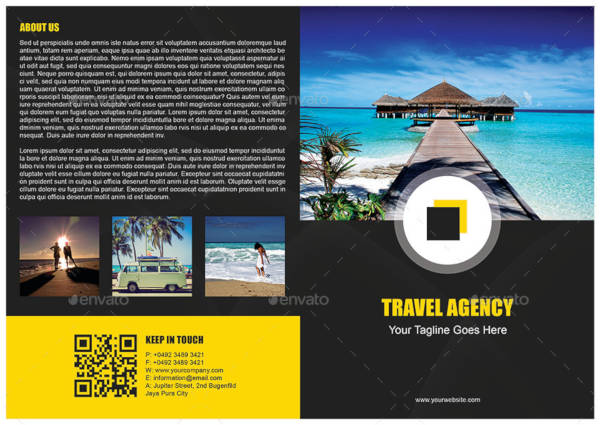 Importance of Brochures as Marketing Tools
1. Brochures are an inexpensive tool that businesses can use to promote either their products, services, or their business itself. Brochures are indeed inexpensive to design and produce that even businesses that are tight on the simple budget are able to make them.
2. Brochures are also very easy to make, they don't require you to have tremendous skills in computers or graphics editing to be able to make brochures. As long as you are computer literate and have basic knowledge in graphics editing tools, you definitely have a shot at designing brochures. And with the help of the brochures laid out here for you, you'll be able to make agency brochures in no time.
3. Brochures are highly informative in trying to bring a message to the general public. While brochures may probably be quite more expensive than flyers, they are also capable in holding much more information. You may also see free brochures.
4. Brochures are highly versatile and can be used for any type of business. Regardless of the line of products or services being offered by the business, they can be marketed through brochure advertising.
Travel Agency Brochure Sample
If you're looking for a travel brochure template that easy on the eyes as well as easy to manage, then the one provided above may perfectly fit your preferences. From the cover page itself, prospects will already have an idea on what they can expect when they flip to the next page—a series of good deals on travel packages to mesmerizing locations.
Holiday Travel Brochure Example
Make your client's travels a lot more amazing than they can ever imagine, and you can start it off by making a good impression through your creative brochures. With the brochure template above, not only will you be able to entice leads to availing of your travel packages, but they can also assure themselves of a vacation worth remembering.
Modern Themed Travel Brochure Template
Travel Catalog Brochure Template
Adventure Travel Agency Brochure Template
How Can You Make Your Brochures More Interesting?
1. Play with your images, illustrations, or any graphical elements that you want to include on your brochure design. One of the main factors that captures the public's attention is the designs, though there are also other factors that help in keeping your reader engaged, but let's focus on the design first. Note: When playing around with pictures, make sure not to go over the top with it since it will result in making your brochure look chaotic and unprofessional.
2. Include a question on your brochure's heading, but don't just ask any question, it should be something that will really encourage your readers to ask it towards themselves. This question will act as an eye-opener, something that will allow them to realize whether they really need to take a break and go on a vacation. You may also see tourism brochures.
3. Don't take white spaces for granted, they never fail to work at making a design look clean, presentable, and easy on the eyes. Many people are more interested when something looks pleasing and organized, and if you arrange your elements well and use a sufficient amount of white space, prospects will most likely be drawn towards your luxury brochure.
Travels Agency Tri-Fold Brochure Design
Resort Travel Brochure Template
To clients who're willing to go to extreme places or somewhere they've never gone before, then someplace along the Alps would be a great place to spend their vacation, and this clean brochure template would be a good pick. This tri-fold brochure template showcases some of the Alps' best views that you can ever lay your eyes on, which is a good strategy for gathering more clients.
Tropical Travel Holiday Brochure Template
The holidays are probably the best times to take a vacation, you'll have nothing to think about other than resting and relaxing. After all, what else is the purpose for going on vacations? With this brochure designs, people will be able to realize that there's nothing better than spending quality time with loved ones in a place where there's no stress.
As much as you want to promote your business and gather more clients, how can you attract them in the first place if your advertising strategy isn't striking enough? Aside from simply relying too much on generating leads through the design of your brochures, you should also include convincing reasons for your prospects to travel more. This way, they'll know why they need to travel and who they can depend on to make their arrangements.
You can do all this with brochures—specifically, out brochures—and thankfully, the ones here are just as informative as they are attractive. These brochure templates were designed by highly skillful and imaginative graphic artists, and were rendered in high-resolution to really make them worth downloading. In addition, these templates come in fully editable PSD and AI files that allow you to freely make the necessary changes while still keeping the overall design impressively crisp. You can also see landscape brochures.
Which now leads us to the question, "How much will you need to spend to be able to download any of these templates?" Well, to be honest, you actually don't need to spend a lot for them, which makes it such a sweet bargain. Considering the quality that you will be getting for such inexpensive prices, you'll never find templates as worth downloading as these. So what are you waiting for? Start promoting your agency and the benefits of traveling by downloading any of our professional brochure templates.