Contracts
16+ Rental Contract Templates – Word, Pages, Docs
Let's be honest. The number of people renting property every month is increasing by leaps and bounds. For a business person like you, this means a great business opportunity. It means being able to cash in a lot of money every month by leasing out property and equipment to those who are interested.
But, you need to have a signed agreement with someone before you can start the business. The document outlines the terms and the conditions of leasing, and it is exactly what will be used to govern the relationship between you and your tenants. Here are files to use to prepare the rental Contract Templates.
Simple Rental Contract Template
Apartment Rental Contract Template
Gym Rental Contract Template
Basic House Rental Contract Template
Simple Rental Agreement Contract Template
Rental Contract Amendment Template
Equipment Rental Agreement Template Download
marquette.edu
Use this file to create terms of agreement for leasing out equipment to those who are interested. The terms should be flexible though. Too tight, and they scare potential customers away.
Rental Agreement Contract Template in PDF
thehousingcouncil.org
You can use this sample template to write the contract for business. The template is free to download. Please remember to make the terms of the contract as friendly as possible. This is what clients want.
Property Management Contract Form Template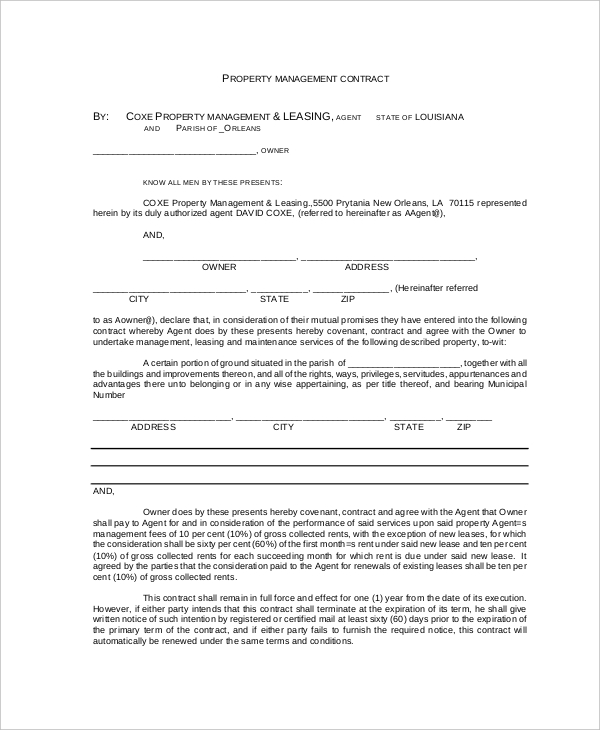 coxepropertymanagementandleasing.com
Because you want your commercial leasing business to be governed by rules, you should use this same file to outline those terms and conditions of the contract. You can download the template for free.
Vacation Rental Contract Template Example
windcliff.com
The vacation Rental Contract is suitable for a commercial business that leases out spas and resorts to clients on vacation. These aren't permanent contract. They can last for a day, a week, or just a month depending on the needs of the clients.
Sample Residential Rental Contract Template
housing.af.mil
This is suitable for landlords who offer spaces for residential stays. It is pretty much a long-term contract that can be terminated after a very long time. If you want this kind of an agreement, this is the best template to use.
Facility Rental Contract Template
wardmuseum.org
Event Rental Contract Template
countrymoonwinery.com
Event Space Rental Contract Template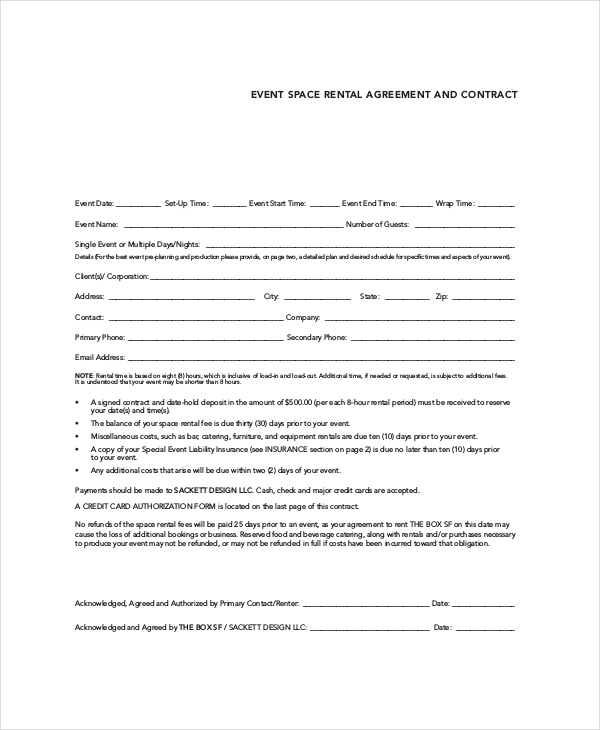 theboxsf.com
Uses of a Rental Contract Template
A rental Contract Template acts as a sign and willingness of the two involved parties being able to abide by some business rules over a period of time. Usually, the contract has a list of rules which both the parties must observe. Use the rental document as a protection kit. Protection in this case means that because these rules exist, in writing to be precise, no party has the permission to break any part of the pact, and if they do, the sample lease can act as hard evidence that one person was on the wrong side.
Temporary Room Contract Template
servicenl.gov.nl.ca
Car Rental Contract Template
whipswitch.com
Property Management Contract in Word
Benefits of Rental Contract Templates
A rental agreement ensures that there is a good relationship between the property owner and the renter. The relationship is often necessary to ensure good business, and it is impossible for either party to do without the other. Thus, by using the lease agreement to handle the relationship between a property owner and clients, it is possible to enhance the mutual relationship over time. While there may be disputes from time to time, they shouldn't always reach the point of opening a court case.
One of the most important reasons why Sample Rental Contract Templates are significant is that they are available for free download. The best thing about these sample templates is that you can pick them straight out of the box and use them exactly as they are. Therefore, next time you need rental templates, consider using the free templates.