Forms
13+ Employee Evaluation Form Examples
An employee evaluation form is much needed when it comes to assessing the performance of your employees. Your employees are the main pillar of your organization and you have to check from time to time whether you have invested in the right men or not.The evaluation form will also help the employee to understand his problems so that he can stress on improving his weak points and come up as a better performer in the coming year. You can also see HR Evaluation Forms
Staff Employee Self-Evaluation Template

Buy Now
Self Evaluation Template

Buy Now
Employee Performance Evaluation Form Example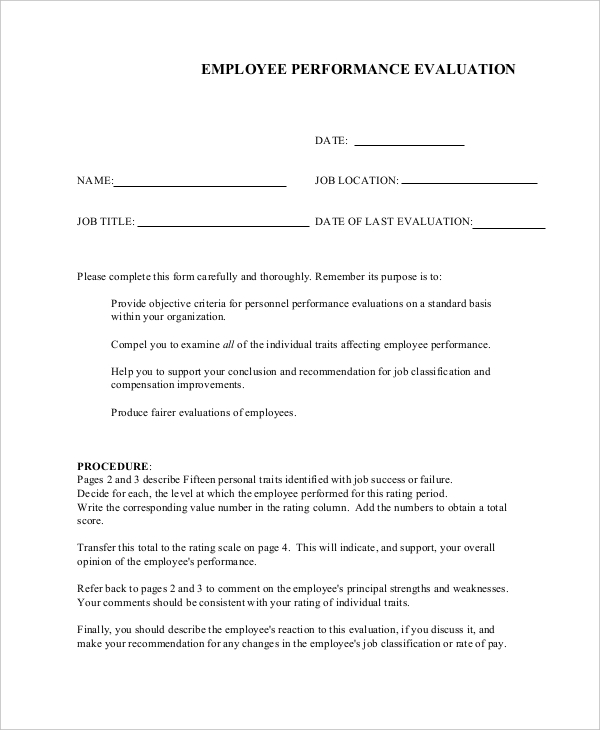 lead-deadwood.k12.sd.us
If you are looking for performance review templates, this one would be the thing for you. It comes with a detailed list of personal traits and attitude as observed in the office followed by space for the employee's strength and weaknesses.
Employee Job Interview Evaluation Form In PDF
projectwild.org
If you are looking for Employee Job Interview Evaluation Forms that will enable you to assess an interviewee's performance after an interview, this form here would be the thing for you. You can rank the different criteria observed and also write little notes on your observation.
Professional Employee Evaluation Form
wetherhaven.com
This employee evaluation form begins with instructions to fill the form, followed by the performance factors on which you will assess the employee as well as the summary of evaluation and employee's comments. You can also see HR Appraisal Forms
Employee Job Performance Evaluation Form In Doc
cnm.edu
If you are looking for employee performance feedback forms, this form would be handy here. The form lists the different characteristics to be observed in the employee and offers space for rating and comments.
>

What Constitute an Employee Evaluation Form?

An employee evaluation form usually starts with the name of the employee on top as well as his designation and name of the supervisor or manager. Then, it will list down the parameters of evaluation like the personal traits and behavior of the employee in the office, beside which the evaluating manager will have to provide the grading and comments. You can also see HR Feedback Forms

Some of the evaluation templates even contain a brief on the definition of each of the gradation codes. Moreover, there would be space for the evaluator to mention the strengths and weaknesses of the employees. A lot of such templates even provide space for the employee to leave comments on the evaluation.
Student Employee Evaluation Form Free Download
snc.edu
You have a detailed student employee evaluation form here which begins with definitions of the grades to be given by the manager for each of the evaluation parameters of the employee- and then goes down to list the evaluation parameters.
Free Probationary Employee Performance Evaluation Form
saqa.org.za
Employee Self-Evaluation Form Template In Word
hr.uky.edu
Annual Performance Employee Self Evaluation Form
uwp.edu
Temporary Employee Evaluation Form Example
ncoshr.s3.amazonaws.com
Employee Evaluation Form For Food Service Personnel
marketmanage.files.wordpress.com
Temporary Pool Employee Evaluation Form Template
uthsc.edu
Employee Evaluation Form for Various Profiles
cr.k12.ia.us
>

What is the Purpose of Employee Evaluation Form?

The main purpose of employee evaluation form is to get a clear view of the employee's performance and contribution in the office. It helps the manager to find out where the employee scores the best, how much he is liked by his team members, is he at all able to work in a group, where does he lack and so on. On one hand, it champions the positive aspects of the employee and on the other hand, it specifies his weak points so that he knows where he needs improvement. Such a form plays a crucial role when it comes to deciding on salary raise, promotion, and layoff. You can also see Project Evaluation Templates

Are you about to conduct an employee evaluation in your office and are looking for ideas on evaluation form? Well, the templates mentioned above would be of great help for you here as they come up with a pre-designed evaluation form structure. You would simply have to download and customize them with your own data.
More in Forms
| | |
| --- | --- |
| 5 Performance Review Templates - Free Sample, Example, Format ... | Self Evaluation - 9+Free Sample, Example, Format Free & Premium ... |
| 127 Free HR Forms – Free Word, Excel, PDF Documents Download ... | Performance Review Example - 9+ Free Word, Excel, PDF ... |
| 31+ Appraisal Letters - Free Sample, Example Format Free ... | 11+ HR Appraisal Forms HR Templates Free & Premium ... |
| Employee Evaluation Template - 9+ Free Word, PDF Documents ... | Teacher Evaluation Form - 10+ Free Word, PDF Documents ... |