A company can taste success only when each and every employee performs well. And to check if each and employee is performing well, so we know who is doing well and who needs to improve, it is really important to make a employee performance review template periodically. You may also see Simple Performance Review Templates
To know exactly how a performance review is done, check out our performance review examples job performance review template which are sure to be of help. You may also see Gap Analysis Template.
Sample Performance Review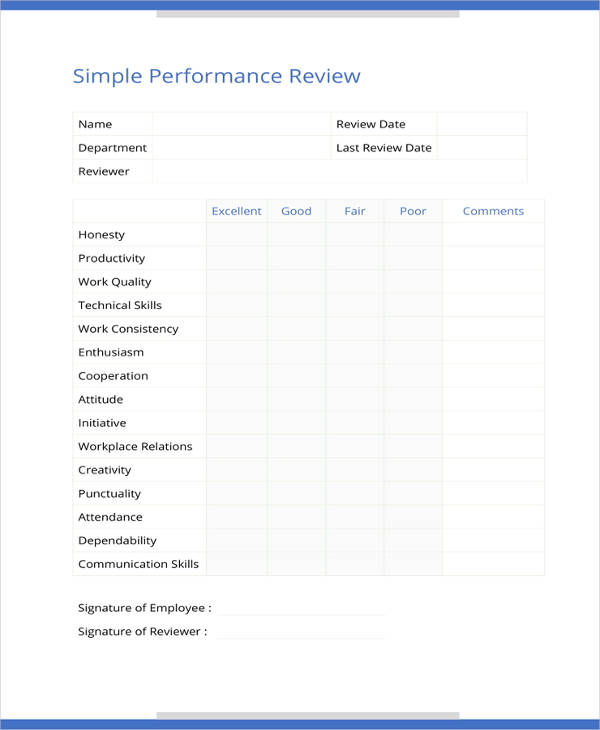 Introductory Period Performance Review
Simple Performance Review
Employee Performance Review
Performance Review Template for Employees
Performance review template for employees is a design that helps authorities in creating a detailed employee report. Write down complete details in the heading section including department, name, date, position, review period etc.
Rate the employee on various grounds including Job knowledge, productivity, quality, responsibility, relationship, attendance etc. Also, it has a separate comment section for deans/directors and employees. You may also see Literature Review Examples.
Sample Performance Review Template
Download sample performance reviews Template and performs employee review with ease. The design is print ready and does not need editing. You can edit the template using Ms-Word file. You may also see Employee Review Form Samples.
The paper contains a specific form for filling employee name, evaluation period, title and date. Evaluate employee's performance on various grounds by selecting 1 out of 5 options that are outstanding, exceeds expectations, meets expectations, below expectations, and unsatisfactory.
Annual Performance Review Form
Take a print of Annual Performance Review Form and use it to rate employees. The form includes various performance factors to rate them on a scale of 0to 5.
This mathematical figure indicates "keywords" to define the potential of employees. Also, note down comments for separate performance factors.You may also see Literature Review Outline Templates
Performance Management Review Example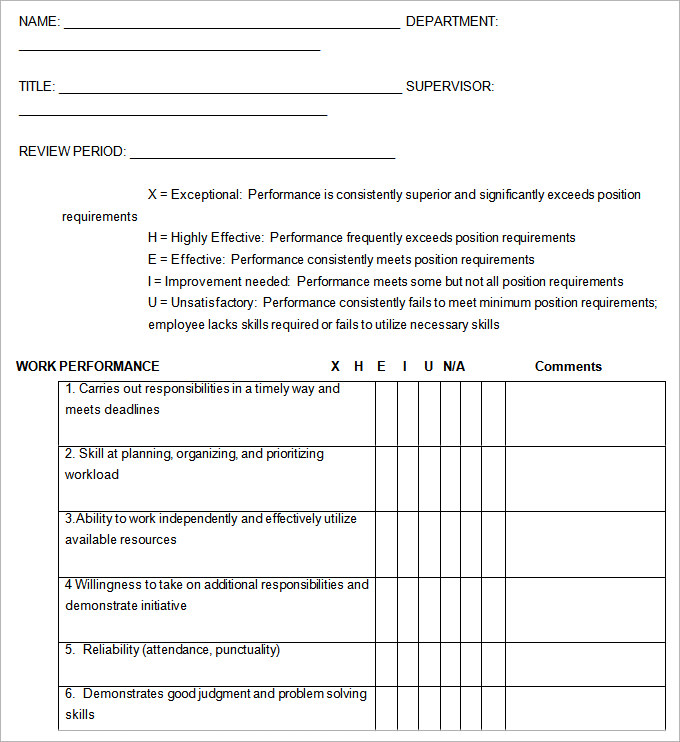 Employee Performance Reviews Template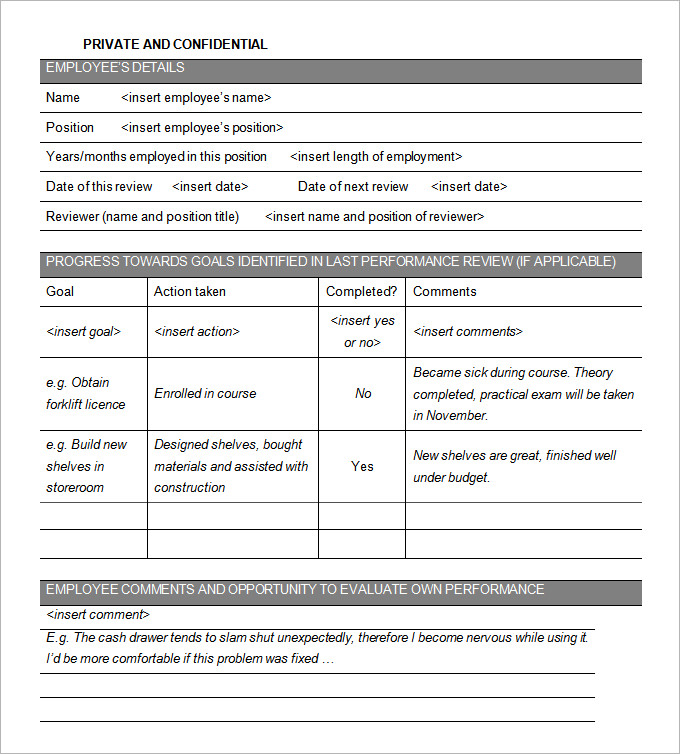 Employee performance review Template is a Word file. It contains spaces to fill general information like Employee name, position, employment duration, review date and review's name. You may also see Review Worksheet
You will get a tabular format to write employee review. Write project Goal, Action was taken, Project status, and comments in the table. You can adjust the table size as per your needs. It also includes a space for employee's comment. You may also see Performance Evaluation Forms
A employee performance review forms usually starts off with the details of the employee. After that, various aspects of the performance of the employee are all listed out and analyzed to decide where he stands in the company. The details include performance, dependability, attendance and things such as that.
Here's How You Can Use Our Performance Review Templates:
We have some designs of free performance review templates that can be used based on what the aspects you'd like to review are. (360 performance review template)
All You Have To Do If Follow These Steps:
 Choose the annual performance review template that you like the best from our collection.
Download it for free and print it out.
Fill in the details of the performance of the employee in the template.
Analysis of the reviews will lead to a performance review that is apt and surely going to help with the growth of your company. You may also see Employee Evaluation Form Examples
Performance review templates save time and increase productivity of a company/organization. Our designs meet all expectations of businesses. Rate your employees using our keen performance review templates. Download .rar file and get access to both Ms-word and PDF file for editing and printing.