We all know that establishing a good credit report is extremely important, especially if you are an entrepreneur who is running a business. As someone who belongs to the business world, you should understand that a good business credit report is a key factor that can help you secure a capital from investors and financial institutions to make your business flourish.
Moreover, it is important to understand that having a good business credit report reflects the good character of your business as it effectively demonstrates that you are paying all your bills on time and manages your debt well.
All About Credit Reports
According to an article published on Wikipedia, "a credit report is a record of a borrower's responsible repayment of debts. A credit report is a record of the borrower's credit history from a number of sources, including banks, credit card companies, collection agencies, and government. A borrower's credit score is the result of a mathematical algorithm applied to a credit report and other sources of information to predict future delinquency".
Your credit information is usually collected by credit bureaus: Equifax, TransUnion, and Experian. These three credit bureaus will then create a credit report based on the information that they have gathered. Oftentimes, when an entrepreneur is applying for a loan, the lenders or financial institutions will use your credit report to determine the worthiness of your credit.
Although you may have a positive credit report, it does not necessarily reflect on your business credit score because once you start operating your company and pay all its bills, the suppliers will no longer be looking at your personal credit report, but the credit report of your company. Thus, maintaining a good business credit report does not only help you secure loans from lenders and bankers easily, but it helps in establishing a good relationship with your suppliers, as well.
Why a Good Business Credit Matters
One of the fatal mistakes an entrepreneur can make is to neglect the credit score of his company. This is because the health of your credit profile can greatly affect how your business partners, suppliers, and customers perceive the characteristic of your company. When you have a bad company credit report, it will be hard for you to get back on your feet because you have lost their trust. On the other hand, a good company credit report can do the following things:
1. It helps you negotiate long-term lease and freight terms.
When service providers see that you have a good company credit report, it would be easier for you to score longer-terms and you no longer have to pay COD because they can offer you other payment options.
2. It helps you stay on top of your game.
With good company or business credit, you can acquire more customers because you can pass interest savings to them. The more customers you have, the greater your revenue at the end of the month.
3. There is no need for a personal guarantee.
When you have a good company credit report, you do not only easily obtain business credit, but you also lower your personal liability, as well as safeguard your personal assets.
4. You increase your chance of winning more bids.
When you submit your business proposal to potential clients, your strong company credit report can leverage your chances of winning the project.
Importance of Monitoring Your Company Credit Report Regularly
Although there are some business owners who do not regularly monitor the credit report of their company regularly, there are a lot of benefits that come with regular company credit report monitoring.
1. It protects your business.
There are some US companies that lose billions of dollars every year because of business identity theft and fraud. While this is the last thing that you want to happen in your company, identity theft and fraud have a huge and negative impact on your cash flow, which can sour your relationship with your suppliers, creditors, and partners. What is even worse is that it can affect the reputation of your business.
2. It corrects mistakes.
When there is an inaccurate information on your company credit report, it can be potentially dangerous for the health of your credit profile and can paint a wrong impression of your business. Being able to monitor your credit report can help you see any inaccuracy and allows you to correct them as soon as possible.
3. It helps build a better credit report.
Regular monitoring of your company credit report does not only help you prevent identity theft, fraud, and mistakes, but it is also a great way to build a better credit. If you are looking to improve your credit report, a good way to start is to know all the factors or activities that can help you catapult your credit score and avoid the things that would put your credit score in a bad light.
4. You avoid unpleasant surprises.
Monitoring your credit report allows you to know your credit score standing. Usually, when you apply for a loan, lenders and investors will evaluate the health of your credit profile to determine the amount of money they will loan you and the interest that will be charged to you, as well as the amount of the insurance premiums that you will pay.
Sample Credit Report Templates
Sample Corporate Credit
businesscreditreports.com
Annual Credit Report
consumer.ftc.gov
Free TransUnion Credit Report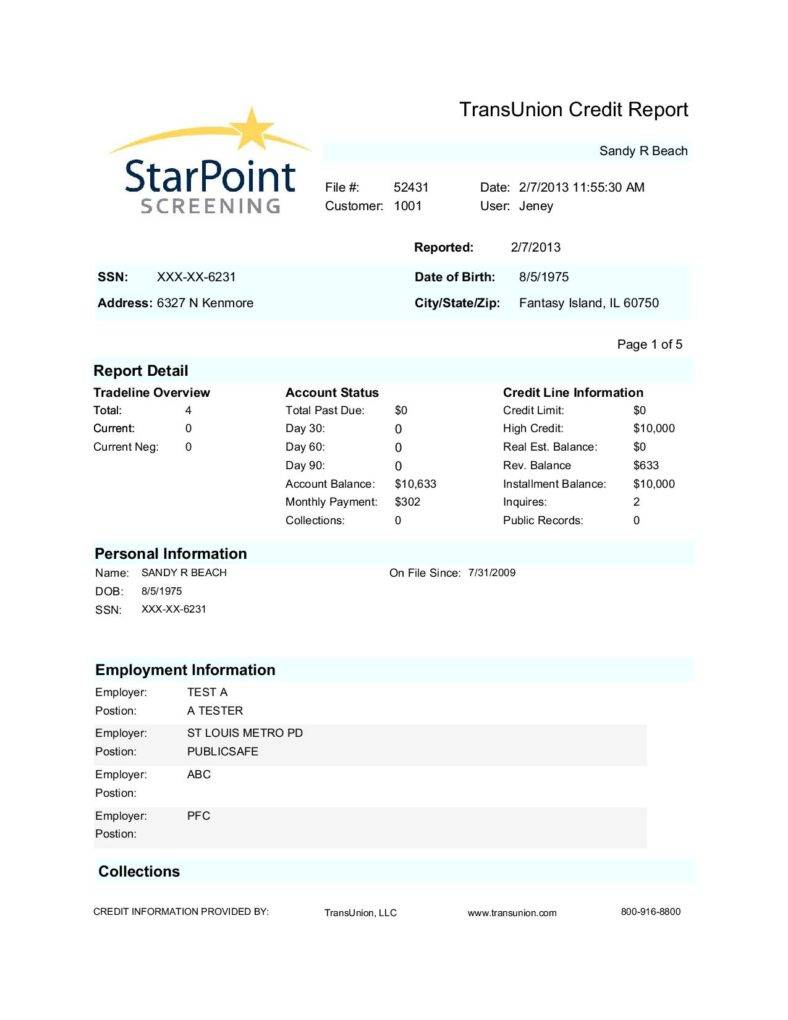 starpointemploymentscreening.com
Free Business Credit Report
certifiedcredit.com
Free Business Credit Industry Report
nacmnorthwest.org
Business Credit Report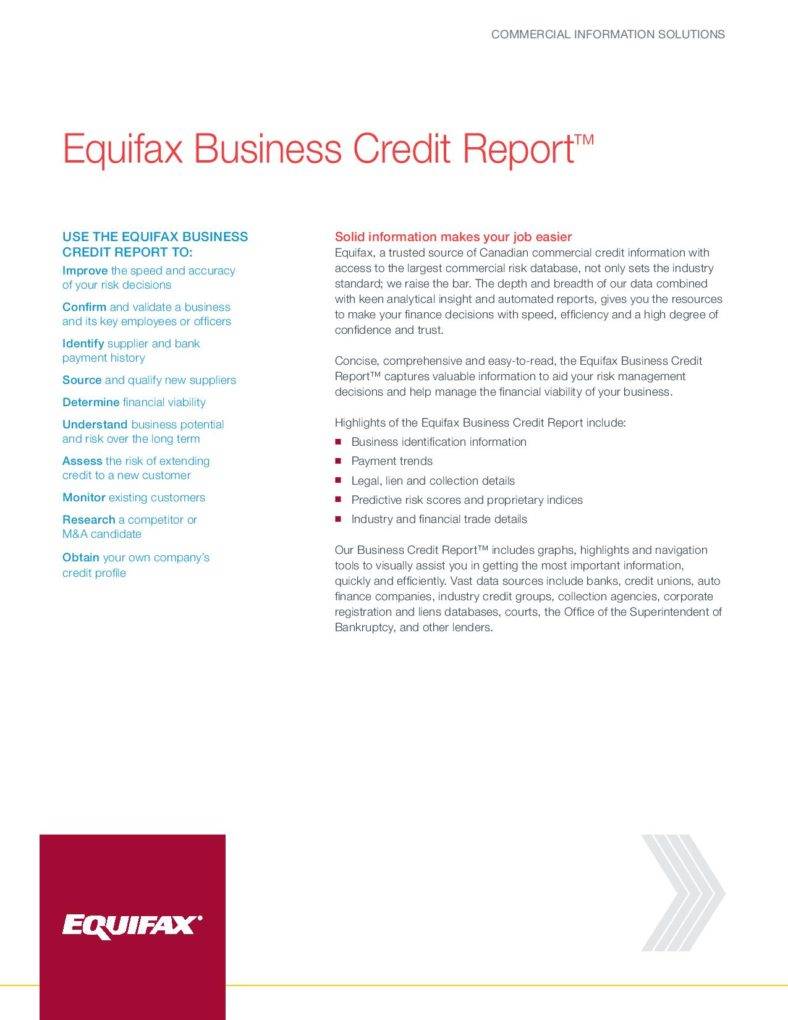 equifax.com
Merged Credit Report Template
avantus.com
Commercial Credit Report Template
themla.com
Credit Balance Report Template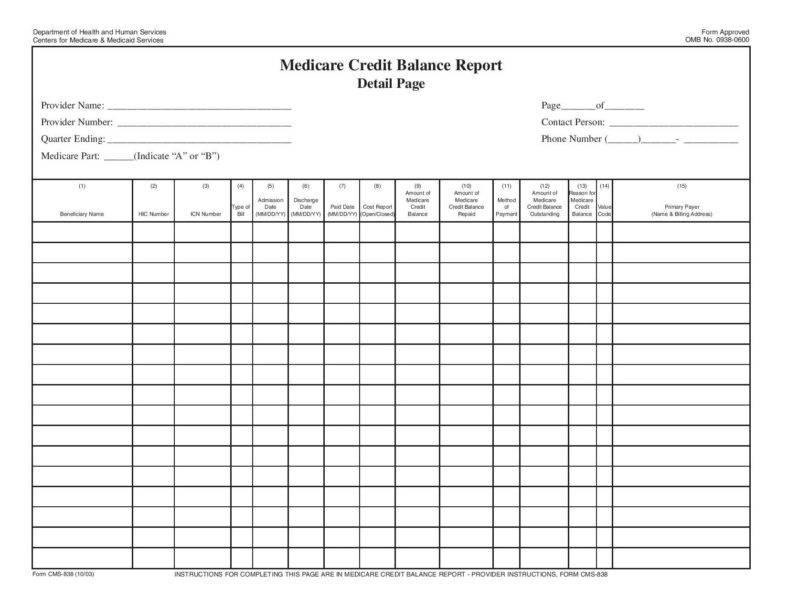 Credit Union Annual Report Template
golden1.com
Final Thoughts
Having a good credit report is extremely crucial in securing the money required to make your business grow and purchase supplies and equipment needed for smooth day-to-day business operation. If you are able to monitor and evaluate your credit profile or report and pay all your obligations to the lenders, you are assured to obtain a good loan from lenders at a reasonable rate. You may also want to check out our collection of credit application templates and credit reference letter templates. You can download them for free and edit them easily to match your personal purpose.