Plan Templates
46+ Sample Event Program Templates – PSD, AI
An event program is a description of the event that is to take place. For instance, let's say that a concert is coming up. Then you need to make a simple list of all the activities to take place during the music event and present it correctly to the attendees.
To do that, you can always use event program templates like the ones provided here. These program templates will save you a whole lot of time and energy and will also make your work easier for you. We have various templates you can use to write about events like seminars, business conferences, grand openings, golf tournaments, graduation ceremonies, and Christenings. Take a look at the templates that are mentioned in this article. Keep scrolling!
Christmas Festival Event Program Template
Sample Event Program Template
Free Event Program Example
Event Program Booklet Template
Funeral Event Program Invitation Template
Event Program Schedule Template
Whether it's for a pageant or a silent auction, planning for an event can be a tough job, not just for the one making all the plans, but for all the people involved. Get the assurance of having a well-organized and detailed plan by making use of this above-mentioned program schedule that provides you an option you can easily fill up and print at a moment's notice. Simply fill in with your information or edit any part of the template to contain additional information you wish to have. Take a look at this template and download it now!
Printable Event Program Schedule Template
Get the support of having a well-organized and complete sample program schedule document to ensure that everything is on track by making use of this given template. This ready-made file is designed to provide you with a user-friendly experience. Simply fill in with your information or edit any part of the template to suit your needs. Another added advantage of using this template is that you can download it with ease on any electronic device. Try it out now!
Event Programmer Resume Template
Free Event Programmer Cover Letter Template
Event Programmer Job Description Template
What should an Event Program Contain?
For those who haven't seen an event program before, you must know what makes an event program complete, so that you haven't missed anything. Your event program must contain a brief description of the event which is taking place and that of the organizes too if needed. You can also add the program budget in the event program design, as a budget also plays an important role in keeping a check on how much everything costs. You must also mention the date, time, and venue of the event so that it is easier to know where the event is taking place and at what time.
Also, if several activities are to take place, then you need to mention that as well and in the sample order in which they are taking place. All these are a must in any event program format and without them, it would be incomplete. You can also make use of the program brochure that are available online to design the best brochures you need for the event you are hosting. All the information has been provided in the templates here.
Free Event Program Template
Music Concert Event Program Ticket Template
Summer Floral Wedding Program Card Template
This exquisitely romantic summer floral wedding program card is the perfect program card for that soon-to-be wedding. It contains artwork of summer flowers and eye-catching titles and subheadings that are difficult to miss. Easy to print and very affordable, this stylish program card design comes in many file formats, so you can pick the one you like best. Save a lot of time and effort as you do not have to make it from scratch.
Beach Wedding Program card Template
Free Fundraiser Event Program Template
kelownayachtclub.com
If you are simple planning to have a fundraiser soon, you need to start listing all the activities that are to take place. You can do that with the help of this template.
Sample Birthday Party Event Program Template
alleypond.com
Planning to throw a gala birthday bash? You can do that with the help of this template. It contains a cheery theme with a vibrant color mode which makes it perfect for birthdays.
Church Event Youth Program Template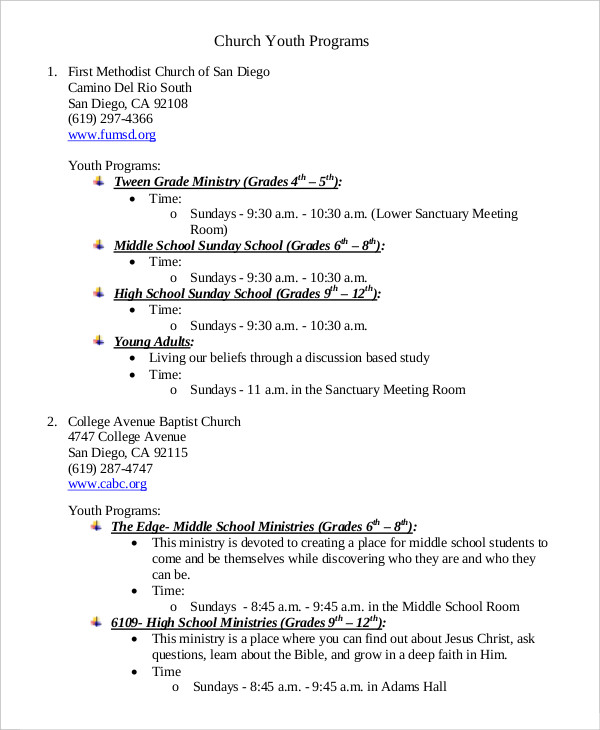 sandiego.gov
General Funeral Event Program Template
goldenvalleyhs.org
Essential Tips for Creating an Engaging Event Program:
Wondering how to design an event program? Well, you can take the help of the simple program that are available online for more. Remember that unless an event program is engaging the audience, people might not attend it wholeheartedly. The following are points on how you can create an interesting event program:
The front cover should be impressive and in sync with the idea and theme of the event.
If there are a lot of functions planned for the event, make sure to include a table of contents such that the visitors can easily find the information that they are looking for.
Use fonts that are easy to read and at the same time attractive.
If the event is being held at a huge place that includes floor strategic plans, then that would be a great idea, as it is more understandable and easier.
Make sure that you include the detailed schedule that has the details of the date, time, and venue. There is should be no errors whatsoever.
Include the contact information of the concerned personnel in the printable program so that the visitors who come to your event can get in touch with the personnel, in case there is a hitch at the event,
Free Christening / Christmas Event Program Template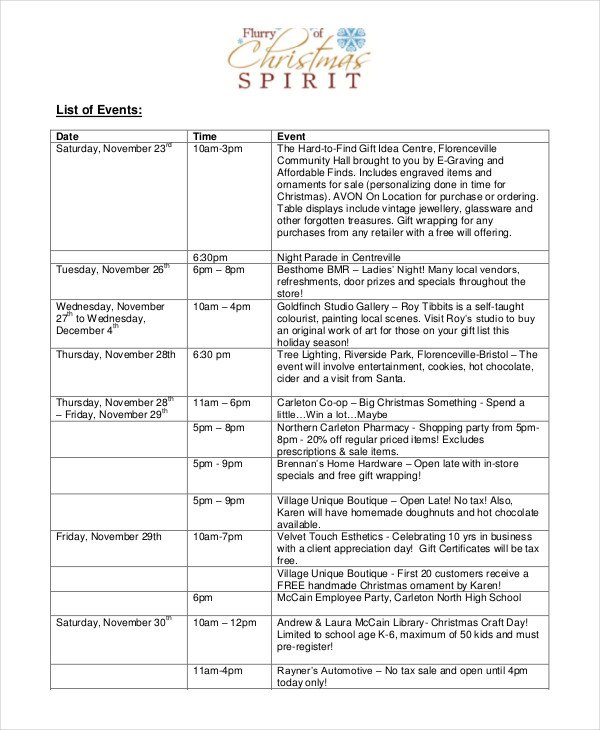 florencevillebristol.ca
Free Event Program List Template
uswushuacademy.org
Free Event Program Schedule Template
indiaculture.nic.in
Formal Seminar Event Program Template
swiftsail.net
Free Wedding Event Program Word Template
cloudfront.net
Pre-Event Program with Gold Tournament Template
iscgeneva.com
Uses of an Event Program:
There are many uses of an event program. A few of them are mentioned below. The event programs are used to:
Give the visitors a sneak peek into the event
Acquaint them with the date, time, and venue of the various functions. You can also take a look at the funeral program for more.
Inform them of the various guests and dignitaries who would be attending the function
Help them choose the functions that they would be interested in
Free Sporting Event Program Template
sport.vic.gov.au
Free International Event Program Template
enterprise-ireland.com
Free High School Event Program Template
healthyyouthinitiative.org
Sports Event Grant Program Template
visitvirginiabeach.com
Event Design Certificate Program Template
uva.nl
Example of an Event Program Proposal Template
static1.squarespace.com
Accessible Event/Program Planning Template
utc.edu
Church Event Program Planner Template
churchleadershipresources.com
Parent Club Performance Event Program Template
images.akc.org
Gala Dinner & Networking Event Template
lamatv.me
Event Schedule Christmas Program Template
citynorthlas.asn.au
Event Planning & Banquet Management Program Template
auburn.edu
Unique Paegant Event Program Template
troop-219.org
Social Event Program Layout with Grand Opening Ceremony
msc2017.sciencesconf.org
Printable Graduation Event Program Flow Template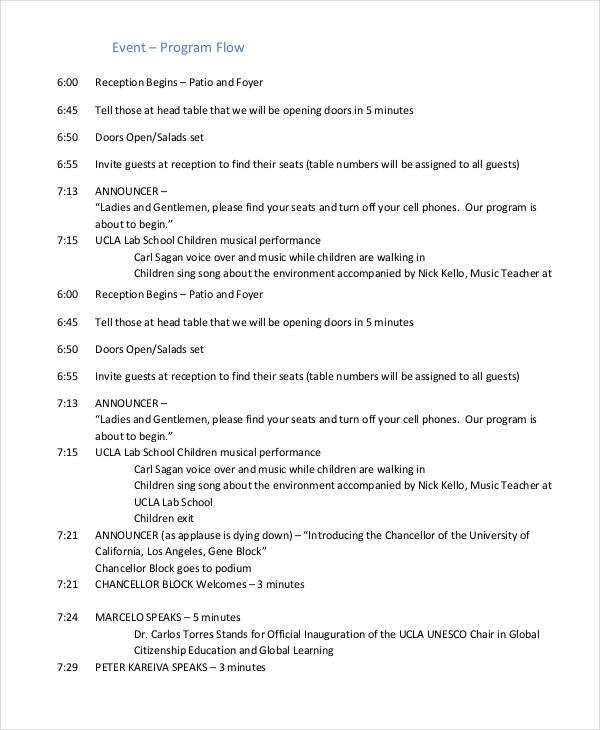 unesco.gseis.ucla.edu
Event Program Invitation in PDF Format
terahertz.tudelft.nl
Educational Event Provider Scholarship Program
floridaaaham.com
Annual Company Event Award Program Application
recoverymonth.gov
Professional Business Event & Program Sponsor Form
mowercountyhistory.org
How to Create an Event Program Booklet?
An event program PSD booklet comes in handy to inform the visitors about the sample schedule along with the detailed information of the guests that are coming and also, the parts of the event. Event Program wedding templates can be used to design such a booklet. However, if you want to design one without the help of an expert, here is how this can be done.
You need a desktop publishing program like Photoshop Format for creating an event program booklet with ease.
Choose the font and layout for the booklet.
Firstly, you must create a front cover page. You can do so with the help of graphic designs that are available online and can be of great use to you.
Next, you need to create a page with a table of contents.
Now, go on to create other pages with all the relevant details.
Create a separate page for each function or information.
You can also insert ads in between that would be accredited to the sponsors.
Example of a Non Profit Event Program Template
reno.gov
Family Program Thanksgiving Event Example
seattlemilkfund.org
Veterans Day Conference Event Program Template
libertywildlife.org
Event Program Maker Example PDF
edventure.org
Event-Driven Computer Program Template
ocr.org.uk
Wedding and Event Planning Template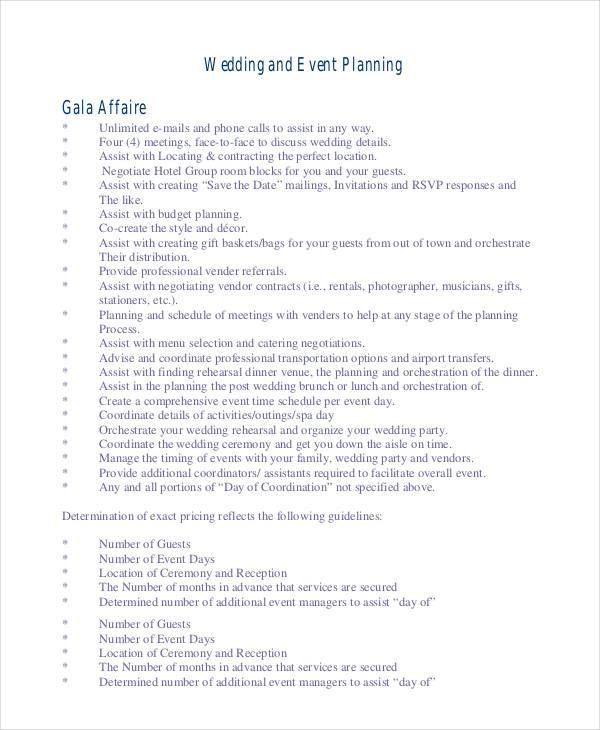 eventsdepartment.com
Event Meeting Planning Management Certificate Program
greatbay.edu
Silent Auction Event Program Template
schospice.org
What to Include in an Event Program?
Event proposal can be of great help to you in case you want to design an event program as this would give you an idea of how the format and the layout of such sample proposals must be. However, it is also equally important that you include the crucial sections in the program wherever needed. Take a look at what all you should include in an event program template.
Name of the event
Dates on which it is being conducted
Table of contents
Separate page for each function
List of the important people participating in the sheet event.
Venues and time of each of the parts of the event and also, other details as needed.
Why use Event Program Templates?
If you are still wondering if you should use the event schedule, take a look at some of the advantages that come with them. They are:
The program schedule that are available online are very easy to use. You can also download them and use them by adding your details to the templates.
The program event templates have been developed by our expert designers who know exactly what you want. Each template has a different event it caters to and is bound to come in handy.
The templates are professional, neat, and very well-designed.
The event schedule templates that are found in this article will be of great use to you. Irrespective of whether you are working in an event management company or you are organizing your event, you can resort to these event quotation for help. They are sure to reduce your hassle and make your work easier.