Schedule Templates
8+ Shooting Schedule Templates
It wasn't until 1895 that the cinematographic motion picture made a breakthrough. The years that followed saw adaptations of books and plays expanded into reels, creating films which the audience embraced—an audience who was otherwise foreign to this kind of storytelling. But even with its colorful history, not many people understand the kind of work that goes into film production. One of them is creating a shooting schedule.
Table of Content
5 Steps To Create A Shooting Schedule
Step 1: Everyone Should Be On The Same Page
As a producer, you'll be busy. You can't rely on your staff and the cast because they too have their tasks. This makes it imperative to gather everyone in a meeting and discuss the schedule. Even the meeting itself can be a challenge to schedule but it's necessary to make sure everyone knows what they're working on for a smooth production.
Step 2: Line Your Script
Part of your job is going over the screenplay and taking down notes for every line and what you need for actors, effects, wardrobe, etc. Make a list for all these items and arrange them by order of priority. Break down your list into sheets so that you can quickly refer to what you need for every single scene.
Step 3: Set A Budget
You may have a budget ready but it gets tricky when you're scheduling. Break down everything your film includes to figure out how you can allocate the money and account for all of them. Your budget should go with your schedule because if you become short on funds, you'll have a hard time completing your film and paying everyone.
Step 4: List The Wardrobe
Add a wardrobe list in breaking down your schedule sheet because different characters will have a different set of clothes. For instance, you can note uniforms, jeans, shirts and costumes that might need to be sewn from scratch. Since scenes aren't necessarily shot by order of chronology, you'll have to indicate the wardrobe next to the dates.
Step 5: Add The Shooting Location
You'll be able to list your locations under the heading of your sheet. You need to be careful with this because the location will determine the budget and schedule to a large extent. Try to cross-reference your budget with the locations involved. This will allow you to look for alternatives as early as possible and manage your locations well.
8+ Shooting Schedule Templates
1. Free Film Shooting Schedule Template
Need to follow a strict schedule for a film but don't know how? You've come to the right place because we've got just the tool for you. Download this shooting schedule template which runs in MS Word, Google Docs, PDF and Pages. Have an organized schedule for shooting your film!
2. Free Film Production Schedule Template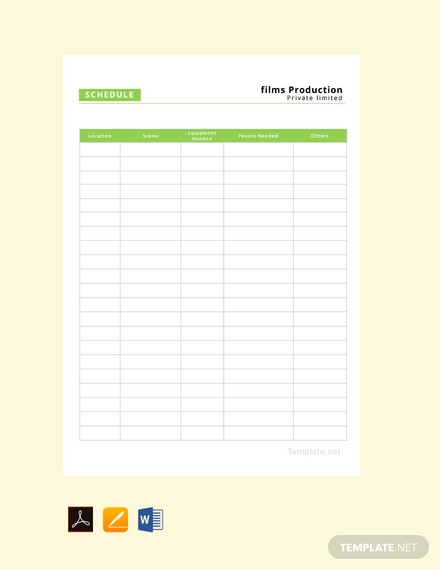 Pre-production for the film includes preparing a schedule to make sure everything goes as planned. You can use this organized film schedule template for its intended purpose and worry about other aspects of your production. Download the file from our website then print in the convenience of your home or office!
3. Free Film Shooting Schedule Template
New to the pre-production process of shooting a film? One of the things you need to secure is a shooting schedule. Fortunately, you can get this sample shooting schedule and personalize it according to the needs of your crew and your movie so download the template in all versions of MS Word, Google Docs, PDF and Pages.
4. Free Movie Shooting Schedule Template
Being a producer is a very demanding job. Keep everything under control by getting this shooting schedule sample. Allow us to help you with some of your workload and download the document in any format you prefer. What are you waiting for? Waste no time in getting this template which is made for you!
5. Sample Film Production Schedule Template
Have you been losing sleep but can't seem to get your film shooting under wraps? This film production schedule template might just be what you need to keep you on the right track of production so go ahead and download the document. Feel free to edit the content according to your needs!
6. Production Schedule
bbc.co.uk
Shooting a film demands a rigid schedule. If you want to finish on time, you'll need this high-quality sample production schedule to make sure that you've covered everything your production involves. Get to work efficiently. Download this template then print it in any compatible device!
7. Production Shoot Schedule
maoritelevision.com
Already pressured to finish your film? Be more efficient in managing your daily tasks and encourage your cast and crew to do the same by getting this professional shooting or production schedule sample. Personalize the file to fit the needs of your production and make sure to print it so you can properly monitor your schedule!
8. Shooting Schedule Template
plaza.ufl.edu
Are you sure you're ready to shoot a film? Don't do it yet without creating a well-prepared shooting schedule. If you haven't finalized the schedule you drafted, you can use this flexible shooting schedule template to see if you haven't forgotten anything. Don't waste time and download the document!
9. Sample Shooting Schedule
fm.hunter.cuny.edu
Be ready to start the shooting of your film after planning your schedule. Get everyone involved from the cast to the crew by downloading this simple and easy-to-follow shooting schedule sample in PDF file format then edit the file as you see fit. Hurry up and get this template right now!
More in Schedule Templates