Business
10+ Simple Table of Contents Template
Most of you must already be familiar with the concept of a table of contents. Books, journals, magazines, projects and files, research papers – they all have one thing in common. They all contain a detailed table of contents listing what the respective document or file contains. The table of content templates are usually arranged in a chronological pattern with the page numbers next to them. If that is what you're looking for, then use the table of contents found here.
Table of Contents Collection Template
Indesign Multilanguage Book Template
Magazine Table Of Contents Template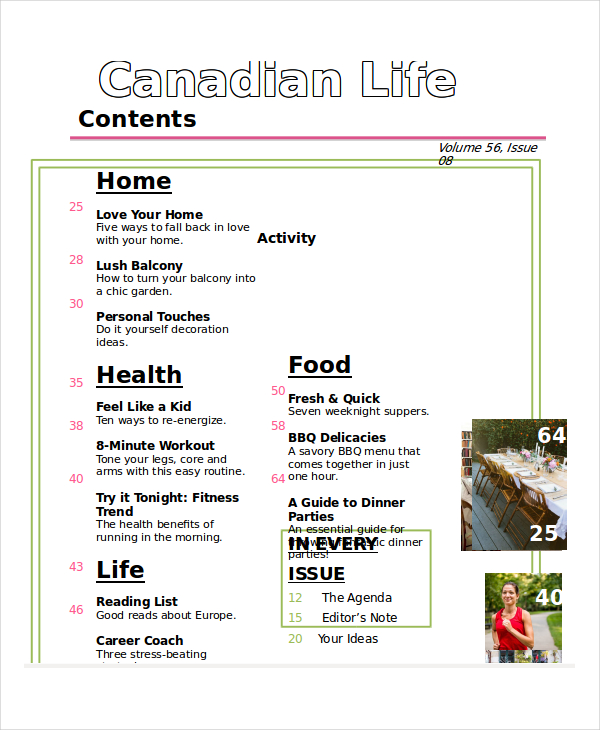 laubach-on.ca
A magazine also comes with a table of contents listing all the various articles and pieces in that particular issue. To create that, you can use this specialized magazine table of contents template.
Portfolio Table Of Contents Template
coehp.columbusstate.edu
Have you come up with your portfolio? Then it would be incomplete without a detailed table of contents that tells the recipient what the portfolio contains. For that, you can use this template. You can also see Sheet Templates.
Science Binder Table Of Contents Template
wfbschools.com
This table of contents lists all the technical items that such a binder contains. It is one of the best examples of table of contents' for scientific journals and binders.
>

Why should you use a Table of Contents Template?

Books, magazines, research journals or even official files contain a huge amount of information spread out across a large number of pages. Without a table of contents to guide you, it would be impossible to jump from one section to another without going through the portions in the middle. Most importantly, the table of contents section is to be presented at the very beginning. A glance at it would prepare the reader for all that he is about to encounter. That is precisely why these table of contents templates are important. They make your work a whole lot easier for you as well. You can also see Blank Table Templates.
Simple Table Of Contents Template
If you are looking for a standard version of a table of contents, then it cannot get better than this. The table of contents as seen as in this template is simple, precise, and to the point.
Dissertation Table Of Contents Template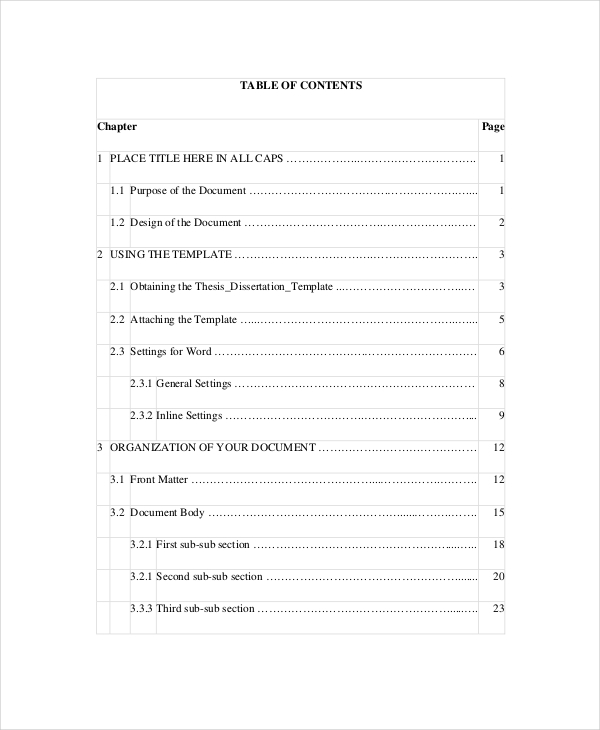 njit.edu
If you have come up with a dissertation, then complete your thesis with this table of contents. You can abide by the format and just tweak the details to go with your dissertation.
Simple Cookbook Table Of Contents Template
dhhs.nh.gov
Professional Table Of Contents Template
apastyle.org
Annual Report Table Of Contents Template
policefoundation.org
Business Plan Table Of Contents Template
localenterprise.ie
Simple Skid Table Of Contents Template
>

How to use the Table of Contents Templates?

If you have gone through the table of contents templates in this section, you might have noticed how they are all in an extremely easy to use format. All you have to do is browse through the plethora of options displayed to you. Based on the kind of project you are working on, you should download the apt template for yourself. Once you do that, you will be able to edit the contents to add your own. You have been provided with a sample which can guide you on the way. By following the sample, you can come up with your own table of contents.

There is a horde of different kinds of templates here – ranging from simple paper templates to magazine or journal table of contents templates. All you have to do is get your hands on the one you need based on your purpose and requirements. These templates have been designed by professionals.