Statement Templates
11+ Statement Templates – Free Word, PDF Documents Download
Every word you speak or write is a statement. If you called someone today or sent them a text message via email or WhatsApp, the words you wrote or spoke are expressions of ideas and feelings. Statements are helpful because they are expressions required to perform an action. You can also see Income Statement Template. You may also see report samples.
For example, a professional cop working in a criminal investigation department cannot prove the cause of a crime if they do not have a witness statement. A judge in a court of law will never make any ruling if they do not have a witness statement. Apparently, almost everything depends on a report. You can also see Statement Template.
Worker's Compensation Witness Report Template
Bank Statement Template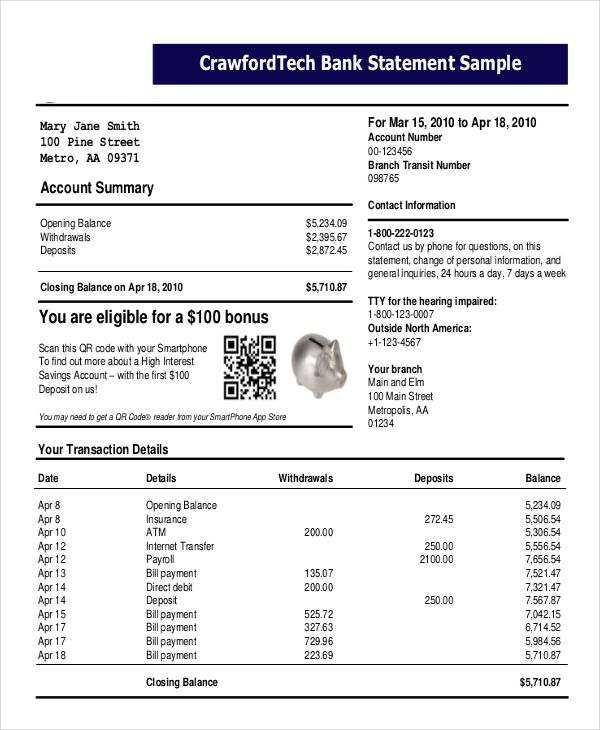 Although banks can be trusted, particularly those that have the best record of longevity on the market, it is always necessary to know details about your account. You can ask your bank to issue you a bank statement for a given period. The statement often reflects the number of transactions carried out in the past, your current balances and pre-authorization queries if you have any pointing to your account.
Business Statement Template
A business statement is pretty much a business idea that hasn't come to fruition. In its initial stage, the idea always looks too thin, and sometimes unrealistic. However, structured and documented business statements can help scale the business to new heights. If you have not seen the power of great ideas, try using a printable statement template to outline and work on your ideas. You will definitely see great results.
Witness Statement Template
Before a cop concludes that a crime occurred, before the judge concludes who's guilty in a court of law, and before you conclude that something is true, there will be a need for a witness statement. A witness statement, either spoken or written in a printable witness statement, can help in making fair judgments.
It is impossible to judge someone or a situation from the face value, and unless there is enough evidence that a crime scene actually existed, there might never be a case to solve.
Medical Statement Template
Pushing yourself to work sick doesn't make sense. Of course, your productivity will be low, and this could have a negative impact on your performance evaluation. If you are sick, download a printable medical statement template, and use it to write a statement to indicate that you will not be coming to work because you are ill. Unless your boss is inhuman, he should accept your request.
Financial Statement Template
Financial statement templates are, probably, the most popular piece on the internet. A financial statement model is an important accounting document used to evaluate assets, liabilities, profits, loses, sales and transactions. A lot goes on in accounting, and it is impossible to understand a business's profitability without accounting.
Personal Statement Template
Has someone ever asked you to profile yourself? Usually, the response you give will determine whether you are worth winning favor or you need to improve your thinking. A personal statement template can help you to profile yourself in a way words of mouth never can.
Because the model comes with sample content, you will get a clear picture of what makes the best personal statement. A personal statement, if professionally documented and presented, can win you so many opportunities to say the least.
> What is a Statement Template?
A printable statement template is a document of different ideas. The ideas presented can come from someone requested to provide some information, or someone who's trying to explain him or herself in exchange for something. A statement template provides a simple overview of what a real statement should look.
Note that reports are always relevant. It is almost always difficult to make any decision if you do not have the right accounts with you. In a case like this, common sense reminds you that ideas must be concrete to help you make wise decisions. Anything less than solid suggestions often generate bad results.
Capability Statement Worksheet Template
Billing Statement Template
Generic Privacy Statement Template
Project Scope Statement Template
> Tip and hints about statement the types of statement
Use a bank statement template if you want to understand your account. Usually, the best way to always stay informed about your transactions is to record them. As soon as the bank provides your statement in digital format, you can download a free template and use it to keep a copy of this statement.
A witness statement can help save a case form going on for unnecessarily too long. Witnesses never lie; they speak what they saw and heard, unless they get a little something to tell lies. The best thing is that witness statements must go through screening, so it is highly unlikely that anyone will lie.
Business reports help you to understand your business better. The report can help you conduct a SWOT analysis so that you get a clear understanding of where your business stands. It is important to analyze the report carefully to avoid false results.
A personal template is your best tool to tell who you are. Keep it short because it is not a speech. Keep it clean and professional, for it is not your friends in the 'hood' who will read it. Make sure you express yourself in the best way possible so that you win favor – whatever kind of offer it may be.
> Dos and Don'ts
Do use the right template for the right job. It is important to crosscheck your statement to make sure it is accurate before submitting.