Word Templates
Legal Memo Template – 17+ Word, Excel,PDF Documents Download
Legal memo templates are the best companions for lawyers, law practitioners and lawmen in all kinds of organizations who want to send memos, notices and summons easily and to a number of people. Using these free to download and top premium blank memo format templates, you can insert text in pre designed memos and send them out easily just by taking a simple print out of the same. You can also see Confidential Memo Template.
Using the best sample legal memo format you can customize the well designed and structured templates and insert your own modification and then use them for your purpose. Or choose to redesign the Memo Templates PDF, insert your own text, information and content in your own format and then take simple prints to send out to other people or even send them over mail.
Legal Email Memo Template
Free Sample Legal Memo Template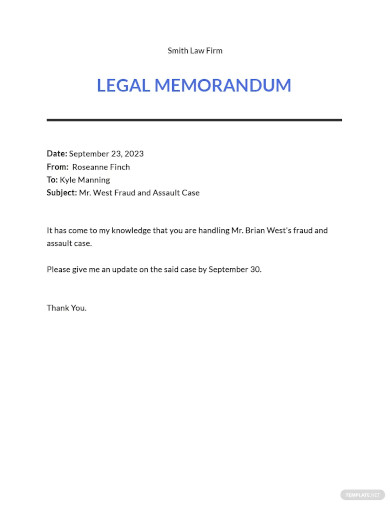 Free Internal Legal Memo Template
Interoffice Legal Memo Template
Short Legal Memo Template
Also, you may get legal memo outline template doc for various purposes and reasons simply by searching the relevant categories and options and customizing them according to your needs. Moreover, you can also base your own memos on the simple templates and make well-structured ones.
Printable Legal Memo Template
Professional Memo Template
Memo Template
Simple Legal Memo PDF Document Download

lawandborder.com | If you're planning to hand out a memo for legal reasons, this is the template for you. It contains the information divided into subheadings like questions, shorts answers and also statement and facts. This logical representation of data is sure to be appreciated.
PDF Document for Legal Memo Download

alwd.org | In this legal memo template, you can clearly state the issue in details, along with the solution that has been proposed and follow that up with legal statements templates and facts to strengthen your argument. So what are you waiting for?
Legal Memo Template for Health Care Organization PDF Download

cdn2.hubspot.net | If you're the part of some kind of health organization template, you might be required to hand out a kind of legal memo every once in a while. This particular template has been designed specifically to suit your needs and you could take its help to create a memo.
Memorandum of Law in Support of Motion to Dismiss PDF Document

justice.gov | If you've never written a legal document before, you might require some help while doing so. You could use this template which would be perfect if you have a motion to dismiss. All the details have been provided in the template, you just have to download it.
Memo for Registry of a Legal Judgement Document Download in MS Word

courts.ie | If you have to register a legal document soon, you could use this sample template to do so. All details, including the name of the defendant have been incorporated into the template. More importantly, since the template is in MS Word, it is exceptionally easy to use and edit.
Legal Memorandum for Summary Sudgment

tncourts.gov | When it comes to presenting the matter to the court, you should be able to summarize all your points effectively. If you haven't done it before, you may require this legal memo layout template to show you the way.
Simple Legal Information Memorandum MS Excel Download

umaryland.edu | A legal memo is nothing if not the epitome of simplicity and elegance. This particular basic template allows you to arrange all your legal information in the form of a table, which makes it appear neat and organized.
Human Right Legal Memorandum Template Download

hrp.law.harvard.edu | Case studies regarding human rights and their violation have gained prominence now. If you too are creating such a legal report on human rights, like war crimes, you could take the help of this sombre and well designed legal memo template to do so.
Sample Legal Memo Template

For people who have never created a legal memo before, this sample template would be of immense help. It even consists of a blue border that makes the template appear all the more attractive. You could follow the style given in the template outlines for a well designed memo.
U.S Legal Memo Template Sample

If you're practicing law in the United States, you could use this formal template to create a legal memo sample. This memo has been designed specifically to suit your needs and complies with all the legal obligations of the United States. What more could you ask for really?
If you have any DMCA issues on this post, please contact us!