Coloring books have always been fun, not only to children but also for adults. You are no longer required to do the drawings, it has already been done ahead of time for your convenience, and all you have to do is simply apply the colors that you desire. How easy is that?
For children, coloring is one way of opening their minds to creativity. It would be a good exercise for them in familiarizing different shades of colors, while also learning to draw within the boundaries. With coloring books, it would both entertain and teach children without having the need to expose them to TVs and computer monitors that may eventually damage their eyes at a very young age due to radiation exposure. Here in our website, we have a great selection of printable coloring pages that you can download, print, and enjoy coloring.
Shooting Star Coloring Pages
Download
Sea Star Coloring Pages
Download
Printable Star Coloring Pages
Download
Be Your Own Star!
We have a lot of different star designs in the coloring pages in our website, and we made sure that these pages will be appreciated by a wide range of consumers. These color pages come in high resolutions, which means that the lines are more than clear enough to guide you in your coloring.
You can use whatever coloring material you want with the images, namely
color pencils,
coloring pens or markers, or
water color or oil paint.
What are the benefits of coloring books?
For children:

Coordination. Being aware of the boundaries in a drawing space improves the coordination between the eyes and hands.
Focus. Children will need to exercise their level of concentration when coloring.
Expression. Children may have varied ways of expressing themselves, and they may learn to do this through coloring.
Familiarization. Children will learn the different colors and the different shades for each color as well as learn different shapes.
Creativity. As well as being able to express themselves, they will also be able to learn to explore their own creative limits.
Entertainment. Coloring is fun—period.
For adults:

Stress relief. Coloring is a good pastime activity after a long, stressful day at work.
Creativity. There might still be areas in a person's creativity that have either been forgotten or have not yet been tapped.
Inner childhood. Coloring makes you want to reminisce your childhood and all your experiences when you were still a child.
Remember, all our coloring pages here are available for you to download for free or licensed for a very reasonable cost, and they come in easy-to-modify, printable formats. You may also check out links for other coloring pages we have in stock. Our collection of fairy coloring pages and Tinkerbell coloring pages would be perfect for your little girls.
Christmas Star Coloring Pages
Download
Shining Star Coloring Pages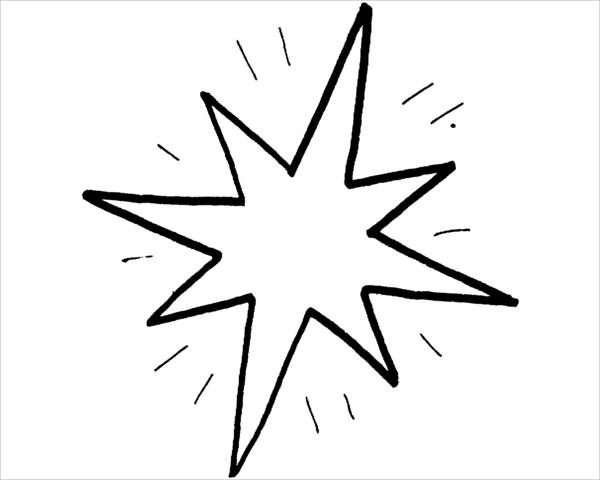 Download
After downloading your desired coloring page(s), simply have it printed, and you can then start coloring. We made certain that you and/or your children will find joy in coloring using the pages we provide. You will definitely be getting all your money's worth with our products.
If you are looking for themed coloring pages, we also got you covered. For fans of the Star Wars saga, we have Star Wars coloring Pages for you. But it doesn't end there, we also have Disney coloring pages, Hello Kitty coloring pages, Monster High coloring pages, and many more. Feel free to check out other articles we have in our website provided below and explore your own creative limits.