Spring is the season in a year that brings longer hours of days. It is also when the weather in the temperate zones of the Earth becomes warmer. It is the season after winter so it is the time for plants, trees and flowers to grow and blossom again. The vegetation in this parts of the Earth becomes more abundant and the lush scenery provides a great subject for artists to draw inspiration from.
Our printable coloring pages we offer here include themes, objects, and contents that are related to spring. They sure will bring that extra sunshine to your day should you want an activity that will make you relaxed and busy.
Happy Spring Coloring Page
Download
Disney Spring Coloring Page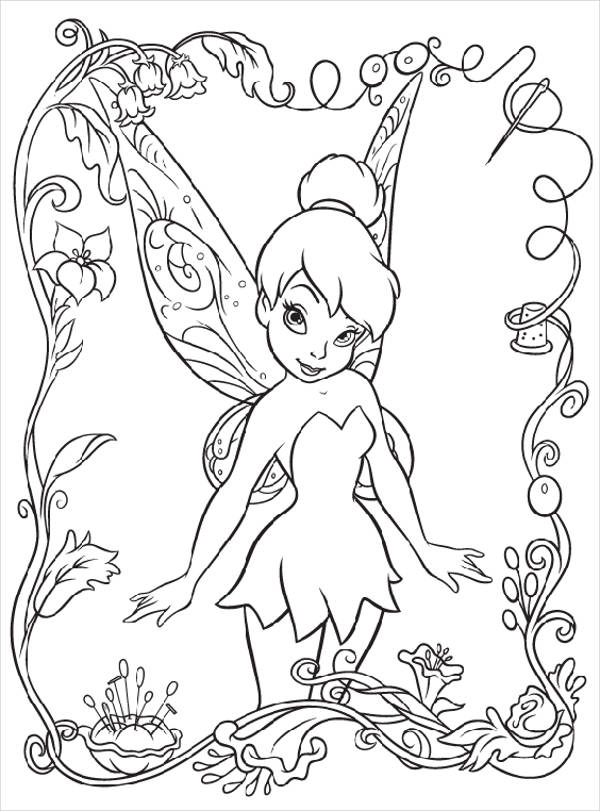 Download
Summer and Spring Coloring Page
Download
Printable Spring Coloring Page
Download
Spring Flower Coloring Page
Download
A few objects that are related to spring that are seen in our coloring pages are as follows:
Flowers. Since the environment is lusher, it also means that there are more flowers that can be seen on different areas. Spring is that time when there is an abundance of flowers in different areas of the temperate zones of the world. Take a look at our flower coloring pages  if you are mainly interested in coloring flowers.
Trees. It is in spring also when trees start to grow leaves again. When it is winter time, a lot of trees are covered in snow and there is no enough sunlight that can help in the continuing growth of leaves.
Birds. There are also a lot of birds during spring as they can have more food during this time. Trees start to have fruits and worms are most likely everywhere because of the improvement of the environment in terms of vegetation.
Butterflies. Since there are a lot of flowers in spring, agents of pollination like butterflies are also present.
Plants. Other than trees, many plants also grow on spring. It is the time where there is enough sunlight that can help the growth of plants.
Colored stained glasses. Since it is much more sunny compared on winter seasons, stained glass reflect the warm rays of the sun on produce amazing colors on its surroundings depending on where the sunshine is directed.
Spring Animal Coloring Page
Spring Butterfly Coloring Page
Download
Spring Birds Coloring Page
Download
Kindergarten Spring Coloring Page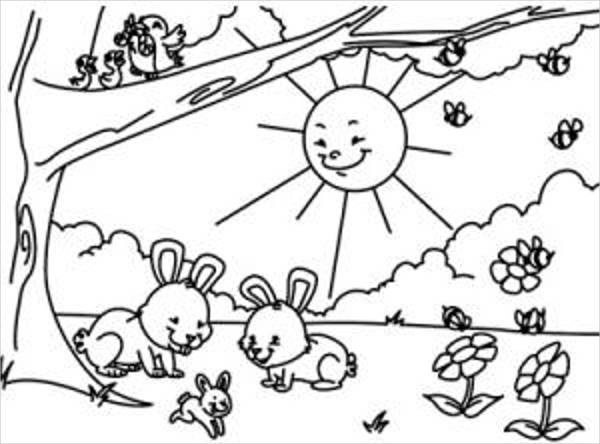 Abstract Spring Coloring Page
Here are a few reasons why having coloring pages that is spring themed is fun:
The objects that you are to color are mostly related to nature. There are a lot of living objects that are associated to spring and it can surely lighten up the mood of people to color items that provides them with the idea of life. It can up the energy of a person especially just thinking how these objects move in real life. We have bird coloring pages if you want to color these avian creatures more than the other spring objects that we offer.
Since it is the season between winter and summer, coloring a spring-themed page makes you feel the right amount of warmth. You are already done wearing those winter clothes and in the middle of waiting to bathe under sunshine may it be on pools or beaches. Just coloring spring pages will already help you to have these ideas.
If you are interested in animals and plants, getting a spring coloring page is the right thing to do. It helps you to deal with characters that are included in your interest.
Start downloading our coloring pages on the links provided and feel the sunshine of spring illuminating through you.