Construction business proposals are used by contractors to advertise their services and present an outline of the field of construction that they specialize in. Construction business proposal template is a document that gives potential readers information such as hiring rates, due dates, points of contact, proposed plan of action etc.
131+ Construction Business Templates in PDF, Word, Excel, PSD, HTML5, WordPress, Google Docs, PowerPoint, InDesign, Apple Pages, Google Sheets, Publisher, Apple Numbers, Illustrator, Apple Keynote, Google Slides - START DOWNLOADING
5 Steps to Write a Construction Business Proposal
Step 1: What Services Do You Provide?
This is the most important section of your proposal. Write a summary of the different kinds of construction-related jobs that you can undertake. Be it plumbing, repairs, demolition, architecture, metal work – make sure that your potential clients know your field of expertise.
Step 2: Details About Your Company
This part is where you sell yourself to your client. After writing about the services that you provide, make sure you include positive things about your company like assured customer satisfaction, prompt and responsive team, ability to stick to deadlines, quality of materials etc.
Step 3: Highlight Your Proposal
This is where things get specific – write about the exact project that you plan to initiate. Make sure you provide adequate details like name and location of the project, managers, proposed timeline, legal requirements, raw materials, number of people involved etc. Remember though, keep it succinct.
Step 4: Mention the Costs
A client will always be interested in knowing how much a construction project will cost him up front. So, ensure that you give a clear and structured overview of the costs involved in the proposed business deal. Highlight the deliverables that you expect to prevent any ambiguity.
Step 5: Conclusion
This is the executive summary of the proposal, of sorts. Sum up all that you wrote in the preceding parts in a short and crisp paragraph or two. This should include a broad layout of your company's services, the general outline of the project and your willingness to take it up at the earliest.
10+ Construction Business Proposal Templates
1. Construction Business Proposal Format
This is a construction proposal template that includes all the points that we mentioned above. You only to fill in particulars about your company and it is ready to be presented to the client. It is clean and to the point, and will definitely get the job done!
2. Sample Construction Project Proposal Template
This easily editable construction business plan template is well organized and sure to catch your client's attention. There are heading and topic suggestions to help you put forth a clear and well thought out business proposal and successfully promote your company. Its aesthetic layout is also something to watch out for.
3. Construction Proposal Template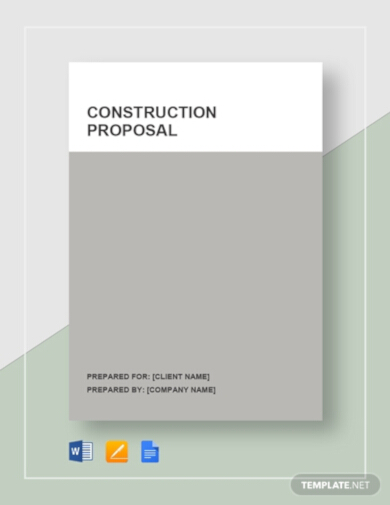 This construction management plan template is highly detailed and especially well written. You will find professionally organized content that will give you an edge over competitors as you propose your project – this includes clear project timelines, cost evaluations, company description, testimonials from previous clients, materials and resources required etc.
4. Construction Bid Proposal Template Example
This is a great sample construction business plan if you are looking to present your bid for a construction project and want to make an impression on the hiring authorities. The content is original and creative, and will definitely reflect your business proposal in the best way possible.
5. Printable Construction Management Proposal Template
If you are a contractor in the construction business, this construction proposal template is a must to sell your management and organizational skills. It will help you to highlight your expertise in employee and resource management, as well as present a plan of action to the client.
6. Sample Construction Business Plan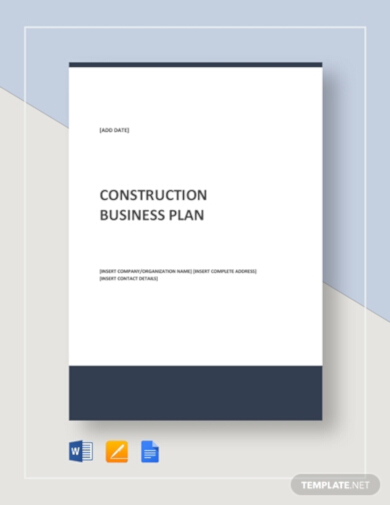 This is a high quality, well-designed construction business proposal template that will help you create a top-notch business plan. It has all the relevant fields like the executive summary, objective, mission, market analysis etc. The graphics and chart used here are especially catered for companies in the construction business.
7. Construction Phase Plan Template
This construction proposal template sample gives the primary phase plan of the construction project – it is a must for any contractor looking to begin a new project. It gives detailed information about the nature and scale of the project, the legal and safety precautions required, deadlines to meet etc.
8. Basic Construction Business Plan Template
This is a fully customizable and editable construction project proposal that gives a neat outline of your company and the business that you plan to undertake. Not only does it look great, it includes prompts for the details necessary to make sure that you clinch that deal.
9. Professional Construction Proposal Template
This is a long detailed construction project proposal template that you can edit to fit the specifics of your construction company and business proposal. It has professionally designed project outlines and client incentives. We are sure that this will help you put your best foot forward and get the client.
10. Construction Proposal Printable Sample
This is a sample of a widely-used and highly professional business proposal template for a construction undertaking. It shows exactly what the expertise of the company is, and its vision to successfully complete the project at hand. You can model your proposal along these lines to present a winning plan.
11. Preparing a Proposal Free Guide
This is a step by step guided simple project proposal that will help you create a unique proposal that will stand out among the rest. It has guidelines for describing the project, funding requirements, company information, principal stakeholders involved etc. The tabular data adds an extra bit of professionalism and neatness to the document.