Photography is fun. Those who have time and passion for it know what the fun part is. It is not just about shooting and designing photos and selling to clients. It is about creativity and passion, a work of design that brings past memories (the good old days) to normal life. You can also see Photography Contract Templates
Commercial Photography Contract Template Download in Word

Buy Now
Wedding Photography Contract Template in Google Docs, iPages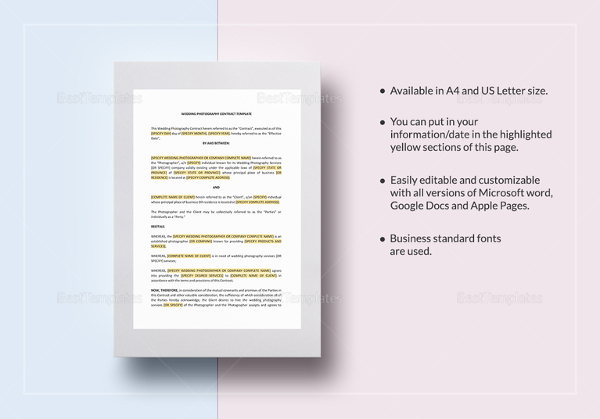 Buy Now
Printable Videography Contract Template
Download
Business Contract Template
Buy Now
Example Commercial Photography Contract Free Download
johnsphotography.ca
Potrait Commercial Photography Contract Free Download
photosbyandi.com
Free Commercial Film Photography Contract Download
zsl.org
helencampbell34xxx@gmail.com
Commercial Event Photography Contract PDF Download
keyimagery.com
People are going to hire you often if your work of art appeals to multitudes. Once you create a good impression, people will want you to work on their photo project, usually during different types of Events. But how do you know that a client is serious about hiring your service? There is one simple way, signing a photography job contract Job Contract Templates.
The contract will be an agreement between you and the client stating that you are willing to deliver the service under conditions specified, and can be written on Commercial photography contract template papers. The contract should be clear, easy to understand and be friendly to the client as well as you, the service provider. You may also like Event Contract Templates
Forget about pens and papers for now. Simply browse through each of the sample contract template below and pick one you can use to write the contract. Save time, write less, and get into more contracts with the same blank employment Contract Template.