Forms
36 Free Agreement Forms
When starting up a business negotiation, an agreement letter is vital. It helps businessmen or company owners set out the terms of a working relationship towards other organizations. This is also a type of letter that is mostly used when setting up formal negotiations and when there are two parties who are required to agree to specific terms.
It requires time and a little bit of knowledge when crafting an agreement letter, basic important elements should be included. But for those who want to have an easier and quicker way, our downloadable free agreement forms are what you need. These are template-based forms that you can just edit and print. We have numerous selections on this page. You might want to check them out.
Rental Agreement Form Templates
Car Rental Agreement
uaf.edu
Room Rental Agreement
communityrentals.ucsc.edu
Agreement for Rental Lease
westsiderentals.com
Loan Agreement Form Samples
Personal Property Loan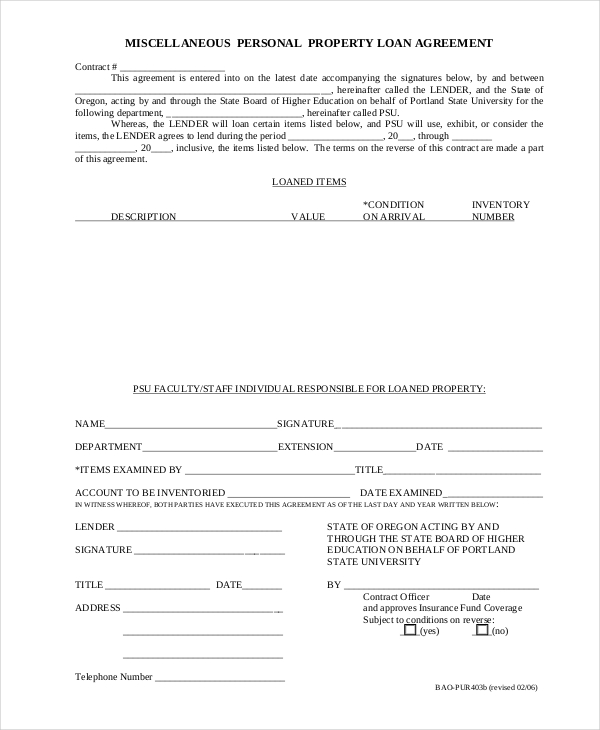 pdx.edu
Loan Repayment
egov.usda.gov
Benefits of an Agreement Letter
Regardless if it's for business or for other conditions, when engaging in a partnership, having an agreement letter is vital. This is also way safer than depending on someone's promises. Having an agreement letter will also provide you with more security and assurance. It will also lessen possible risks by making the agreement coherent from the beginning. Printable agreement templates make this possible.
So apart from these benefits, an agreement letter:
Provides evidence of a certain agreement between the other party and you.
Aids in preventing possible conflicts or misunderstandings by making certain that the agreement is clear right from the start.
Will give you satisfaction knowing that everything is safe and secure.
Lessens the probability of conflicts by stating a clear detail regarding payments, timelines, and task to be accomplished that is found on the contract. Details such as these are present in loan agreement forms.
Will describe how a dispute is going to be resolved.
Will clarify how certain parties can end the agreement prior the task is completed.
Delivers a conducive and accessible statement.
Helps in promoting peace and harmony that is intended for both parties.
Encourages consistency and evenness for the agreement content.
These are the reasons why having an agreement letter in every partnership is important.
Purchase Agreement Form Samples
Land Purchase
sec.gov
Purchase and Sale Agreement
realtyassociation.com
Residential Purchase
cornhuskerlandtitle.com
Buyers Agreement Form Samples
Buyers Agency
realtyassociation.com
Residential Buyers
ninoproperties.com
Agreement for Buyers Representation
lrgboston.com
Contract Agreement Forms
Business Contract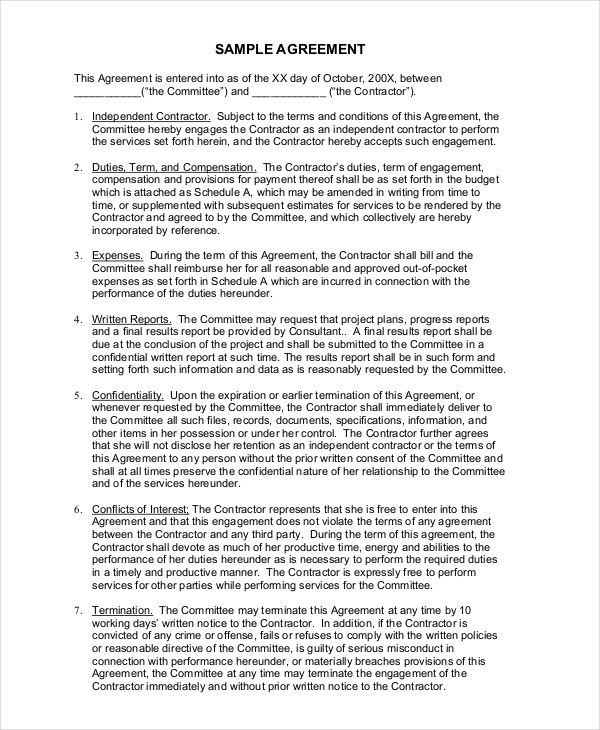 australiandesignunit.com
Independent Contractor Agreement
atri.org
Agreement Form for Construction
wsdot.wa.gov
How to Write an Agreement Letter
In order for an agreement letter to be effective and purposeful, you need to make sure that all appropriate and relevant details are included. Rental agreement forms, for example, need to contain elements related to leasing activities and the like.
You can follow these steps on how to effectively construct your agreement letter.
Create an appropriate title. When writing a title, make sure to place it at the very top of the page. It should be in bold and the text should be placed in the center.
Make sure to write down the addresses and the date. Writing an agreement letter is no different when writing a business letter. Make certain that the date and the address of the other party are written on the left-hand side of the page, this should also include the salutation.
Don't forget to state the purpose of the letter. The purpose should be written in the first paragraph. Make it clear and straightforward.
Explain the project or work that needs to be performed. There should be an outline of the things you need to achieve.
State the timeline details and points of reference. You need to describe any timelines because these are vital details that are needed for other party's knowledge.
Make sure the duration of the agreement is also included. This for other parties to be aware of how long the agreement is effective.
Always include or declare the governing law. The same with other agreement letters, declaring the governing law is very important.
You need to include a non-disclosure agreement. If both parties are exchanging or using information that is confidential, adding a non-disclosure provision really helps. Patented materials, client list, or trade secrets are some examples of confidential information.
These are the things you need to consider when making an effective and compelling agreement letter. However, with our sample agreement forms, you will have an excellent agreement letter in no time.
Deposit Agreement Forms
Security Deposit
erniesfuelingnetwork.com
Sales Deposit
tinkhamrealty.com
Direct Deposit Agreement
findtherightclick.com
Employment Agreement Form Templates
Part-Time Employment
mybrcc.edu
Employment Offer
ciee.org
Self-Employment
law.nyu.edu
Financial Agreement Forms
Medical Services Financial Agreement
denverskinclinic.com
Financial Agreement of Patient
woodstockmd.com
Financial Agreement for Divorce
somersoft.com
Job Agreement Forms
Job Description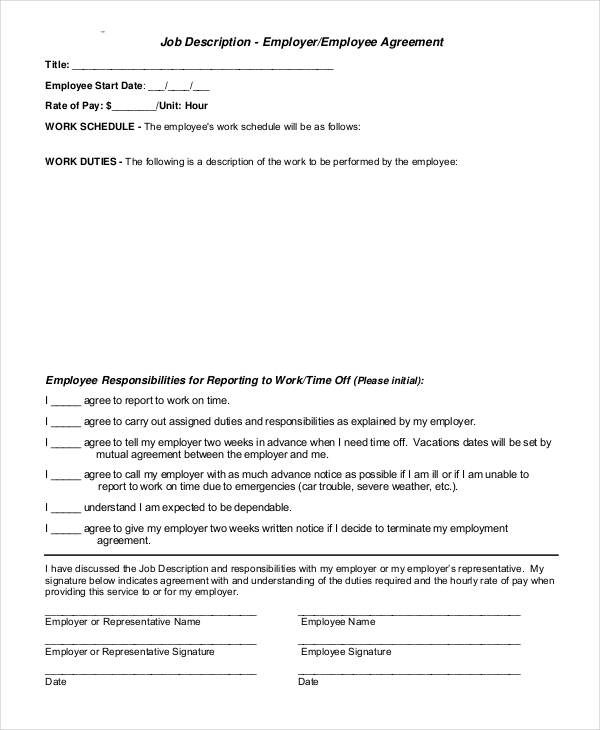 apdcares.org
Business Agreement – Overview
There are several types of agreement letters, and the most common one is a business agreement. This is mainly used in a business or company setting where business partnerships or negotiations are established.
It is often a contract that is made for an arrangement between two or more business organizations or individual.
A type of agreement that consistently corresponds to every business elements or plans.
Indeed purposeful from trade to employment, hiring process, partnership, negotiation, and acquisition.
Common Types of Business Agreements
Security Agreement – This type of agreement reassures a piece of property or an asset as collateral when lending a loan. The property or asset will be unclad from the borrower in the event there is a proof of nonpayment. To suffice this our confidentiality agreement forms are ideal to use.
Property and Equipment Agreement – This is a type of agreement that focuses on the terms and conditions of a lease for a certain property, building or monthly payment. It also includes deposits, and other related elements. For rental activities, blank lease agreement forms will come in handy.
Partnership Agreement – A type of agreement that highlights the relationship between partners, as well as their certain obligations and business contributions.
General Employment Agreement – This is essential when both an employer and employee agreed to certain terms and conditions. This includes duration, compensation, benefits, and any other related issues that are relevant to business.
Mortgage Agreement Form Templates
Standard Mortgage
ihtmv.org
Mortgage Purchase Agreement
legalforms.name
Partnership Agreement Form Templates
General Partnership
gaylevanleer.com
Partnership Dissolution Agreement
rpra.org
Limited Partnership
nbfilmcoop.com
Security Agreement Forms
Security Guard Services
sanjoseca.gov
Security Services Agreement
hcbcc.net
Security Agreement in PDF
udel.edu
Volunteer Agreement Form Templates
School Volunteer Agreement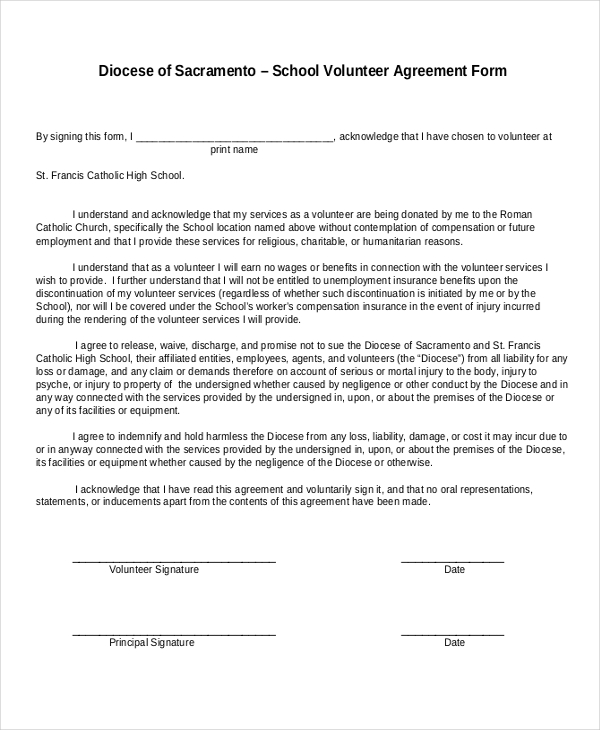 stfrancishs.org
Church Volunteer Agreement
cofesuffolk.org
Agreement for Charity Volunteer
ceingautism.org
Downloadable Samples of Our Agreement Forms
For your agreement form needs, we offer several choices for you to choose from. Our agreement form templates are what you need. These are modifiable, easy to download, and well-made templates. You can check out these samples.
Confidentiality Agreement Form – This contract is also referred to as a non-disclosure agreement, this is mostly used when two parties made a promise regarding information will be maintained as confidential.
Contract Agreement Form – This is a type of agreement that is designed for parties who agreed for an arrangement that is being enforced by law. It acts as a binding legal contract. So if you are in need of an agreement like this, then this template is what you need.
Business Agreement Form – A type of contract that is intended for certain negotiation or partnership of two parties in a business setting. This contains relevant information that are needed in every business agreement.
Employment Agreement Form – This is a type of agreement that highlights an employee and employer arrangement. This includes compensations, expectations, and other relevant information needed in an employment agreement.
So when it comes to your agreement form needs, we got the best samples just for you.
More in Forms